IWCC Directors' Meeting/Joint Meeting in Bangkok
IWCC Directors' Meeting/Joint Meeting in Bangkok
05 June 2023
IWCC Directors' Meeting/Joint Meeting in Bangkok
The International Wrought Copper Council (IWCC), launched in 1953, is an international industrial association for copper fabricators, such as those handling electric wire and copper alloy. In 1968, the Japan Wrought Copper Council (JWCC) was founded and listed in the membership of the IWCC. Since then, Sumitomo Electric has been actively committed to the IWCC in order to raise the status of the industry. I have served as a Director of the IWCC since 2017 and the Vice Chair since 2023. On May 8, I attended the IWCC Directors' Meeting and Joint Meeting, held in Bangkok, Thailand.

The first thing I felt upon my arrival at the airport in Bangkok was the intense heat there. The temperature was around 35 degrees Celsius. With the background of the post-pandemic recovery in the very busy traffic, the atmosphere was heated in many ways.

The directors' meeting, held at Shangri-la Bangkok, was attended by about 20 people, while the joint meeting was held on a larger scale, with more than 100 attendees. The joint meeting draws many people engaged in the industry, including those from the copper and copper alloy semis fabricating industry, and trading companies, in Asia, Europe, and the U.S. This year's meeting featured a wide variety of presentations on, for example, the industry's initiatives toward realizing a carbon-free society and establishing a sustainable society, and on the outlook for future growth of the economy in general centering on the copper industry. The meeting also included active Q&A sessions.

This was the first time for me to attend the directors' meeting after doing so in London last October. I participated in this year's event particularly to give a presentation on the Sumitomo Electric Group's initiatives under the title "Sumitomo Electric's Challenges for Sustainability" at the joint meeting.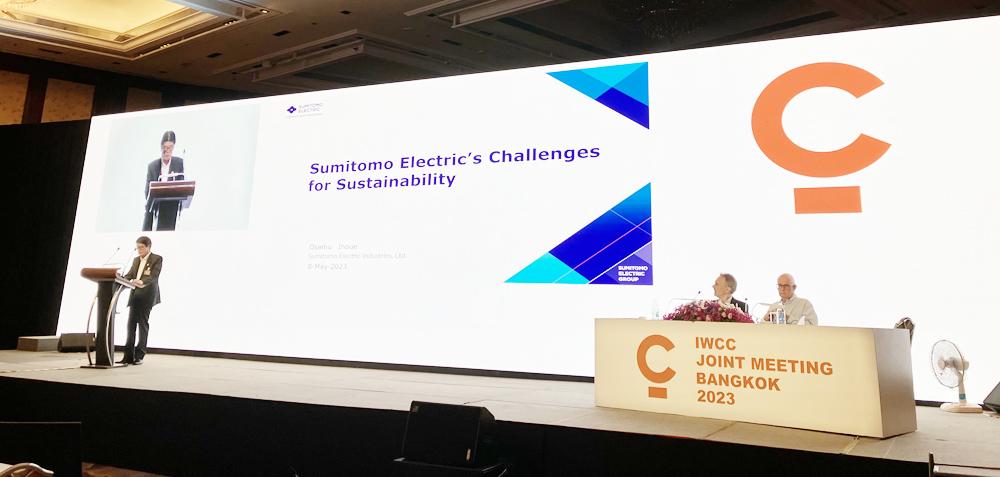 The themes of my presentation were 1) our management based on high-level corporate ethics guided by the Sumitomo Spirit, meaning that our management has long been in line with contemporary ESG concepts; 2) our business development of high- voltage direct current cables, redox flow battery systems, and other items that can contribute to realizing a carbon-free society; and 3) our efforts to recycle copper scrap.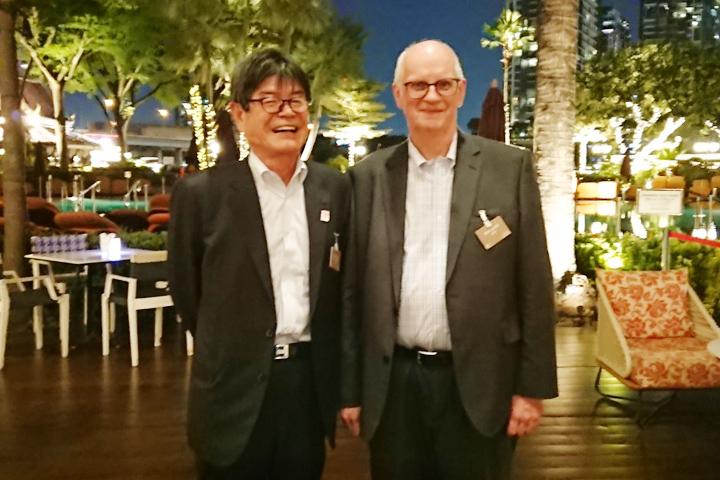 I was pleased with audience comments that the topics of the presentation were specific, very intelligible, and interesting. The business trip to Bangkok has made me keenly realize once again that as a member of the Sumitomo Electric Group, I have a great responsibility in helping to realize a sustainable society, and made me renew my determination to continue to live up to expectations of our stakeholders.
About This Blog
Sumitomo Electric Industries, Ltd. President's blog is operated by the Company. Please note the about this blog.