SEI Challenge Cup and Sumitomo Electric Sports Academy
SEI Challenge Cup and Sumitomo Electric Sports Academy
14 December 2020
SEI Challenge Cup and Sumitomo Electric Sports Academy
In November, we held the SEI Challenge Cup, an in-house sports event, and the Sumitomo Electric Sports Academy, which offered sports classes, to promote health.

The SEI Challenge Cup has been organized since fiscal year 2018 as part of the program to commemorate the 120th anniversary of our founding in order to help achieve health management. Until last fiscal year, baseball games, relay marathon races and other competitions were held under the SEI Challenge Cup to facilitate communication in the workplace and provide sports-loving employees with opportunities to compete with others. Meanwhile, the Sumitomo Electric Sports Academy has been organized to provide employees and their families and neighbors to develop exercise habits. The academy hosted sports classes, such as a baseball class by Kyuji Fujikawa of the Hanshin Tigers, a table tennis class by Sayaka Hirano, who won the silver medal at the 2012 London Olympics in the Women's Team Event, and a track and field class by members of our athletics club.

This fiscal year, we decided to avoid face-to-face interaction to prevent the spread of the novel coronavirus. Instead, we studied the possibility of enabling participants to join the event without space and time constraints. It was decided to organize the SEI Challenge Cup in the form of team competition in two categories (running and walking). Meanwhile, the Sumitomo Electric Sports Academy featured a sports lesson by athletics club members, a seminar by an industrial physician and a training lesson by a RIZAP trainer for different levels.
Regarding the sports lesson, sprinters, Shuhei Tada, Naoka Miyake and Shunto Nagata hosted an online stretching lesson for employees at respective sites and participants at home. The athletes selected stretches that were considered to be effective for employees, such as stretches for alleviating stiff shoulders, from those that they practiced in daily training and demonstrated them. At the Osaka head office, which served as the main venue, some employees groaned with pain, but they immediately noticed the effects and said "My shoulders feel lighter!"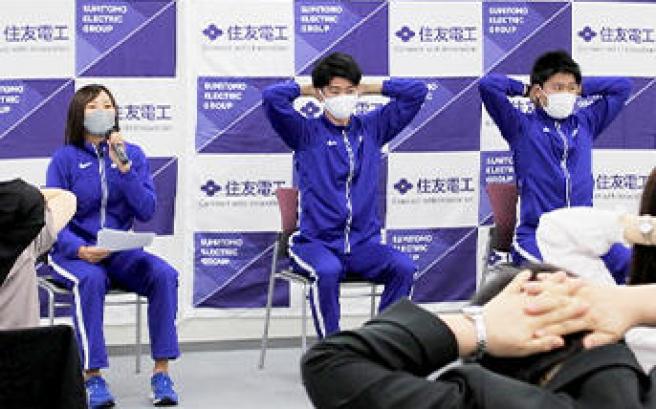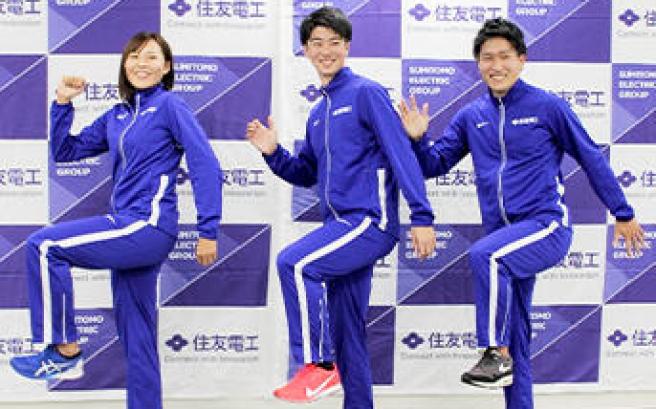 In the SEI Challenge Cup, I participated in the walking competition with my secretaries. Teams competed based on the number of steps taken during a 10-day period. When you register your steps with the system, you can see where your team stands in the race and the number of steps other team members have taken.
Participants enjoyed the event in various forms. Some members climbed Mt. Rokko, some took on the challenge to see how many steps could be taken (in tens of thousands) per day, and others teamed up with members of other business sites to compete and make it fun. I usually try to walk whenever time is available to keep myself in good shape. During the event period, I walked around the company on my breaks and made arrangements to walk with members. It seems that these efforts produced results. Our team was ranked high among the teams that participated from the Osaka head office.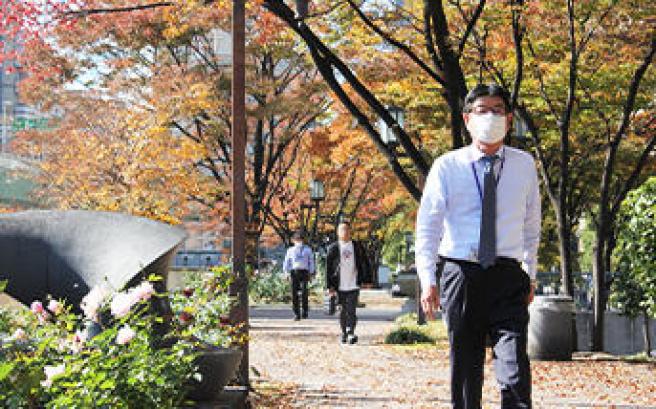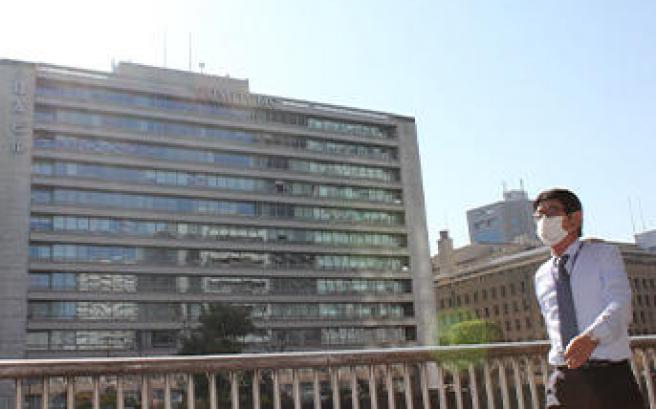 The Sumitomo Electric Group made a health management declaration. In the "Kenkatsu!" health maintenance and improvement activities, we have been promoting various initiatives to achieve health management from the viewpoint of preventing and improving metabolic syndrome, promoting sports and ensuring mental healthcare. This event reminded our group employees and me of the importance of health and joy of sports. Through these initiatives, we will continue to promote health management so that employees can stay healthy and active.
About This Blog
Sumitomo Electric Industries, Ltd. President's blog is operated by the Company. Please note the about this blog.