20th Anniversary Tree Planting at Sumitomo Electric Wintec, Inc.
20th Anniversary Tree Planting at Sumitomo Electric Wintec, Inc.
28 October 2022
20th Anniversary Tree Planting at Sumitomo Electric Wintec, Inc.
On October 2nd, I participated in the 20th anniversary ceremony of Sumitomo Electric Wintec, Inc.Sumitomo Electric Wintec was established in October 2002 through consolidation of our magnet wire division and Daiichi Denko Corporation. Currently, it is a wholly owned subsidiary that manufactures magnet wires with its head office and main factory in Shigaraki-cho, Koka City, Shiga Prefecture. Magnet wires are used in a wide variety of devices, including electrical components for automobiles, home appliances such as air conditioners, motors for industrial equipment, and coils for heavy electrical equipment. Amid the recent rise in environmental concerns, they are also used in drive motors for electrically driven vehicles, such as hybrid vehicles (HEVs) and electric vehicles (EVs). Consequently, this field is expected to grow significantly in the future.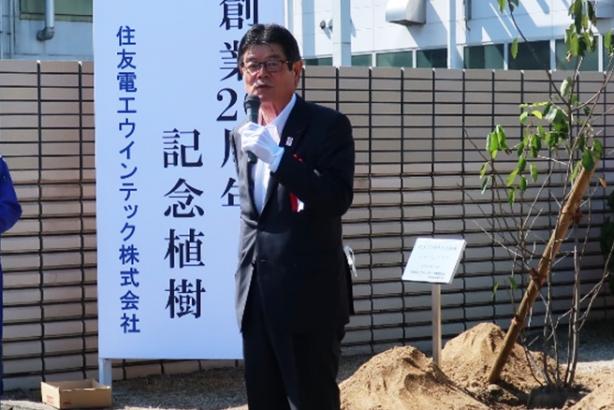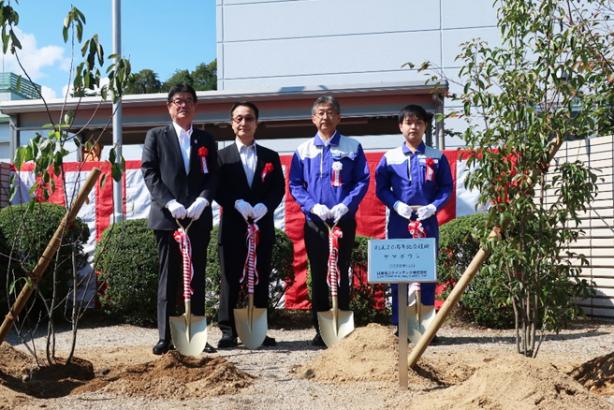 To commemorate the 20th anniversary of the founding of Sumitomo Electric Wintec, a Shinto ritual was held at the company's Inari Shrine. Then, it held a commemorative ceremony, featuring a tree planting and Shigaraki Daiko drum performance in dedication to the shrine. The company's employees and their families, its former presidents, and our company's officers were invited to the ceremony, which turned out to be a successful event under clear autumn skies.

At the commemorative tree planting, I offered a congratulatory speech,then, we planted a Japanese dogwood tree and a Juneberry tree. The two trees will bloom in spring, grow green in summer, and turn red in autumn, showing us the change in seasons. I am looking forward to the healthy growth of these trees as well as the continuous development and prosperity of Sumitomo Electric Wintec, its employees, and everyone concerned.
About This Blog
Sumitomo Electric Industries, Ltd. President's blog is operated by the Company. Please note the about this blog.