Lake Biwa Mainichi Marathon
Lake Biwa Mainichi Marathon
23 March 2020
Lake Biwa Mainichi Marathon
The 75th Lake Biwa Mainichi Marathon was held on March 8. Sumitomo Electric has served as the main sponsor since 2013, and I went to the venue stadium to cheer on the runners this year again.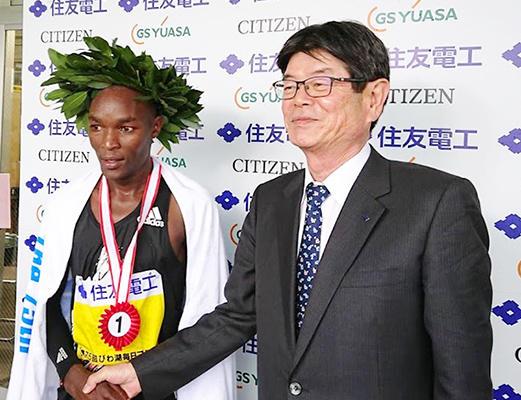 This race attracted a lot of attention since it doubled as the qualifier to select the final male marathon runner representing Japan for the Tokyo Olympic Games.
Unfortunately, it remained rainy and chilly from the morning, probably making the conditions severe for the runners. The race was won by Mr. Evans Chebet, from Kenya, in 2:07:29, while the top Japanese finisher was Mr. Naoya Sakuda, who ran in 2:08:59. In the past, these times might have been regarded as impressive considering the terrible conditions, but now that the level of athletes is increasing in Japan and the rest of the world, the times might be seen as just ordinary. However, many athletes set a personal best, making me feel that they demonstrated excellent performance.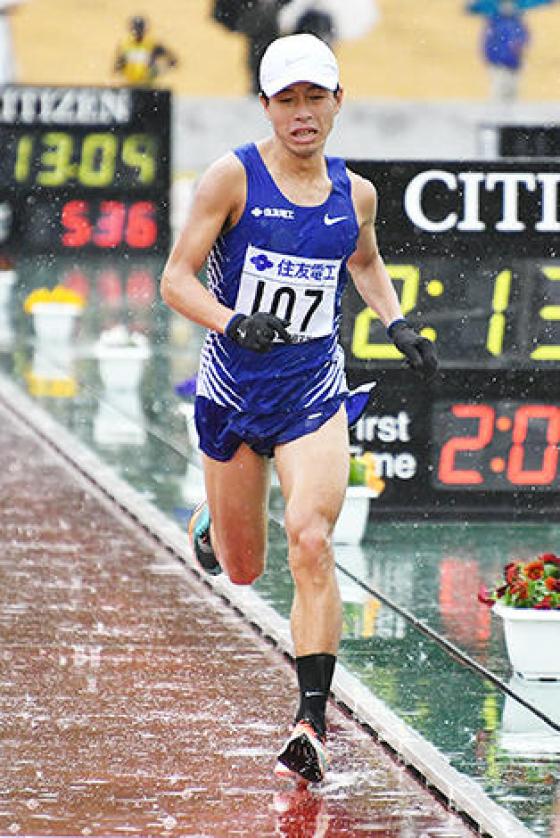 From Sumitomo Electric, Mr. Yukio Fujimura and Mr. Takuma Kumagai competed in the race. Although Mr. Fujimura could not beat his own personal best, he finished the race in a time close to it. It was unfortunate that Mr. Kumagai dropped out of the race, but I believe that he can demonstrate his best next time.

In response to the outbreak of the new coronavirus, no reception and other ceremonies for the event were held. In addition, there was a call for citizens to show self-restraint when cheering the runners along the roadside, making the event less lively than usual. I sincerely hope that the situation will soon return to normal.
About This Blog
Sumitomo Electric Industries, Ltd. President's blog is operated by the Company. Please note the about this blog.