Sumitomo Electric Athletics Festa Held with Spectators for the First Time in Three Years
Sumitomo Electric Athletics Festa Held with Spectators for the First Time in Three Years
11 November 2022
Sumitomo Electric Athletics Festa Held with Spectators for the First Time in Three Years
On Sunday, October 16, we held the Sumitomo Electric Athletics Festa at the Sumitomo Sogo Ground in Itami City, Hyogo. I was worried as rain was forecast, but the day of the event turned to be blessed with clear skies. Held with spectators at the venue for the first time in three years, the event took place in a very exciting atmosphere.

In the morning, we held athletics classes for elementary and junior high school students and health events. The athletics classes drew approximately 260 students, each of whom seemed to enjoy the athletics. In the afternoon, the "Sprint 50 Challenge in Itami*" and the "Japan Record Challenge Track Meet and Sumitomo Electric Cup" took place.

In the Sprint 50 Challenge, not only members of our track and field team, but also Ryuichiro Sakai and Mitsuki Kawauchi (both from Osaka Gas and representing Japan at the World Athletics Championships OREGON 2022 held this summer) participated as guest runners and competed in the 50 m seriously against students from 9 to 15 years old. Directly seeing the guest runners' powerful sprints and the students' lively faces, I felt energized.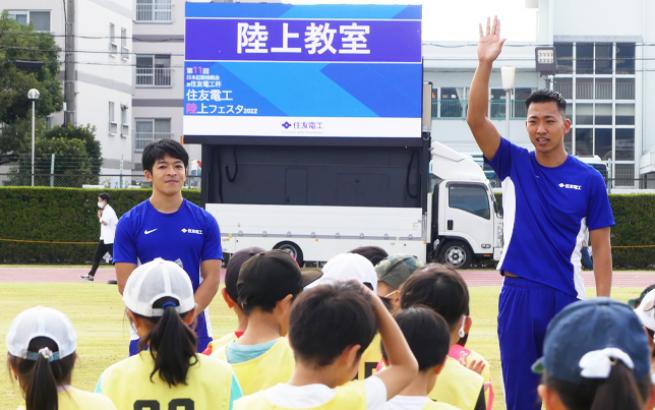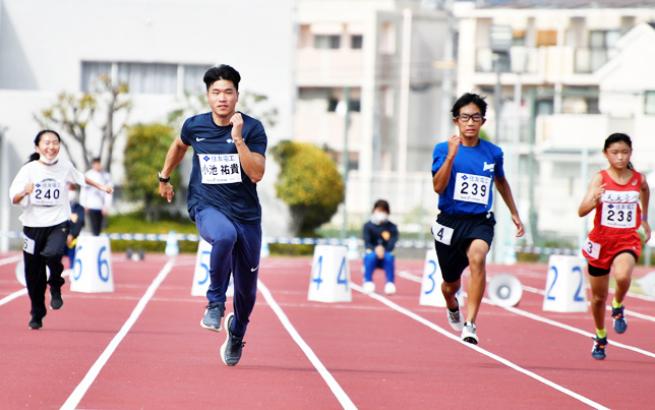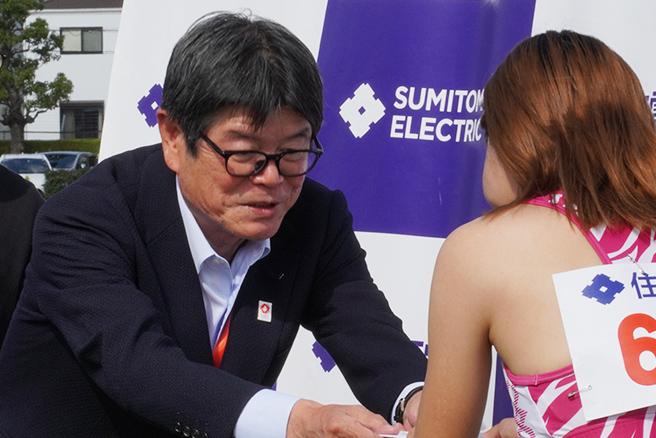 At the Japan Record Challenge Track Meet, I served as a presenter. All the races were heated, with new meet records set at some events. I would like to take this opportunity to express my appreciation to all the participants who demonstrated their best, the Kansai Industrial Track and Field Federation, all others inside and outside the Company who helped run the event, and all those who came to the venue to cheer the athletes and participants. Thanks to their dedication, this year's festa turned out to be an outstanding event.
*Sprint 50 Challenge in Itami
Founded by sprinter Yoshihide Kiryu, this is a new sprint event based on the 50 m.
About This Blog
Sumitomo Electric Industries, Ltd. President's blog is operated by the Company. Please note the about this blog.