Inspection of Sumiden Friend, a Special Subsidiary, by Top Management
Inspection of Sumiden Friend, a Special Subsidiary, by Top Management
08 March 2021
Inspection of Sumiden Friend, a Special Subsidiary, by Top Management
The other day, we conducted at the Itami Works an Inspection by Top Management.
Participated in by executives, the Inspection by Top Management is designed such that they can exchange views with relevant departments on their medium-and long-term course of action and challenges and check their manufacturing sites firsthand. This time, we received activity reports from the Human Resources Division, Accounting Division and Procurement Division. Having our temperature measured and our hands and fingers disinfected, we entered a spacious room, where only a small number of participants were present with social distance maintained from each other, while other participants from distant locations were connected online--the form of meeting that we have now become used to.

With the number of participants narrowed down to avoid the Three Cs ("crowded places," "close-contact settings" and "confined and enclosed spaces"), we were able to close the emotional distance with employees presenting reports and hear their candid opinions regarding the challenges currently facing them. Amid the COVID-19 pandemic, it is not clear how the situation will turn out. Nevertheless, everyone here, whether experienced or young, have been persevering in striving, in their respective areas of assignment, to open up the prospects for the future. The meeting assured me of this, and I place greater trust in them.

In this round of the Inspection by Top Management, we made an on-site inspection of the Itami Sales Office of Sumiden Friend, Ltd., a special subsidiary for the purpose of promoting employment opportunities for the disabled. Nearly 70 people with disabilities work at business locations in different works, etc. of Sumitomo Electric to perform various tasks, including scanning documents for retention into PDF format, producing product packaging materials, cutting and disposing of confidential documents, disinfecting and cleaning common spaces, and caring for foliage plants.

Through the visit, we learned that Sumiden Friend not only focuses its efforts on educating its employees so as to ensure workplace safety and product/service quality but also gives careful consideration to assigning a task to the right person. The company has strived to fully understand the individuality of each employee and based on that understanding carefully examined what tasks could be assigned to best bring out their respective strengths. We were also able to understand that the company has struggled toward upgrading its employees' skills and accumulating know-how on task supporting methods in order to expand the range of work the company can be entrusted with; such various initiatives have been conducted to assist all employees in playing a more active role and growing toward their potential.

While Sumiden Friend was established as a special subsidiary for this particular purpose, employment of people with disabilities is not an issue to be addressed by this company alone. Every division and affiliate of Sumitomo Electric is required to think about and work on the issue as a matter affecting it personally. Welcoming people with disabilities to our workplaces and pondering the way in which they can work despite their disabilities will surely contribute to creating a "comfortable working environment for all". If it becomes the norm for them to be working at each one of our workplaces, I believe without a doubt that we can then take another step closer toward becoming a Glorious Excellent Company, the ideal state of our group.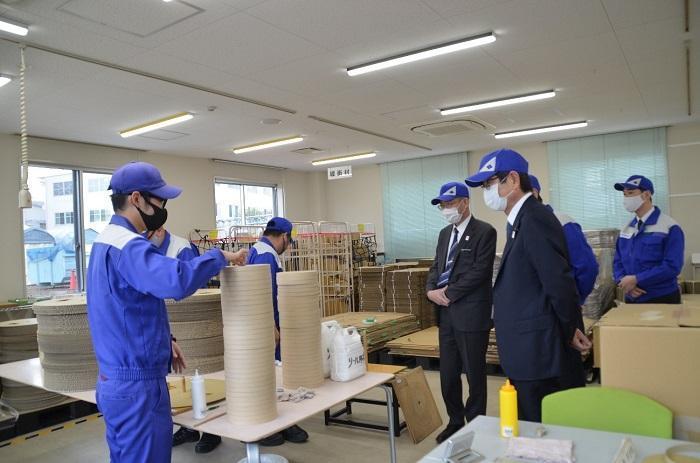 About This Blog
Sumitomo Electric Industries, Ltd. President's blog is operated by the Company. Please note the about this blog.