Corporate Governance
Under our corporate philosophy of the Sumitomo Spirit and the Sumitomo Electric Group Corporate Principles, our group maintains its everlasting basic policy of contributing to society through our fair business practices. While adhering to this basic policy, in order to seek sustainable corporate growth and to increase corporate value over the mid-to-long term, we believe that it is critical to ensure transparency and fairness of management activities through appropriate corporate governance, as well as to draw up and implement a growth strategy using our management resources to the utmost extent, with the key word being "innovation." We are committed to further enhancing our corporate governance in accordance with the following basic ideas.
Basic Ideas
Concerning
Corporate
Governance
a) We will develop an environment in which shareholders can exercise their rights appropriately.

b) We will take the interests of stakeholders, including shareholders, into consideration, and will appropriately cooperate with stakeholders.

c) We will disclose corporate information appropriately and ensure transparency.

d) We will emphasize the Board of Directors' functions to make decisions on basic policy, including strategies, as well as to supervise management. We will also focus on developing a system and operating the Board of Directors to ensure the effectiveness of such functions. In respect of executive operations, we have introduced an executive officer system and a business unit system, for the purpose of clarifying authority and responsibilities, and of establishing a flexible system to execute operations in response to changes in the business environment. From a viewpoint of ensuring sound management, we commit to strengthening audits by corporate auditors and adopting a supervisory system under which independent outside corporate auditors and full-time corporate auditors work with our internal audit department and accounting auditors to ensure the lawful and proper management.

e) In order to contribute to sustainable growth and increase corporate value over the mid-to-long term, we will engage in constructive dialogue with shareholders to a reasonable extent.
Corporate Governance Guidelines
We have established these "Corporate Governance Guidelines" setting
forth our basic ideas and policy concerning corporate governance.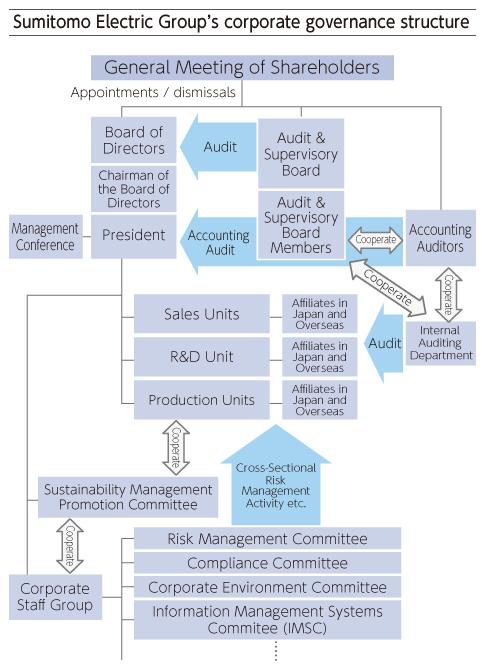 Sumitomo Electric Group's corporate governance structure