Presentation of the Excellent Partner Award
Presentation of the Excellent Partner Award
08 September 2021
Presentation of the Excellent Partner Award
We, Sumitomo Electric Group holds the "Sumitomo Electric Group Partners Meeting" in July every year, and invites about 100 companies that have specially contributed to and supported our business in the previous year. At the meeting, we explain our business situation and future initiatives, and have a social gathering for executives to get to know each other.

This year, in response to the COVID-19 pandemic, we had to cancel the 13th meeting, as we did the previous year, giving the first priority to the health and safety of participants and others concerned.

However, in order to express our gratitude to the following six partners who have made notable contributions to our business in fiscal year 2020, we would like to present them with certificates of commendation and trophies for the Excellent Partner Award. Here are the names of the awardees.

Partners winning the Excellent Partner Award (in Japanese syllabary order):
・Ulvac, Inc./Ulvac Techno, Ltd./Ulvac Equipment Sales, Inc.
・II-VI Incorporated
・Tomen Devices Corporation
・Samsung Japan Corporation
・Ningbo Schlemmer Automotive Parts Co., Ltd.
・Mitsui Seimitsu Co., Ltd.

Normally, I would present the Award to the partners in person at the meeting. I am sorry that I can not meet awardees this year either.

We will continue to strengthen the partnership between our partners and the Sumitomo Electric Group and strive to further expand our business. We kindly ask for your continued support.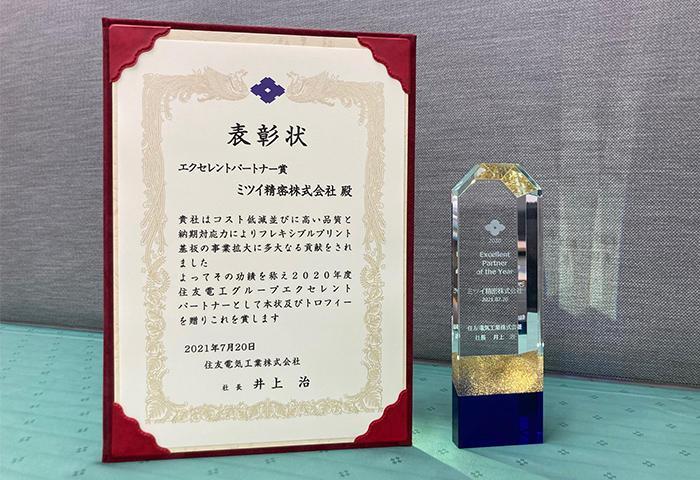 About This Blog
Sumitomo Electric Industries, Ltd. President's blog is operated by the Company. Please note the about this blog.