14 December 2021
SEI Challenge Cup
We held the 6th SEI Challenge Cup over nine days from November 6 through 14. As I have posted in this blog several times, this is an in-house sports event intended to promote good health and is organized in the form of team competition in running and walking divisions.

This time, the event had as many as 2,623 employee participants, forming 475 teams – 1.8 times more than the last event in terms of the number of participants. For the participation from overseas, the ASEAN region was particularly active with over 700 participants. It is my great pleasure to note that the event has been spreading globally, which we owe to the secretariat's all-out effort.

I teamed up with my four secretaries to compete in the walking division. The event received feedback from many participants that it has given them something in common to talk about, thereby helping facilitate communication at their workplace. And the same is true for me. On our team, we encouraged each other to walk more steps, and I individually recorded as many as 87,173 steps in the nine days. However, we finished 119th out of 341 teams, far from winning a prize. The top 10 teams were recognized for their outstanding achievements and presented with prizes that contribute to the reduction of food loss from the perspective of SDG.

We are also planning to make a donation to the Japan Intellectual Disability Athletics Federations again this year, the amount of which will be 200,000 yen as calculated by converting into money the total distance of running and the total number of walking steps recorded during the event. We hope that by doing so, the effort of the event participants will be remembered in a tangible manner. We selected the Federations as the donation recipient because their work objectives are in line with our policies of employing persons with disabilities and making social contributions through track and field.

Announcing the Sumitomo Electric Group Health Management Declaration, we have been working on "Kenkatsu!" health maintenance and improvement activities. As part of the activities, we have been continuing various initiatives to achieve health and productivity management from the perspectives of taking measures against lifestyle-related diseases, promoting sports, and ensuring mental healthcare. Through these initiatives, we will continue to promote health and productivity management so that employees can work in a healthy and lively manner.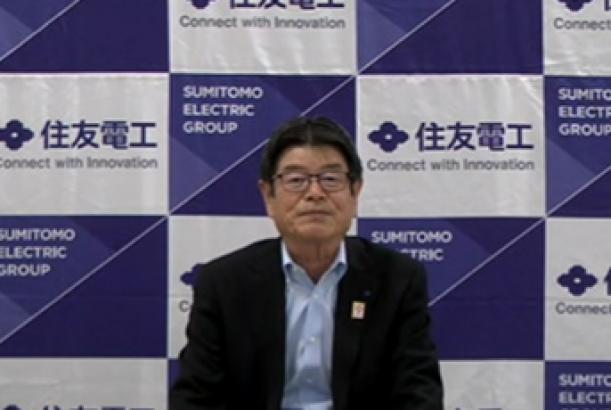 About This Blog
Sumitomo Electric Industries, Ltd. President's blog is operated by the Company. Please note the about this blog.