Volleyball Team Serves Up a Victory for Sumitomo Electric
Volleyball Team Serves Up a Victory for Sumitomo Electric
21 February 2020
Volleyball Team Serves Up a Victory for Sumitomo Electric
Sumitomo Electric (Osaka Works) served up its 12th victory at the 89th All-Japan Nine-Man Volleyball Championship for the third consecutive year. The coach and some members of the team visited my office to report on their victory.

Even as the team found itself facing difficulties winning at other major tournaments, they clinched their third straight victory at this championship competition. Did they take home the title because the court was a good match for them, or they found themselves in a winning combination, earning the top seed because of their past victory? In any case, they pulled through to win against the raw power of the competing top teams.
As fate would have it, just like last year, Osaka Works again faced Sumitomo Electric's team from Itami Works in the semi-finals to claim the title. Playing in a match against familiar faces must have been difficult, but there was no alternative. It feels great that two of our teams managed to hang on in the semi-finals, and I hope that the Itami Works team will continue to work hard.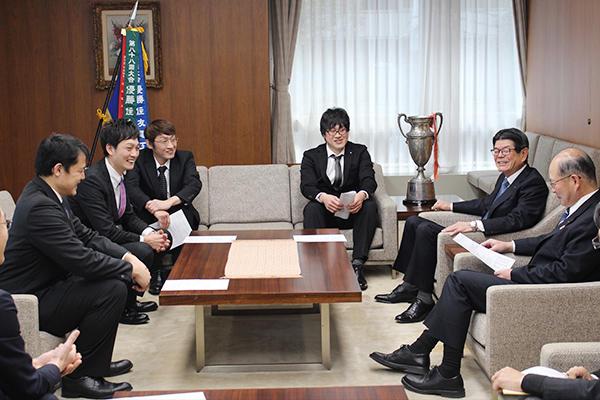 With the coach, talk turned to the World Masters Games that will be held in May next year. When asked if they would compete, he said that he had already put together and registered a team of former players. Whether the team will be able to compete depends on the number of entries, so it may be a bit tricky. At our company, we are urging employees to actively take part in the World Masters Games with a goal of "500 participants". I hope that they will set an example and try their best. I explored the idea of entering the games myself for golf, but it seems like I need an official handicap, so it is not looking hopeful. I'm debating with myself about what event to enter...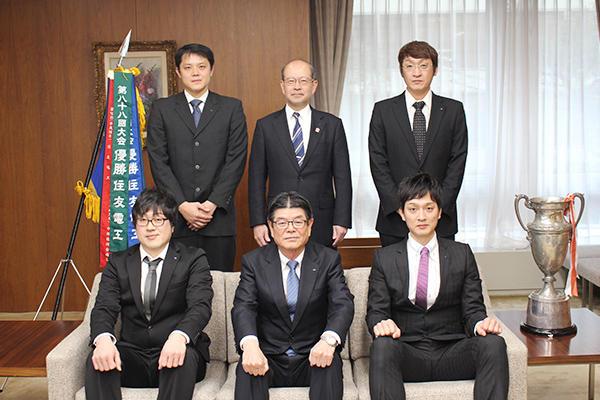 Currently, the team is working steadily to build up their strength in the off-season. I hope that they will come back with a good report as they bring back the trophy to Sumitomo Electric again this year. I am sure that it is difficult to attend volleyball practice straight after work, but I will continue to be there cheering you on.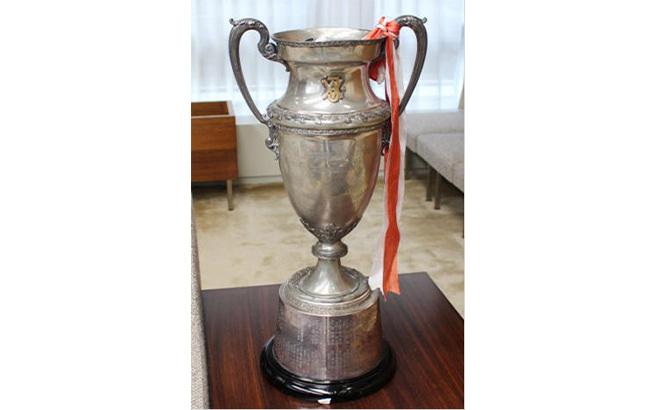 I had the chance to see the championship trophy as well. Quite worn, it drove home the long history of this tournament.
About This Blog
Sumitomo Electric Industries, Ltd. President's blog is operated by the Company. Please note the about this blog.