My Impressions of the Fuse Sprint
My Impressions of the Fuse Sprint
15 June 2021
My Impressions of the Fuse Sprint
At the Fuse Sprint 2021 meet held on June 6, Sunday, Ryota Yamagata set a new national record, clocking 9.95 seconds in the men's 100 meters. I was especially thrilled with the new record since our Company supported the meet as a major sponsor.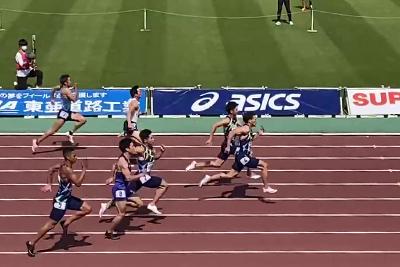 Furthermore, three members of our athletics club advanced to the final: Shuhei Tada took second place, Yuki Koike finished third, and Shunto Nagata was fifth. All of them made strenuous efforts. I have always hoped to see our athletics club members run side by side in the final, and it was finally realized in a race held under our sponsorship. I was so excited even though the meet had no spectators and I watched it on TV. Following Mr. Koike, Mr. Tada also reached the Olympic qualifying standard, which made me have higher expectation for them!
In the women's division, Midori Mikase, a member of our athletics club, won the 100-meter sprint. Since Ms. Mikase has struggled during her rehabilitation after recovering from injury, I am very glad to see her picking up momentum now, when the Olympic trials are just around the corner.

The Olympic team members will be decided based on the results of the Japan National Championships, which start on June 24. I think all athletes are under extraordinary pressure. I will continue to support and cheer for them, believing that their hard work will pay off.
About This Blog
Sumitomo Electric Industries, Ltd. President's blog is operated by the Company. Please note the about this blog.