29 October 2021
Chase a New Record
On October 17, I attended the 10th Japan Record Challenge Track Meet and Sumitomo Electric Cup held at Sumitomo Sogo Ground in Itami City, Hyogo as a member of a special sponsor. Originally, athletics classes for elementary and junior high school students, para events, etc., were also scheduled to be held as part of the Sumitomo Electric Athletics Festa, but in consideration of the current coronavirus infection situation, event cancellations in the city, etc., only the Japan Record Challenge Track Meet was held, without spectators. Even so, I am truly glad that the meet was held for the first time in two years and that many athletes participated in it amid the growing cancellations of such events due to the coronavirus calamity.

Although the rain had stopped by morning, the wind was strong with a speed sometimes exceeding 6 m/s, so I would like to commend all the athletes for doing their best in such bad conditions.

In the men's 5,000 m, eight members from our track and field team participated, and Mr. Keita Yoshida, who is a first-year employee of our company, won the race. Since he joined the Company in April as a new employee, it seems that he has been struggling to achieve the results he expected due to the change in the new environment, but he is now getting himself into gear little by little. I cannot wait to see his future running performance.

Many high school athletes also participated in the meet, which is unusual compared to previous years. I felt bad that they had to struggle in the windy conditions, but they had a close race with the corporate athletes, which made me realize once again that the level of high school athletes has increased. I expect that some of these students will become athletes who will carry the Japanese flag in the future.

Last but not least, I would like to take this opportunity to express my gratitude to all the parties concerned, including the Kansai Industrial Track and Field Federation and each track and field association, for holding the meet.

I hope that at next year's meet, local people will also participate and enjoy themselves.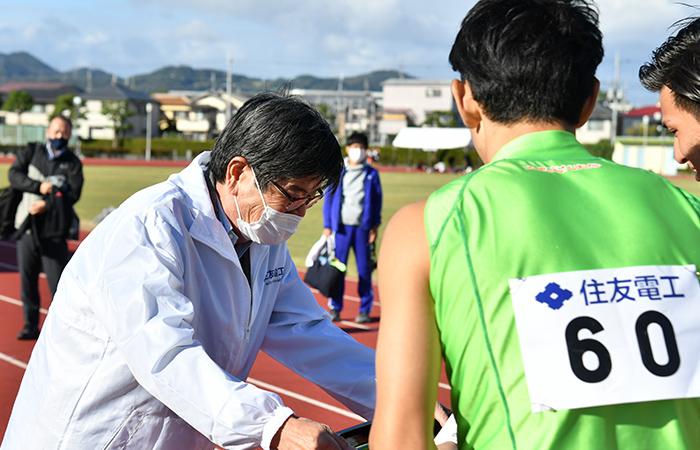 About This Blog
Sumitomo Electric Industries, Ltd. President's blog is operated by the Company. Please note the about this blog.