15 July 2020
Certificates of Appreciation Received
We recently received certificates of appreciation from both Hyogo Prefecture and Itami City for the medical supplies that we donated.

Faced with the spread of COVID-19, we donated such items as medical masks and protective gear from the regular contingency stock that we maintain at each office in accordance with the business continuity plan against influenza pandemics. The donations of such supplies were conducted twice, in April and in May.

Hyogo Prefecture, where many of our company's offices are located, had multiple clusters of COVID-19 cases, and in Itami City, where Itami Works is located, there was a large-scale group infection at a welfare facility. Thus, in response to the rapid spread of the disease, we made the donations to Hyogo Prefecture and Itami City from the stock kept at Itami Works, for which the certificates of appreciation were received this time. The donations were made as part of our social contribution efforts with the hope that the supplies would be useful in protecting the local healthcare community.

The number of new cases in Japan is on the decline, and with the easing of restrictions against COVID-19, people are beginning to come out into the cities. The public atmosphere is undergoing undeniable changes from what it was like when masks and other items were in short supply. This change is good for the purpose of economic recovery, but COVID-19 continues to spread in some areas around the world, with concerns remaining about a second and third outbreak. The Sumitomo Electric Group will continue to be thorough in implementing COVID-19 preventive measures that we have been carrying out thus far, such as preventing the "Three Cs" (closed spaces, crowded places, close-contact settings), wearing masks and using alcohol disinfection.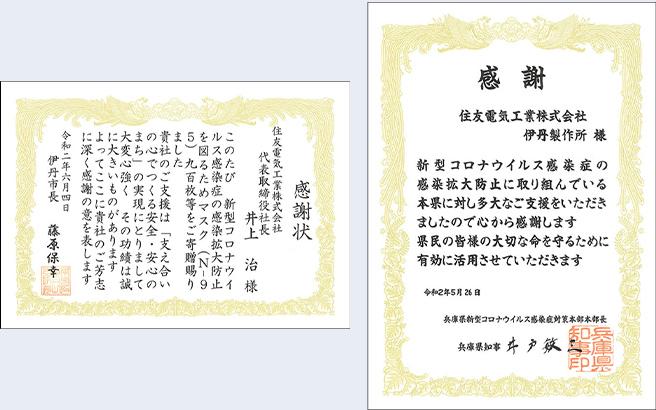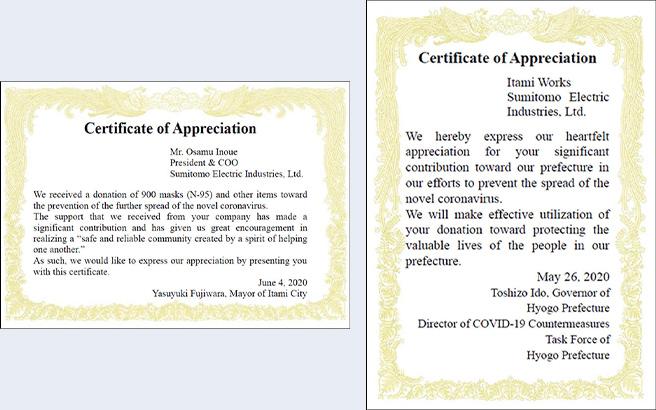 About This Blog
Sumitomo Electric Industries, Ltd. President's blog is operated by the Company. Please note the about this blog.