New Year's Greeting Party
New Year's Greeting Party
24 January 2023
New Year's Greeting Party
We held a New Year's greeting party on January 4 in Osaka, 5th in Tokyo, and 6th in Nagoya. These events saw the participation of a total of about 200 partners. I would like to take this opportunity to express my sincere appreciation once again.
At the opening of each party, I extended my greetings, which I would like to share with you here: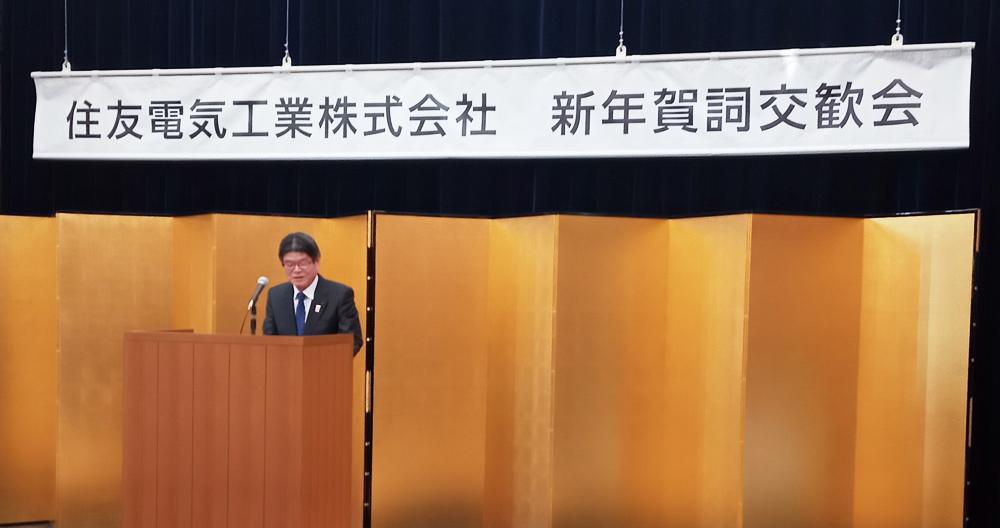 In the Chinese Zodiac, 2023 is the year of mizunoto-u. The kanji character for "mizunoto" represents "measuring" things. To make measurements, standards or principles for the measurements are needed, based on which it is believed that it will be a year when everything should be considered and handled logically. On the other hand, the kanji character for "u" originally referred to not an "usagi" (rabbit), but plants such as "thorns and straws" and meant "growing." Accordingly, it is said that in 2023, a year of "mizunoto-u," if logic is ensured properly, everything will move toward prosperity, but if not, conflict and confusion will arise.
If this theory is applied to our company, I feel that in order to become a Glorious Excellent Company, we need to respond to drastic changes in the operating environment by further refining our ability promptly to create products that will contribute to the development of society, with our cornerstone for everything based on the Sumitomo Spirit. At the same time, we need to make unflagging efforts to make our corporate structure even more resilient and robust.

We will consolidate our efforts together with our partner companies, and in this regard, we would like to ask for your generous support again this year.
About This Blog
Sumitomo Electric Industries, Ltd. President's blog is operated by the Company. Please note the about this blog.