Annual Meeting with Important Business Partners
Annual Meeting with Important Business Partners
22 November 2021
Annual Meeting with Important Business Partners
On October 20, we held the annual meeting at the Tokyo Head Office with our important business partners in the business development and distribution of our electronics, infocommunications, and environment and energy products. We asked two award-winning companies to attend the meeting and 34 others to participate in it online.

We had held this meeting every year to meet with leaders, express our gratitude for their cooperation and support, and share various issues. This year, however, as a countermeasure against the COVID-19 infection, we decided to hold the meeting in a hybrid style of a face-to-face and online.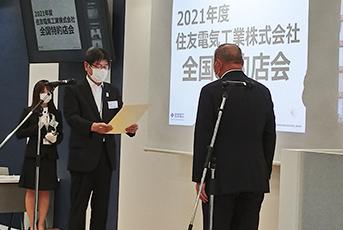 At the meeting, our sales executives explained our products and our sales policy for each market, shared information on our activities in 2021, and presented an appreciation letter and commemorative item to two companies, SATORI ELECTRIC CO., LTD. and TOA Electric Industrial Co., Ltd., which had achieved outstanding results in 2020.
Thank you very much to all the participants. It was very nice to have an opportunity to directly express our gratitude not only to the two award-winning companies but also to each of the other partners that participated in this meeting online.

We asked them to grasp the needs and problems of customers with the use of their wide network. In order to respond to this effort, we will continue to push forward with all of them by concentrating all efforts of our members from the sales, research and business divisions and overseas bases.
About This Blog
Sumitomo Electric Industries, Ltd. President's blog is operated by the Company. Please note the about this blog.