Final Debriefing Session of the 2022 Executive Training
Final Debriefing Session of the 2022 Executive Training
31 March 2023
Final Debriefing Session of the 2022 Executive Training
On Friday, February 17, we held the final debriefing session of the Executive Training. Launched in 2005, the Executive Training is one of the training courses to foster growth of executives of our Group. In addition to Action Learning, in which teams formed by members across different departments take up actual organization-wide management issues as their themes, examine measures for the solution of those issues, and offer proposals to management, including myself, the program of this training also includes talks by management and workshops, aiming to help the participants hone their talents as managers of the Group.

This time, a total of 34 managers, comprising six from overseas, 18 division heads and 10 mid-level managers, were grouped into six teams. After selecting their respective themes, which varied from the enhancement of manufacturing capabilities to new businesses and human resources development, the teams spent about ten months examining proposals to offer, which they finally presented to management.

I could tell from those proposals that all the participants, while performing their regular duties, were involved in exchanging ideas even by widening their horizons beyond their areas of specialization and arrived at the proposals by a process of trial and error. Further, the get-together that followed the debriefing session was really a good opportunity to learn about issues that they have always on their mind. The proposals included some that I wish to push forward with, and we are indeed making progress in reviewing them so as to translate them into a tangible form.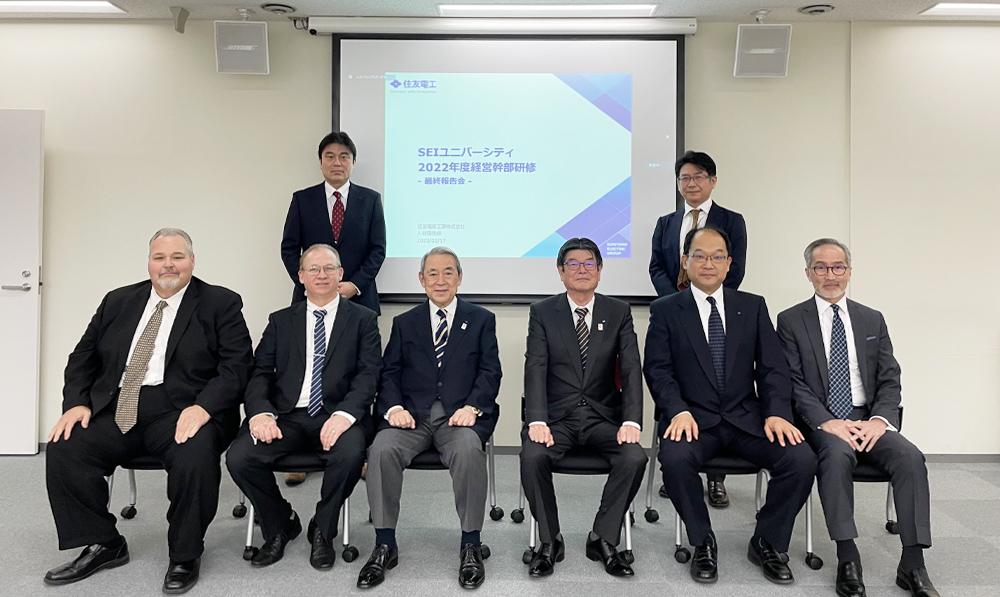 I believe that the experience and personal contacts that the participants have gained through this training will be utilized to their advantage in future operations. I look forward to the participants, as supporters of our Group's future growth, making a contribution to further improvement of the corporate value of our entire Group.
About This Blog
Sumitomo Electric Industries, Ltd. President's blog is operated by the Company. Please note the about this blog.