A Joint Development Effort with Nagaoka University of Technology
A Joint Development Effort with Nagaoka University of Technology
15 May 2019
A Joint Development Effort with Nagaoka University of Technology
On April 15, President Nobuhiko Azuma and Vice President Shigeharu Kamado of the Nagaoka University of Technology visited us. The university is working on a program selected as a Doctoral Program for the World-leading Innovative & Smart Education (WISE Program), and it has been decided that our magnesium alloy development division will cooperate in the program. With this background, they visited us and also observed our manufacturing sites.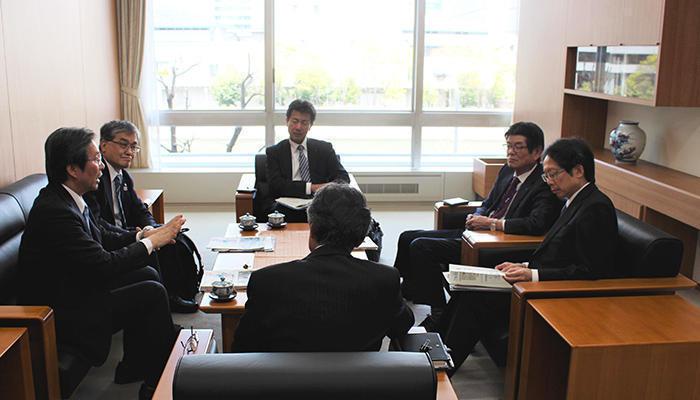 The WISE Program is a national initiative designed to assist universities with the world's top-level education and research capabilities, in developing five-year doctoral programs by building on their unique strengths and leveraging cooperation with domestic and overseas universities, research institutes, private companies and others. This program is thus expected to promote the development of prominent human resources and interaction between them, as well as the formation of bases where new joint research is accelerated continually. We always feel that human resources are the cornerstone of everything. The young population in Japan is shrinking, and the program is all the more valuable for it.

The Nagaoka University of Technology's program includes on-the-job training of about five months. Partly because we are already engaged in joint research with the university, we have decided to cooperate in the training by accepting students at our magnesium alloy development division. This will serve as a good opportunity for human interaction. In addition, placing its basis of engineering education on the Sustainable Development Goals, the university is committed to the global goals (indicated by the fact that it is highly evaluated as the world's only global hub school for the Goal 9 "Industry, Innovation and Infrastructure"), and focuses on research activities to address global problems.

The advancement of AI and IoT is drastically changing society in terms of, for example, the electrification of automobiles and development of automated driving. Such great changes are underpinned by advanced technologies in a wide variety of fields, meaning that one company alone cannot address the trend. In this regard, we would like to continue to actively promote industry-government-academia cooperation and form partnerships with other companies, thereby striving to create new technologies and products.
About This Blog
Sumitomo Electric Industries, Ltd. President's blog is operated by the Company. Please note the about this blog.