Town Meeting for Promoting Women's Empowerment
Town Meeting for Promoting Women's Empowerment
27 October 2022
Town Meeting for Promoting Women's Empowerment
On September 30th, we held a town meeting* with eight women sales staff at the Tokyo Head Office. This time, from the perspective of promoting women's empowerment in our sales departments, we set up a place for women employees to gather and talk frankly on how they feel about their daily sales activities, relating to such themes as when they feel satisfaction in their work, and on what is necessary for the young generation to work enthusiastically.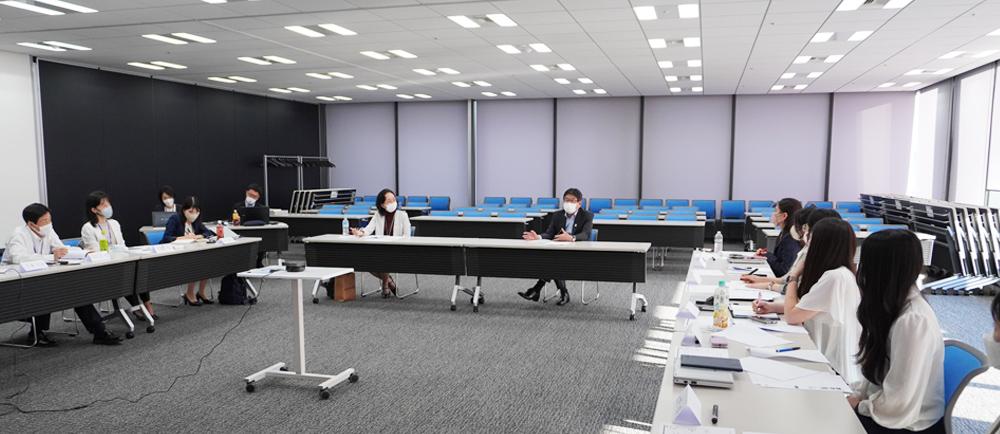 Our employees in sales departments, which deal with many infrastructure products, have opportunities to be involved in projects worth tens of billions of yen both domestically and internationally even at young ages. Accordingly, they are required to have the ability to respond swiftly and a tough mind in communicating with global customers and dealing with troubles. The participants said that they feel satisfaction, under such tough circumstances, when they have successfully completed a project, when they have overcome a challenge to achieve the same goal with members inside and outside the company, and when they have received positive feedback or gratitude from their superiors and peers. As President, I was very happy to know that all the participants are vigorously engaged in sales activities with a high sense of responsibility.

In addition, there was a view that if all members could participate more actively in discussions by improving their communication skills to convey their messages, listen better, and draw out someone's opinions, they would be able to exercise their abilities more confidently. Furthermore, while it was pointed out that women employees need role models, I was also convinced by the opinion that it is important to build different networks that you can consult depending on the type of problem.

A company is made up of people, and therefore, creating an organizational culture in which employees can work enthusiastically is the source of a company's competitive edge. In order to learn about the challenges and difficulties that employees face at their workplace and how they feel as they work every day, I have always tried to actively listen to what they have to say. This time, I was able to recognize once again that places like town meetings, in particular, provide me with a very valuable opportunity to listen carefully to the opinions of employees. I would like to have such occasions on a regular basis to promote the creation of an open corporate culture.
* Town meetings: Direct dialogue between employees and management, which are held every year in each region by job type or position.
About This Blog
Sumitomo Electric Industries, Ltd. President's blog is operated by the Company. Please note the about this blog.