All Japan Intercollegiate Mixed Ekiden Invitational Championship
All Japan Intercollegiate Mixed Ekiden Invitational Championship
06 April 2021
All Japan Intercollegiate Mixed Ekiden Invitational Championship
On March 21, the First All Japan Intercollegiate Mixed Ekiden Invitational Championship and the National Four Western and Eastern University Match, both of which our Company supported as a major sponsor, were held at Nagai Park in Osaka City. I watched the races at the venue as a match official.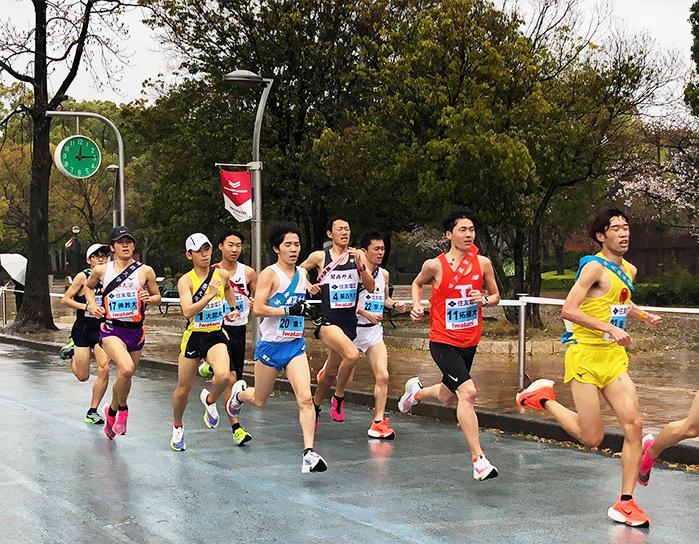 The championships were established this time with the aim of raising the level of medium- and long-distance events in student track and field. I heard that this was the first time for mixed Ekiden relay races by university students to be held in Japan. Powerhouses from the Kanto and Kansai Regions, which were invited based on the ranking of long-distance events and the results of major competitions, etc., participated in the championships. They competed in relay races on a 20-km-long orbital course in Nagai Park.

I was looking forward to watching the championships since they were held for the first time. As I expected, the races were really intense with many highlights. First of all, since each section was relatively short, the overall running pace was fast and the runners competed fiercely for a better ranking. In addition, the system where male and female runners run alternately changed the atmosphere of the race and made it more interesting. It was especially good that I could sense various thoughts of the runners toward the races.
I saw the pride of the local Kansai teams, which seemed to have strong determination to beat the powerful Kanto teams that had participated in the high-profile Hakone Ekiden race. I also felt the sense of unity unique to a mixed team where the sash is passed between male and female runners, who usually do not take part in the same race. Then I saw the hard efforts made by the participants of the National Four Western and Eastern University Match, which was held at the same time. Every runner's effort really impressed me. Among them, a female senior runner of Juntendo University, the winner of the championship, gave me a strong impression. She talked about her aspiration toward this championship in an interview, saying that she positioned this championship as the culmination of her years spent as a track-and-field athlete at the university under the circumstances where she could participate in only a limited numbers of competitions.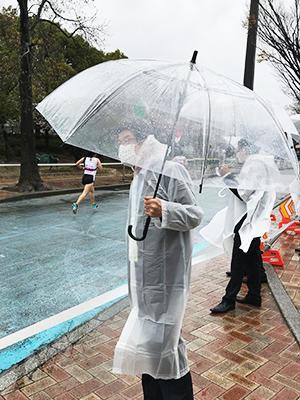 Unfortunately, as it was raining and windy on the day of the event, the conditions were not so good for Ekiden races. However, they turned out to be good races from which we could feel the enthusiasm of the runners despite the stormy weather. Great job, all runners. I would like to thank all people concerned for their efforts to hold the championships despite the significant restrictions. We hope that our efforts contributed to the revitalization of student Ekiden races.
About This Blog
Sumitomo Electric Industries, Ltd. President's blog is operated by the Company. Please note the about this blog.