Opening Ceremony of the Itami Works' New Research Building CRystal Lab.
Opening Ceremony of the Itami Works' New Research Building CRystal Lab.
09 November 2020
Opening Ceremony of the Itami Works' New Research Building CRystal Lab.
On October 14, I participated in the opening ceremony of the new research building CRystal Lab. at the Itami Works.

Boasting the longest history in our corporate group after the Osaka Works, the Itami Works will celebrate its 80th anniversary next year. It is our stronghold for cutting tools, sintered alloy and non-electric-wires such as special steel wires. The long-accumulated results of its research and development are reflected in our current products. In addition, the works has been pushing forward with research and development of compound semiconductors, magnesium alloys and other products with unique features that cannot be found in competitors' products.

CRystal Lab. is a new research building constructed as part of our 120th anniversary commemoration project. We have established the new building to centralize the laboratories located in different places within the works in light of the aging of the former building and inefficiency due to the dispersion of the laboratory locations. The name "CRystal Lab." comes from our determination to make the facility a knowledge-circulating development base where wisdom is accumulated and connected strongly to become "crystallized" technology and which attracts many people and generates the next innovation. "Crystal" is also included in the name of our synthetic single crystal diamond "SumiCrystal" and is a word closely related to the Itami Works, which is engaged in research and development of materials. The name begins with "CR," with "R" being capitalized. This shows the three "CRs" that we believe important in terms of research and development: Championship Record (creation of world-leading, incomparable technology and products); Cost Reduction (continually cost-conscious research and development); and Connected Research and development. The name "CRystal Lab." thus represents many aspects of our determination.

The opening ceremony began with a Shinto ritual. A Shinto priest came and recited a ritual Shinto prayer for the development of CRystal Lab. with the attendance of our corporate officers and senior managers working at the Itami Works, labor union officials and members from the companies in charge of the construction.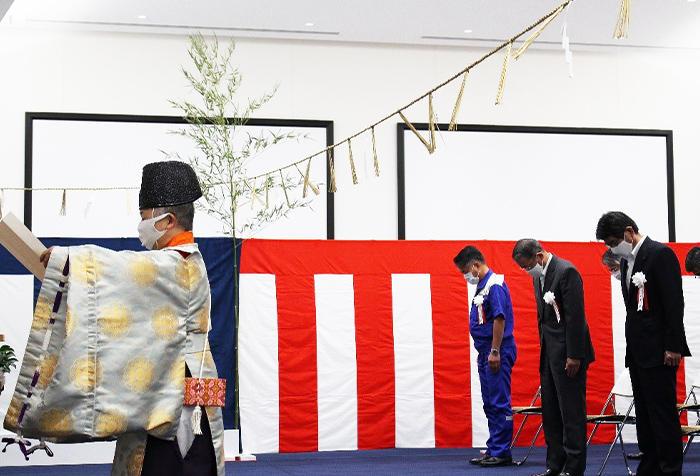 The Shinto ritual was followed by a ribbon-cutting ceremony. Blessed with a clear autumn sky, CRystal Lab. made a start in a very comfortable atmosphere.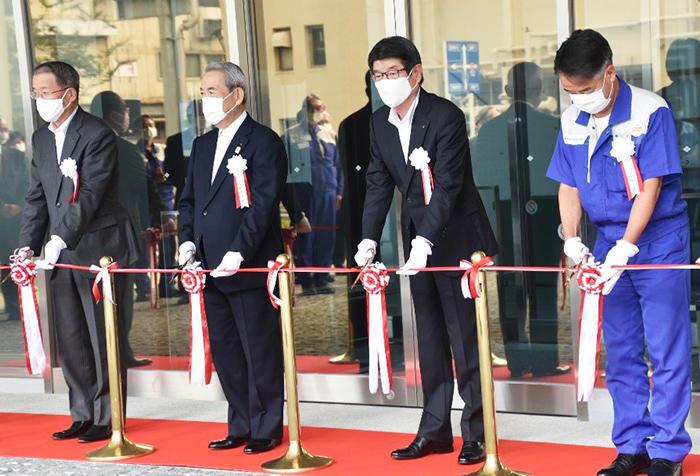 At the preview after the ribbon-cutting ceremony, I was guided to each floor. The building has a bright and open atmosphere, with upper floors commanding a panoramic view of Mt. Rokko and the city of Osaka, where our Osaka Head Office is located.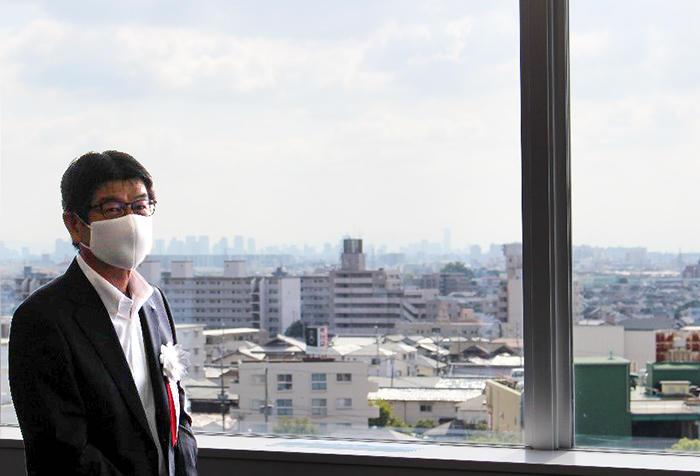 On the 1st floor is a showroom for displaying products resulting from research and development by our laboratories. In the showroom, there are sections where you can experience performance of materials used for our products, such as a section where you can try cutting ice with an artificial diamond. You can cut ice quickly with the heat conducted to the diamond from the temperature of your fingers holding the diamond. This mechanism does no work in the case of metal or glass. This experience has made me realize once again excellent heat dissipation as a strong point of our diamond products.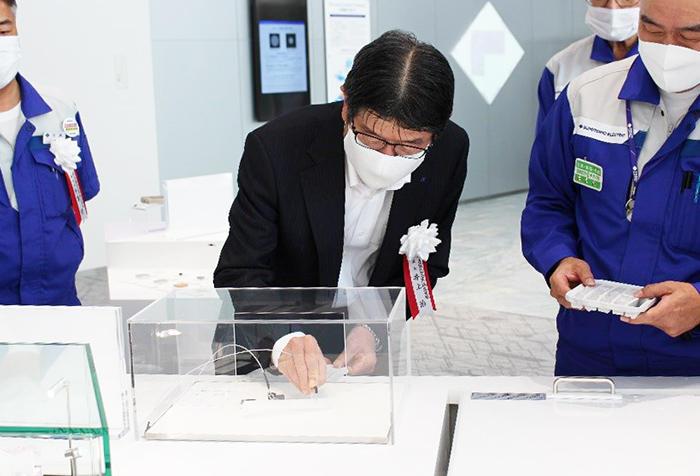 We annually invest more than 100 billion yen in research and development. I believe that we owe what we are today greatly to our recognition of the importance of research and development, our long-term accumulation of results, and our success in presenting many world-leading products to the world. We would like to continue to proceed with research and development of a wide variety of new products and make our corporate structure even more robust so that we can continue to contribute to the world. To this end, I have high expectations for CRystal Lab. as a new base.
About This Blog
Sumitomo Electric Industries, Ltd. President's blog is operated by the Company. Please note the about this blog.