Lake Biwa Mainichi Marathon
Lake Biwa Mainichi Marathon
19 March 2019
Lake Biwa Mainichi Marathon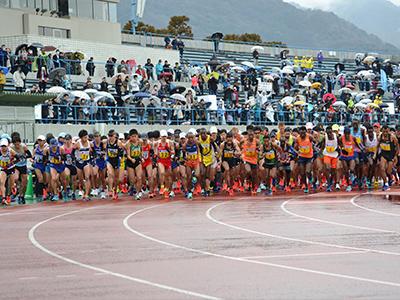 The 74th Lake Biwa Mainichi Marathon, for which we served as the main sponsor, was held on March 10, and I went to cheer on the runners this year again.
This event attracted much attention since it was the final race to qualify for the Marathon Grand Championship (MGC), which will be held to select runners to represent Japan at the Tokyo Olympic Games. Unfortunately, the weather remained rainy during the event, but unlike last year, the temperature was not so high, and the wind was relatively moderate. I feel that these conditions were not so bad for the runners.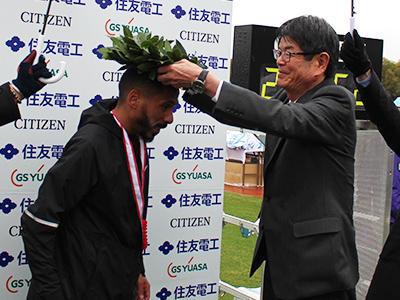 This year again, first to sixth places were dominated by foreign runners, making me keenly aware that Japanese runners still have a long way to go. A foreign runner has now won the race 17 years in a row. However, Mr. Kenji Yamamoto (Mazda) doggedly kept up with these foreign runners almost throughout the race, while Mr. Yuki Kawauchi (Saitama Prefectural Government) continued to demonstrate tenacity until the very end this year again. In addition, Mr. Hiroyuki Yamamoto (Konica Minolta) and Mr. Daiji Kawai (Toenec) qualified to compete in the MGC, making the event even more exciting.
From our athletics club, Mr. Yukio Fujimura and Mr. Koki Takada competed in the race. Running in the lead pack until around 25 km, they were sometimes at the front of the lead pack and appeared on TV, giving me a fleeting dream, but the reality was not so simple. Nevertheless, Mr. Fujimura recorded his personal best by about four minutes, finishing the race in 15th place (eighth Japanese finisher). Meanwhile, Mr. Takada had not been able to train sufficiently due to his injury. This was his first marathon after his recovery, but he ended up with a record of less than 2 hours 17 minutes. Both of them fully demonstrated their current capabilities without giving up until the end. However, their real target is to compete in an international race. I hope that they will keep steadily improving without setting their own limits, in order to reach their big target. I would like them to take on challenges to aim higher without giving up.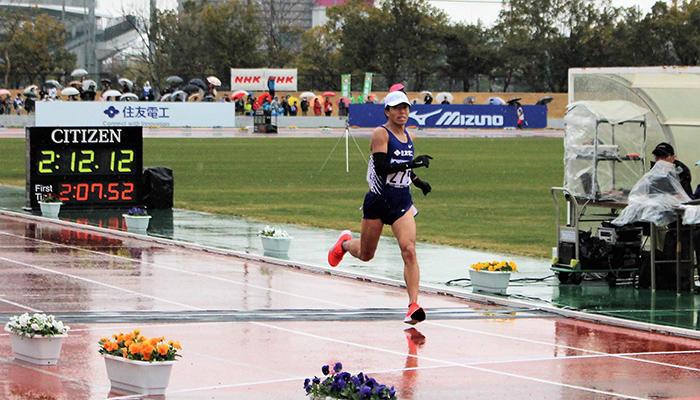 As the main sponsor of the race, we would like to express our appreciation to everyone who supported the event for making it a success. The Japanese athletics society and athletes are now taking on challenges to compete and excel in the global arena. We would like to continue providing corporate support for them to demonstrate full capabilities.
About This Blog
Sumitomo Electric Industries, Ltd. President's blog is operated by the Company. Please note the about this blog.