Remarks for Mid-career Employees
Remarks for Mid-career Employees
31 October 2019
Remarks for Mid-career Employees
The other day, we held a training program for mid-career employees who had joined us in the past six months. As part of the program, I explained to them the following three points that I had talked to all the employees at the beginning of this year.

(1) Respond promptly to changes in the market environment; (2) Evolve SEQCDD (Safety, Environment, Quality, Cost, Delivery, and Research & Development) to achieve the desired results steadily; and (3) Ensure legal compliance thoroughly

Point (1) tells you that it is important to respond agilely, while always being aware of the situation, considering various risks and changing economic conditions, including the U.S.-China trade dispute, along with the Japan-Korea conflict, Brexit, geopolitical risks in the Middle East, Hong Kong, North Korea, etc., the worldwide decline in interest rates and foreign exchange fluctuations.

Point (2) is what I have repeatedly asked of you for a long time. I would like to once again emphasize the importance of sticking to achieving the desired results.

Point (3) concerns legal compliance. Today, when many corporate scandals are reported by the media, each of us needs to act without ever forgetting that a single scandal might threaten the existence of the entire company.

In such a context, we have higher expectations of the mid-career employees than ever before. In case of automobiles, for example, there are calls for proposals and development of products exceeding the conventional boundaries, as indicated by the CASE (Connected, Autonomous, Shared & Services, and Electric) factors. In the past, mid-career employees were often regarded as human resources to cover labor shortage. Presently, however, we employ mid-career workers to cover our shortage of skills and expertise and to infuse cultures and perspectives different from ours.

Last fiscal year, we hired about 200 new graduates, almost the same as usual, and about 160 mid-career employees, a considerable increase from the usual number. In the future, this trend will be somewhat affected by changes in our business environment, but I expect that it will continue amidst the rapid progress of globalization and the paradigm shift in business models. I hope that our mid-career employees will contribute greatly to our innovation.

Today, I feel that the public notion of employment is changing. We will consider an ideal employment vision for us ahead of the changes of the times, while placing our focus on ensuring that appropriate human resources are assigned to appropriate positions.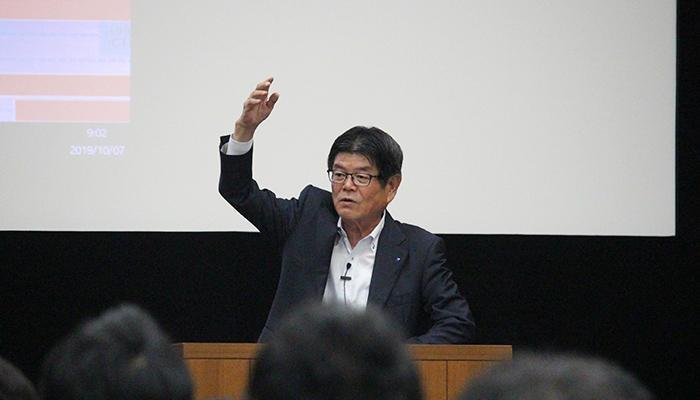 About This Blog
Sumitomo Electric Industries, Ltd. President's blog is operated by the Company. Please note the about this blog.