Our Volleyball Club Wins the Championship!
Our Volleyball Club Wins the Championship!
19 February 2019
Our Volleyball Club Wins the Championship!
The volleyball club of our Osaka Works won its eleventh victory in the 88th All-Japan Nine-Man Volleyball Championship for the second successive year. The manager, coach and some of the club members visited me to report their victory.
In nine-man volleyball, the top-level teams compete really closely with one another, making it difficult to keep winning in the tournament all the way to the championship. Nevertheless, the volleyball club of the Osaka Works was victorious for the second year in a row. The club's opponent in the semifinal was the volleyball club of our Itami Works, which must have been difficult to play against, but they successfully came out on top.
At Sumitomo Electric, we have amateur nine-man-volleyball clubs with a long history at each of the Osaka, Itami and Yokohama Works. Club members work full time during the day, and then train at night and on holidays. I feel their training is effective not only for developing their capabilities as volleyball players and reinforcing their physical strength, but also for expanding their in-house human networks and strengthening their team spirit and mental toughness. Actually, there are many cases of former volleyball club members now playing active roles as managers in their workplaces. This suggests that training was instrumental for their growth as team members and as human beings in many perspectives, making me feel reassured.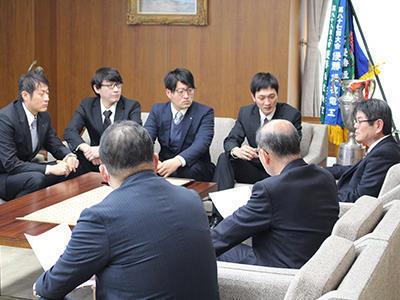 While talking with me, they mentioned their winter (off-season) training programs. According to them, they dedicate themselves to building their physical strength during the winter season. However, each member has his own training program designed to overcome particular weaknesses. Though certainly members of an amateur club, they play volleyball seriously with a logical approach, rather than gather after work simply for fun.
Although it might be difficult for the volleyball team members to find the best balance between work and training, I hope they will continue demonstrating their best performance in both fields. I look forward to continuing to support them.
About This Blog
Sumitomo Electric Industries, Ltd. President's blog is operated by the Company. Please note the about this blog.