The 5th Osaka Sakuyahime Awards
The 5th Osaka Sakuyahime Awards
10 November 2020
The 5th Osaka Sakuyahime Awards
The other day, Ms. Miwa Kunii, an Executive Officer of Sumitomo Electric who is in charge of promoting diversity, came to report that she had received an Osaka Sakuyahime Prize in the 5th Osaka Sakuyahime Awards, sponsored by the Osaka Chamber of Commerce and Industry.

The Osaka Sakuyahime Awards are intended to commend female leaders who are active in corporate and cultural activities and serve as role models for younger generations. Since its establishment in fiscal year 2016, the awards have recognized female leaders in a wide variety of industries and occupations.

According to Ms. Kunii, she has received the prize in recognition of her proceeding with HR measures enabling women to continue working while pursuing their growth and of her establishing cross-sectional organizations to provide our group companies with support so that female employees can fully demonstrate their capabilities. In addition, she has been also highly evaluated for extending her network beyond our corporate group through volunteer activities.

For volunteer activities, she serves as a member of the secretariat of a U.S.-based NPO for supporting women, engineers and entrepreneurs. She participates in and speaks at a wide variety of events organized by universities and newspaper companies. Moreover, as a member of the network of the winners of the Sakuyahime Awards, she helps women work more energetically by establishing and operating an interaction website.

As for our corporate group's future measures for diversity and inclusion, including those enabling women to develop strong presence, Ms. Kunii expressed her eagerness by saying as follows: "As part of the efforts to create an environment where each of our corporate group employees can further demonstrate their capabilities, I'd like to ensure that dialogue opportunities are more available than they are now so that supervisors can respond to the determination of each of their subordinates and contribute to their growth. I'd like to spread from Osaka more efforts to help each individual realize a happy workstyle."

The Sumitomo Electric Group believes that the promotion of diversity management is indispensable for achieving the mid-term management plan VISION 2022. As previously introduced in this blog, we newly established the Diversity & Inclusion Department as of June 25 by upgrading it from a part of the Human Resources Division. As indicated by this, we are implementing specific buildup measures. Promoting the active participation of women is one of our priority issues. I hope that as a female leader of our corporate group, Ms. Kunii will continue to lead the next generation of female leaders. Also, just as Ms. Kunii was inspired by female leaders both inside and outside the corporate group, I greatly look forward to seeing that the next generation of female leaders will be inspired by her receiving the prize or efforts of the other female leaders and make their presence felt even more strongly in their workplaces.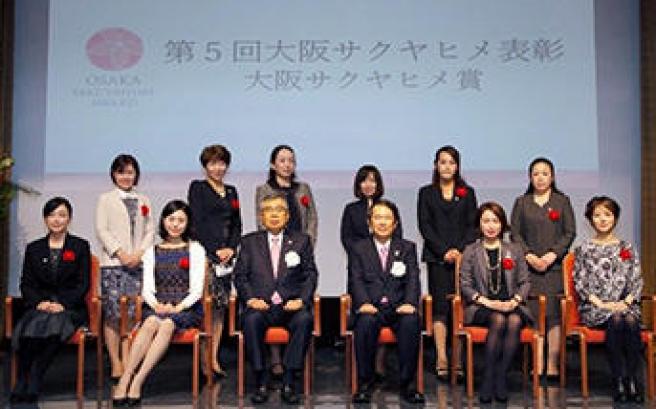 About This Blog
Sumitomo Electric Industries, Ltd. President's blog is operated by the Company. Please note the about this blog.