09 August 2019
Visit to SPring-8/SACLA
The other day, I visited SPring-8, one of the world's largest and most advanced synchrotron radiation facilities located in Harima Science Garden City, Hyogo Prefecture. Synchrotron radiation (SR) comprises powerful electro-magnetic waves emitted from an electron traveling at almost the speed of light in its running-direction when its path is bent by a magnetic field. Spring-8 is used in a wide range of research fields, such as nano-technology and bio-technology.

To utilize the facility for industrial purposes, a group consisting of 13 companies, including us, operates SUNBEAM, an experimental station for industrial purposes only, and I had a chance to inspect it. At Sumitomo Electric, we use the experimental station extensively, such as for the tungsten recycling business and material development for various metal wires. To proceed with cutting-edge product development with sufficient control of the levels of atoms and molecules, it is essential to make good use of the facility.

I also observed SACLA, established on the premises of SPring-8. SACLA is an X-ray laser facility that enables extremely rapid movements of atoms and molecules to be observed like those in strobe photographs. I was deeply impressed by such a high-level technology leading Japan's many advanced technologies.

The visit to Spring-8 has made me fully aware that many companies are focusing on the development of new materials and processes using cutting-edge technologies. Since I have long been interested in what was going on at SPring-8, I requested to visit the facility, which turned out to be a good opportunity for me to learn a lot. At the same time, the visit allowed me to greatly encourage our researchers to work hard so that we can stay competitive in our industry. We would like to make even more active use of the facility not only for improving our product quality, but also for developing new products toward the future.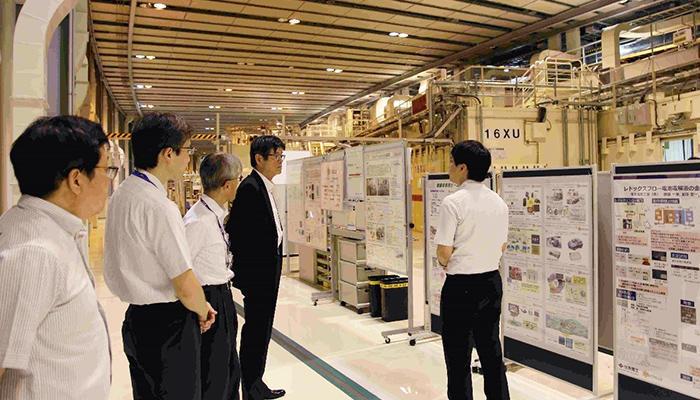 About This Blog
Sumitomo Electric Industries, Ltd. President's blog is operated by the Company. Please note the about this blog.