Ceremony to Welcome New Staff Members
Ceremony to Welcome New Staff Members
15 April 2019
Ceremony to Welcome New Staff Members
On April 1, the first day of the new fiscal year, we held a ceremony to welcome newly hired staff. I am very pleased that we were able to welcome 242 new members to our company this year.

Coincidentally, on the day of the event, the name of the new imperial era was announced, which I feel will make the ceremony even more memorable for the new staff. I hope that they will serve as the cornerstone of the new era.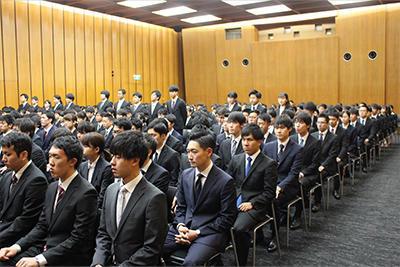 At the ceremony, the names of the new members were called out. They then responded to the call before standing up. While listening to their names being called, I felt that there was an increase in the number of foreign staff. I checked with the secretariat later and learned that more than one out of every nine new employees was from overseas.
Although the figure might be still small, I felt once again the changes of the times. As a company operating in about 40 countries around the world, we believe that we need to continue to promote diversity even more actively. I expect the new staff to communicate with various people and fully demonstrate their capabilities throughout the world.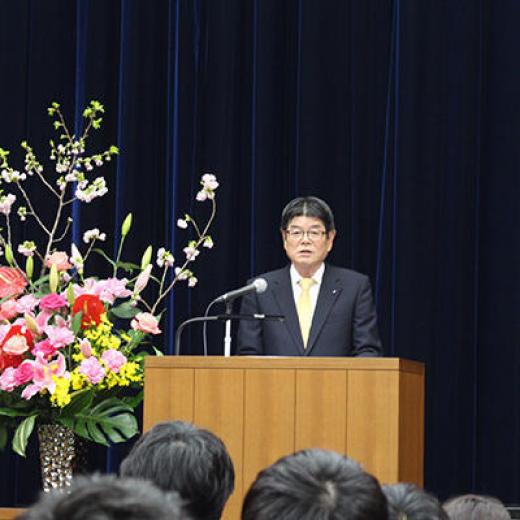 At the ceremony, I delivered my message to the new staff, with a focus on the following three points:
Ensure that your work is based on the Sumitomo Spirit;

Strive to become a professional who can spark innovation; and

Ensure good communication with others.
I hope that while striking the best balance between their work and private lives, they will enjoy their work with a sense of responsibility.

Backed by the development of AI and IoT technologies, the world is now observing the development of a smart energy network, and also the electrification, networking and self-driving of automobiles. In this age of drastic changes, there are many ways in which we can contribute to society. I hope that the new staff will work hard with us not only toward producing good products, but also toward accomplishing our major goals of making society "environmentally friendly," "safe and secure" and "comfortable with much potential for growth."
About This Blog
Sumitomo Electric Industries, Ltd. President's blog is operated by the Company. Please note the about this blog.