High Expectations for the Future Success of 35 Managers!
High Expectations for the Future Success of 35 Managers!
12 October 2021
High Expectations for the Future Success of 35 Managers!
On September 15 and 22, we held the final debriefing session of the Global Leadership Development Program (GLP) within the Group.

Launched in 2007, the GLP is targeted at general managers of group companies in Japan and overseas, and has been attended by a total of 521 people so far. In conducting the GLP, we usually invite the participants to Japan, but the COVID-19 pandemic forced us to cancel the program for the last fiscal year. In FY2021, we offered the GLP based on an online curriculum.

This time, a total of 35 managers, comprising 24 employees from overseas and 11 from Japan, attended the GLP. Mainly focusing on leadership training workshops and group discussions, the program offered speeches by our executives, and lectures and information on various topics, including the history of Sumitomo Electric, the Sumitomo Spirit and compliance. I also spoke to the participants about the current situation of our company, expectations for the next-generation executives, and the mindset of leaders.

Since I was looking forward to communicating directly with the participants, I felt slightly sad that the GLP was offered online. Nevertheless, it was a good opportunity for me to listen to the voice of managers struggling amid the COVID-19 pandemic through the screen.

There are many roles that a leader is expected to assume. Among them, I believe, the most important one is to accurately grasp changes in the situation, make decisions on your own, set clear goals for the team, and take the lead in achieving them. The Sumitomo Electric Group has a history and track record of addressing changes in a business environment with positive determination, even in the face of many difficulties, and overcoming them with a concerted effort by all employees, always based on the Sumitomo Spirit.

The GLP is an important opportunity for leaders of the Sumitomo Electric Group, including those overseas, to understand this fundamental concept, raise their awareness as members of the Group, and disseminate it to their subordinates in the local language. That being so, we will continue to offer this program.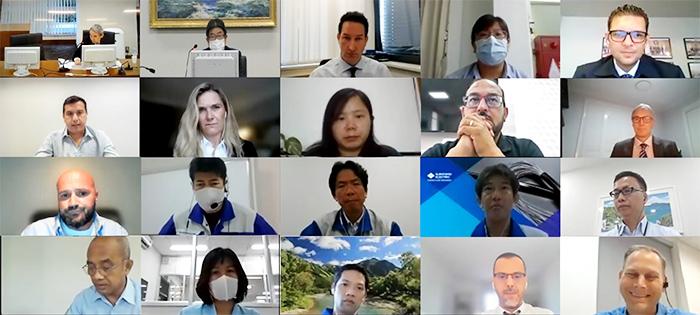 About This Blog
Sumitomo Electric Industries, Ltd. President's blog is operated by the Company. Please note the about this blog.