Formulation of
Basic Procurement Policies
The Sumitomo Electric Group considers procurement to be a "service that supports the foundation of its business activities," and in May 2006, established Basic Procurement Policies in line with the Sumitomo Spirit and the Sumitomo Electric Group Corporate Principles.
Cooperation of suppliers is essential for us to further promote our commitment to CSR in the procurement activities. We identified the issues for which our supplies are asked to take active measures based on the Sumitomo Spirit and the Sumitomo Electric Group Corporate Principles, and established the Sumitomo Electric Group CSR Procurement Guidelines in July 2010.
We have distributed the Basic Procurement Policies and the Sumitomo Electric Group CSR Procurement Guidelines to our main suppliers, along with our Group companies, and have sought their understanding and cooperation.
Basic Procurement Policies
1. Promoting procurement activities that contribute to creative and global corporate activities
The starting point of our social contribution is to conduct corporate activities that provide excellent products and services that meet customer demands. In this recognition, we will promote procurement activities that continuously sustain "creative and global corporate activities" that enable us to offer such products and services.

2. Promoting fair and impartial procurement activities
Through fair, impartial and open transactions on the basis of rational processes and judgments, we will promote procurement activities that support proper corporate activities.

3. Promoting compliance-based procurement activities
With cooperation from suppliers, we will promote procurement activities on the basis of compliance with relevant laws and regulations, as well as social norms.

4. Promoting procurement activities based on mutual trust and cooperation with suppliers
To realize our management philosophy, it is essential to establish strong relationships of trust with suppliers. In promoting procurement activities, we will therefore prioritize suppliers who agree with our management philosophy.

5. Promoting procurement activities friendly to the global environment
Environmental protection is a global challenge to be addressed. We will promote procurement activities to support the provision of products that can help customers in their efforts toward environmental protection, while helping us realize corporate activities of low environmental impact.
Supplier Code of Conduct
Sumitomo Electric Group seeks to do business with suppliers that share our commitment to integrity and to conducting business in compliance with the law.
The Supplier Code of Conduct is a statement of the values and the standards of conduct that we expect of each supplier, subcontractor, agent, consultant, or distributor.
It is applicable to all suppliers to Sumitomo Electric Group companies worldwide.
Sumitomo Electric Group CSR Procurement Guidelines (extracted)
The Sumitomo Electric Group aims to contribute to creating a better society and environment, with a firm awareness of our social responsibility. To this end, the suppliers that directly or indirectly provide their products and services for us are also required to work on the activities together with us. Therefore, we have summarized our requests to the suppliers of the Sumitomo Electric Group in these guidelines, and the suppliers are requested to promote compliance with them. Our suppliers are also asked to request their suppliers to comply with the guidelines.
Provision of Useful and Safe Products and Services

Improvement of Technological Capabilities

Promotion of Sound Business Management

Contribution to Preservation of the Global Environment

Compliance with Laws and Social Norms and Fair and Proper Business Activities

Social Contribution and Elimination of Antisocial Forces

Respect to Human Rights and Considerations of Occupational Health and Safety (Including Response to the Issue of Conflict Minerals)

Disclosure of Information and Promotion of Communication with Society

Maintenance of Confidentiality and Information Security
In Sumitomo Electric, Group Procurement Collaboration Office established in the Procurement Division, which is composed of the staff in charge of procurement and outsourcing in 23 divisions and affiliates in the Sumitomo Electric Group, promotes Group-wide activities and measures based on the Basic Procurement Policies. In addition, the Procurement Division regularly publishes e-mail magazines for procurement and outsourcing staff in the Sumitomo Electric Group, which contains timely articles on practical topics such as compliance and environmental initiatives and related advice to enhance awareness among the staff in charge across the Group. Overseas, we will expand establishment of liaison committees of procurement staff on a regional basis under the initiative of the international purchasing offices of the Procurement Division in the area of China, ASEAN, USA and Europe. The liaison committees of procurement staff ensure thorough implementation of the Basic Procurement Policies through development of measures on procurement across the Group and training to staff.
Commitment to Compliance
Needless to say, compliance is also more important than any procurement activities. It is particularly crucial to comply with the Act against Delay in Payment of Subcontract Proceeds, etc. to Subcontractors (hereinafter the "Subcontract Act") in regard to appropriate dealings with subcontractors as well as the Customs Law in regard to appropriate payment of customs duties on items we directly import from overseas companies. In regard to these two priority issues, we annually organize training seminars, encourage self-examination, and provide tours for instructional purposes in our divisions and domestic affiliates so that our employees can gain expertise and ensure full compliance with procurement-related laws.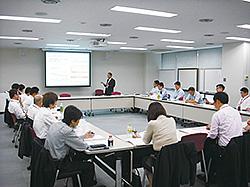 Education System
For the purposes of "development of reliable procurement staff" and" handing down of procurement ethics, knowledge and expertise," the Procurement Division has developed and provided an OFF-JT program for working staff, which is combined with existing OJT to improve purchasing skills with the multiplier effect.
Promotion of CSR Procurement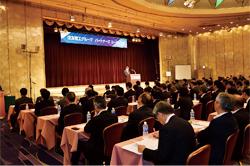 Promotion of CSR Activities in Partnership with Suppliers
Sumitomo Electric believes that mutual trust and cooperation with suppliers is crucial for promoting procurement activities that comply with our CSR basic policy.
We held a Partners' Meeting with representatives from more than 100 suppliers to facilitate information exchange. In meetings held with regional partners at our major Works, we explain the concept of the Sumitomo Electric Group CSR Procurement Guidelines to our suppliers.
Quality Improvement Activities for Purchases
(Encouraging Our Suppliers to Improve Their Product Quality)

Our group is engaged in several different fields of business, and the requirements for product quality vary depending on the product and customer. In the course of our production, we purchase a wide variety of products including raw materials, electronic parts, equipment and software, and therefore, the quality control of our purchases is very important for our business operation.
Although the requirements from our customers and expectations for our suppliers differ, our philosophy on product quality is basically the same. In this regard, we developed "Quality Control Guidelines for Suppliers (*)" in September 2010 to ask our suppliers for the quality assurance of their products. Based on ISO9001, the guidelines state our policies for the quality assurance of our purchases and the requirements for our suppliers.
Through cooperation with our suppliers, we will continue our efforts to secure product quality and safety.
Contribution to Preservation of the Global Environment
To promote environmentally friendly procurement activities, we have made efforts to eliminate banned substances from products and enhance control of other harmful substances contained in products, based on the SEI Guidelines for Green Quality Purchases. (*) In the future, we will develop a supplier assessment and selection system incorporating the level of environmental management as an indicator, and promote initiatives to contribute to preservation of the global environment through the joint efforts with suppliers.
Sumitomo Electric also introduced the ECO Factoring System in June 2009, developed in collaboration with Sumitomo Mitsui Banking Corporation. In this system, suppliers who meet our original criteria with regard to the environmental conservation activities are certified to be applied to a favorable interest rate when suppliers convert accounts receivable into cash before the due date. With this system, we encourage our suppliers to perform environmental conservation activities.
Sumitomo Electric Group's Responsible Minerals Sourcing Initiative
The Sumitomo Electric Group, which is "Promoting compliance-based procurement activities" as stated in the Basic Procurement Policies, recognizes that risks listed in Annex II of the Organization for Economic Co-operation and Development (OECD) such as the matter of conflict minerals(*) illegally traded by armed groups in the Democratic Republic of the Congo and its neighboring countries, cobalt mining, which is feared to be the worst form of child labor, and human rights violations and labor issues in conflict areas and high-risk areas (CAHRAs) are among the serious social issues in the supply chain. To fulfil our social responsibility in procurement activities, we aim to realize "responsible minerals sourcing" involving such illegal or dishonest acts as raw materials. To this end, we investigate the supply chain on the use of conflict minerals involving such illegal or dishonest acts when necessary.
In the event that the use of minerals that may cause human rights issues and other types of social problems or serve as fund for armed groups is found, we will take measures to avoid their use.

In accordance with the principle of "Promoting procurement activities based on mutual trust and cooperation with suppliers" in the Basic Procurement Policies, we will ask suppliers to understand the approach of the Sumitomo Electric Group and cooperate with our investigation mentioned above. In case that the use of minerals of concern is found, the relevant suppliers will be requested to take measures to avoid their use as we do in the Group to cooperate with us to realize "responsible minerals sourcing."
*the matter of conflict minerals :Issue in which the trade of tantalum, tungsten, tin, gold, or their derivatives produced in the Democratic Republic of the Congo and surrounding countries is a source of funding for armed groups carrying out serious human rights violations