We aim to utilize diverse talents
In the Sumitomo Electric Group, over 280,000 employees are working actively in about 40 countries around the world. We believe that for Sumitomo Electric to win the global competition and grow further, it is essential that we fully mobilize the Group's technologies, products, business models and all other resources, and we acknowledge that it is most important to secure and utilize highly capable employees who support the efforts.

The Group has traditionally attached a high value to human resources based on the Sumitomo Spirit. To clarify the basic policies on human resources, we instituted the Sumitomo Electric Group Global Human Resource Management Policy (Global HRM Policy) in September 2011.

This policy specifies the Group's commitment to creation of an environment that helps employees realize growth and self-actualization through work, provision of various career opportunities regardless of race, ethnicity, national origin, religion, age, gender, gender identity, sexual orientation, or disability, promotion of diversity and development of global leaders, in order to accelerate our global human resource recruitment and promotion. We have declared the policy to inform people in and outside of the Group about it.
Global Human
Resource
Management
(HRM)Policy
We provide workplaces where all the employees can work actively, grow both personally and professionally through work, achieve self-actualization, and contribute to the society.

We offer various career opportunities and globally pursue "the right person in the right position" regardless of race, ethnicity, national origin, religion, age, gender, gender identity, sexual orientation, or disability.

We value and promote diversity in the workplace in order to enhance the creativity of the organization and to sustain the growth of the business.

We develop global leaders who lead and give energy to our global business. Global leaders are those who understand and share the Sumitomo Spirit and the Corporate Principles and can lead highly diversified teams.
Global Grade
System and Group Global Executive Personnel System
We have adopted the Global Grade System, which is a human resource development system that allows talented and qualified persons to seek career development beyond the borders of individual companies to engage in the management of Group companies in Japan and overseas or perform even higher duties. We give board members and equivalents from overseas subsidiaries, except for those of listed companies, the global leader (GL) grade, and recognize them as SEG Global Executives. At present 43 persons, most of whom are executives of overseas Group companies, are recognized as the SEG Global Executives. They are provided with a wide range of career opportunities to help them play more active roles as global leaders.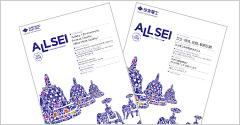 Distribution of Group Global Magazine
The periodical "ALL SEI" is distributed to Group employees both in Japan and overseas in six languages four times a year. ALL SEI is published to enhance the understanding and spread of the Sumitomo Spirit, the Sumitomo Electric Group Corporate Principles, and our management policy and vision. It also carries dialogues between SEG Global Executives and information on business activities in each country in order to share information and cultivate a sense of unity among the Group's global employees toward the creation of a "Glorious Excellent Company."
Recruitment of Diverse Human Resources
We believe that diversity is to accept a set of different values and unify them toward the same goal, transforming the differences into our strengths.

To support the development of our various business activities including those in new fields and global markets, we continue to actively recruit women, foreign students, mid-career employees and other diverse personnel.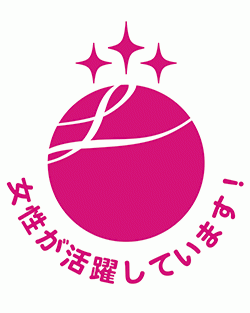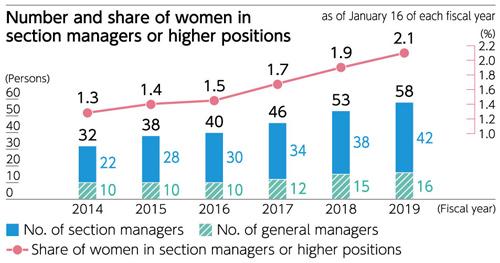 Women's Empowerment
Sumitomo Electric regards women playing active roles in their workplaces as one of the driving forces to promote diversity, and strives for it. We consider that the development of an environment where women can fully demonstrate their skills and keep playing important roles will also lead to the cultivation of culture that helps each employee work more actively. This is therefore a significant initiative for the future growth and development of our Company.

For example, Women are more susceptible to life events and accordingly tend to have difficulty in imagining their career path. Therefore, since 2016 we have been conducting training for managers to help them understand the necessity and importance of developing female subordinates and consider suitable support for the growth of each of them. In addition, we have introduced a childbirth/parenting support program to promote communication between employees who are planning to take or have just taken a maternity/parenting leave and their supervisors, thereby helping female employees to fully demonstrate their abilities. Furthermore, to help managers deepen the understanding and take specific actions, the training program is conducted in combination with "career dialogue training" from 2019.

In accordance with the Act on Promotion of Women's Participation and Advancement in the Workplace, we formulated an action plan in March 2016.
We certified as the highest grade L-boshi company under the act. L-boshi is certification granted by the Ministry of Health, Labour and Welfare to companies that have established and reported an action plan based on the Act of Promotion of Women's Participation and Advancement in the Workplace, have applied for certification to the labor bureau in their prefecture, and have been judged to satisfy specific standards. Three certification levels exist according to the number of assessment items the relevant applicant has satisfied. Judged satisfactory in all assessment items of recruitment, employment continuity, working style (e.g. working hours), percentage of female managers, and diverse career courses, we have been granted the highest-grade third-level certification.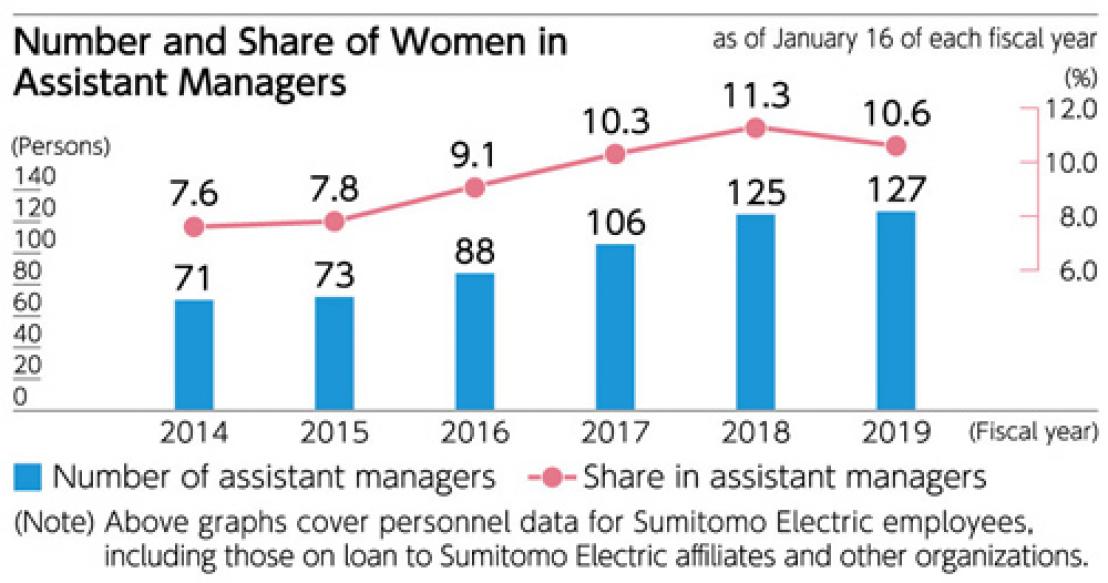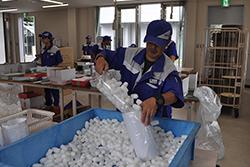 Promotion of Employment of the Persons with Physical or Mental Disabilities
As part of our efforts to recruit diverse personnel, we have steadily worked to employ persons with physical or mental disabilities. With the aim of further promoting the employment of persons with disabilities and improving their employment rate, we established Sumiden Friend, Ltd. in July 2008, which was certified as a special subsidiary under the Act for Employment Promotion etc. of the Disabled in February 2009.
This company is engaged in greening activities, such as the rental and maintenance of foliage plants in our company and Group companies, and the job of stuffing bags with buffer materials for the packaging of our products. It is expanding its business scope, and is now involved in converting drawings into electronic data with the use of PCs, and shredding and recycling used paper.
* There is a corporate group application system, in which disabled employees of a special subsidiary are considered to be the parent company's (or corporate group's) employees when calculating the percentage of disabled employees.