Human Resources Development
Personnel Needed by Sumitomo Electric Group
Personnel needed by Sumitomo Electric are those who honor the Sumitomo Spirit, understand the Sumitomo Electric Group Corporate Principles, possess high levels of skill and knowledge rooted firmly in the basics, and who can play active roles in the global community.
Basic Concepts of Human Resources Development
Our basic concept for human resources development consists of the "individual employee's strong motivation for self-development" and "on-the-job coaching and close communication between superiors and subordinates." Specifically , we support the cycle of "management by objectives and career dialogue," "on-the-job training," and "performance evaluation and job rotation" through the "training and education at the SEI University." Thus, we will improve the human resource value of each individual through achievement of our corporate goals. Specialty training in each division and Group-wide training provided by the Corporate Staff Group are the two pivotal components of training and strongly support "self-development activities" and "coaching and close communication between superiors and subordinates."
Structures and Systems for Human Resources Development
SEI University
SEI University represents the Sumitomo Electric Group's comprehensive training and education system.
At SEI University, we provide various training programs in a wide range of fields to raise the human resource value of employees on a group-wide basis, achieve the company's goals, and create a "Glorious Excellent Company."
Fundamental Principles of SEI University
SEI University will serve as a venue for:
■Disseminating the Sumitomo Electric Group's corporate philosophy,
■Sharing the Sumitomo Electric Group's management strategies and vision, and
■Developing employees' abilities, skills and knowledge so that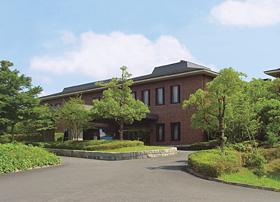 Principal Training Programs
SEI University provides more than 300 training programs (commonly developed across the Group), including position-based compulsory programs for all group employees ranging from executives to new employees, in the three areas of human skills, problem-solving skills and technical skills. Our Group companies and divisions also organize their original training programs in the field of technical skills to have the trainees acquire the unique knowledge and skills especially required in the respective workplaces.
The following five subjects constitute the compulsory basic training, which is provided for all employees as part of various training programs:


(1) Sumitomo Spirit, Corporate Principles, and CSR


(2) Management policies and visions


(3) Compliance


(4) Safety, environment and quality


(5) Diversity
In particular, the Sumitomo Spirit is positioned as the basis for employees to perform their duties. We give them opportunities to learn about it in the training programs for new employees and various position-based training programs. In addition, we always explain the relations of the Sumitomo Spirit to compliance and human rights in the relevant training programs. Furthermore, the president asks all employees to perform their duties in accordance with the Sumitomo Spirit via a video once in six months and the video is also translated into multiple languages and distributed to Group companies in Japan and overseas. For the employees to be assigned overseas, a training program to ensure that they can convey the Sumitomo Spirit in their own words in their new workplaces is organized before the transfer. We are also cultivating internal lecturers to enable the Sumitomo Spirit to be learned periodically in Group companies in Japan and abroad.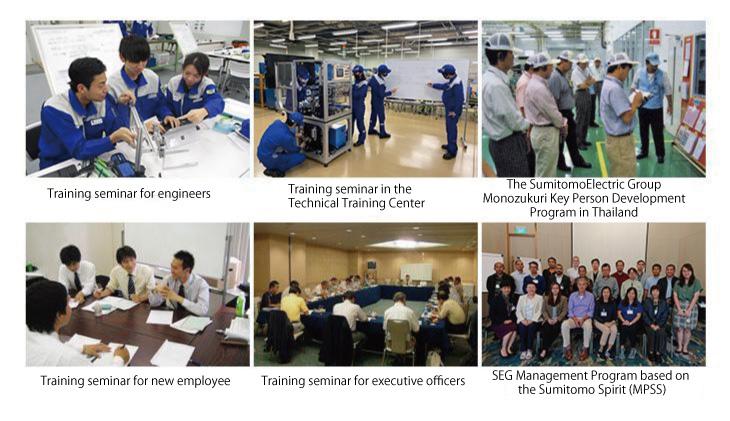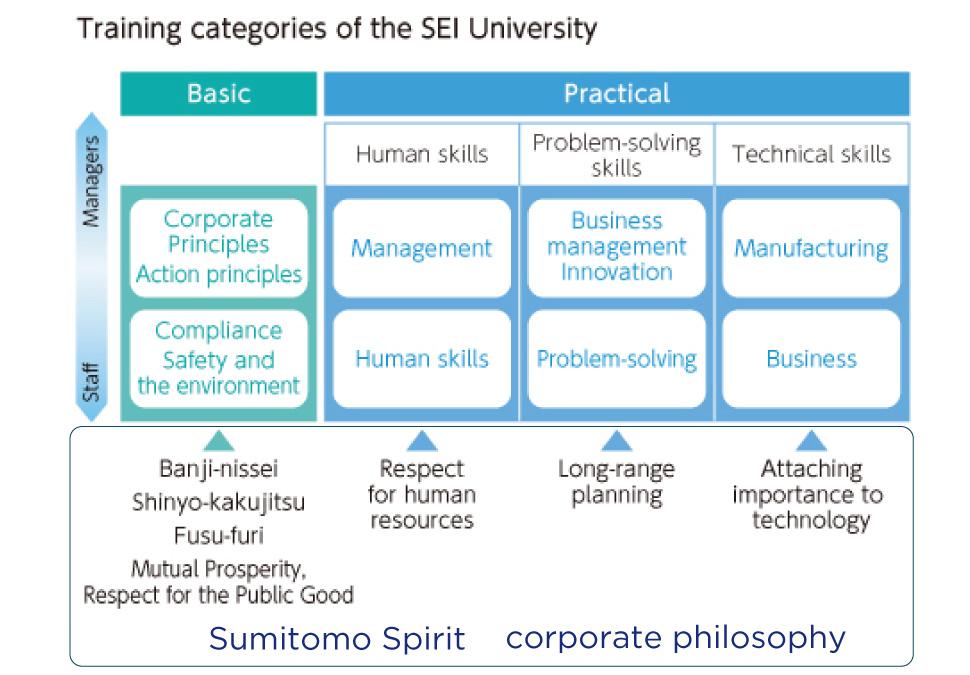 Group-wide Global Approach
To promote human resources development on a group-wide basis, employees of Group companies in Japan are provided with opportunities to participate in training programs hosted by Sumitomo Electric, and the number of participants is increasing year by year. In cases where Group companies have difficulty operating training programs by themselves, Sumitomo Electric dispatches lecturers to provide necessary training programs.
Meanwhile, for Group companies overseas, human resource manager meetings are periodically held in each country to discuss the planning and operation of various training programs (mainly for non-managerial employees), with the aim of promoting human resources development that meets local needs. In addition, the Global Human Resources Development Meeting is held in Japan once a year, to which personnel responsible for human resources development are invited from Group companies across the world, in order to discuss a global common system for human resources development.
We also organize the following training programs for management personnel commonly in Japan and overseas.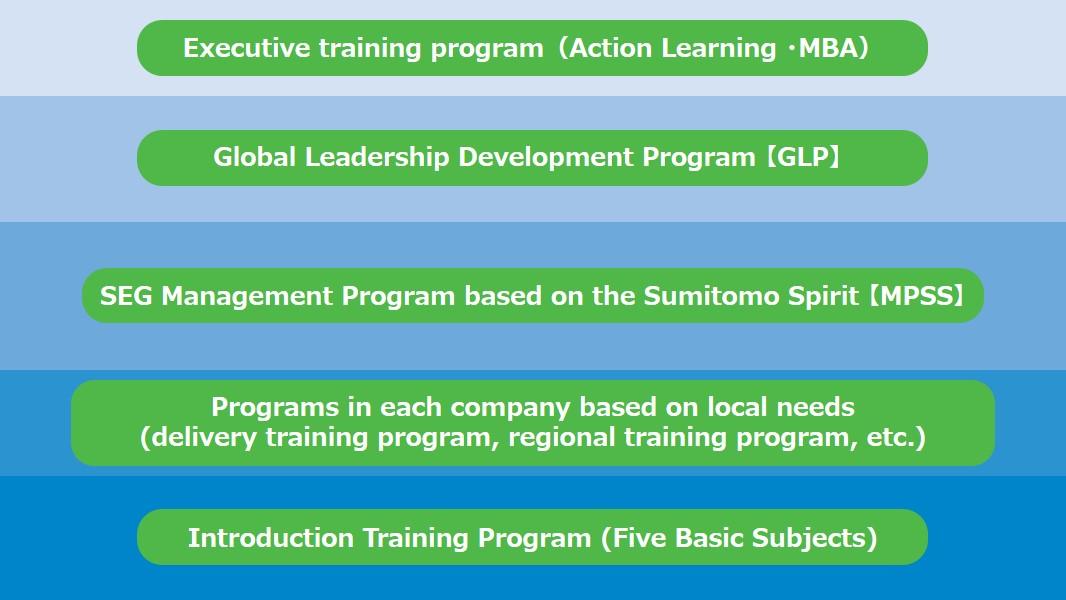 Overview of Global Common Training Programs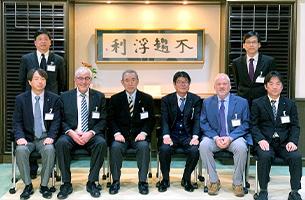 Executive training program
Target:Executive
A hands-on program that involves teamwork to tackle actual management issues
In addition to the Action Learning program, this program aims to develop executives by providing opportunities to deepen understanding of the Sumitomo Spirit and acquire management knowledge. Since fiscal 2010, the program has welcomed participants from abroad as well, most of whom are graduates of the Global Leadership Development Program. Useful proposals produced through the Action Learning program have already been realized and applied to actual management.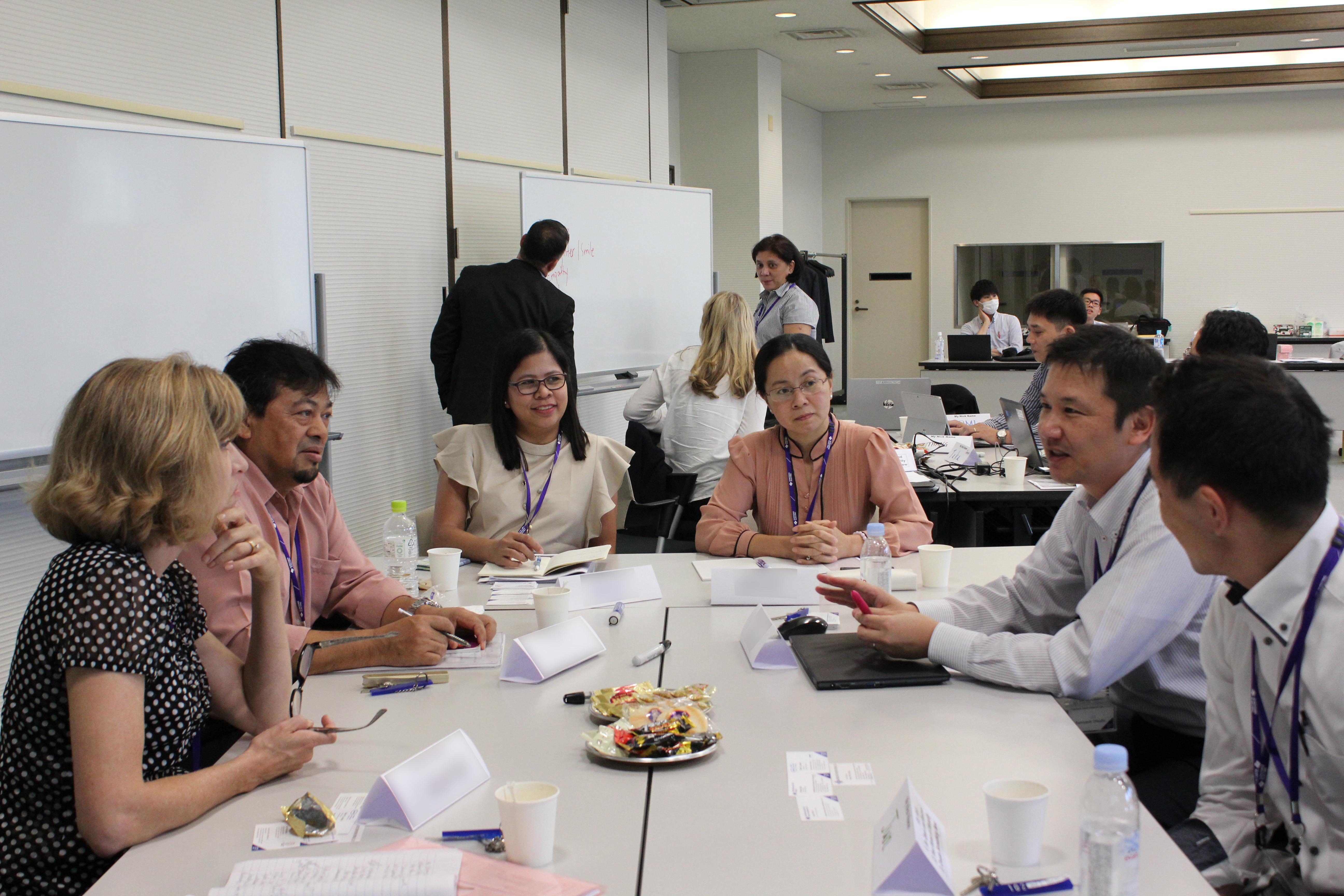 Global Leadership Development Program (GLP)
Target:General Manager
For this program, core general managers from various countries and various Group companies are invited to Japan. The participants listen to lectures delivered by executives, attend leadership workshops, and learn about the Sumitomo Spirit. The goal of the program is to develop human resources who can demonstrate global leadership.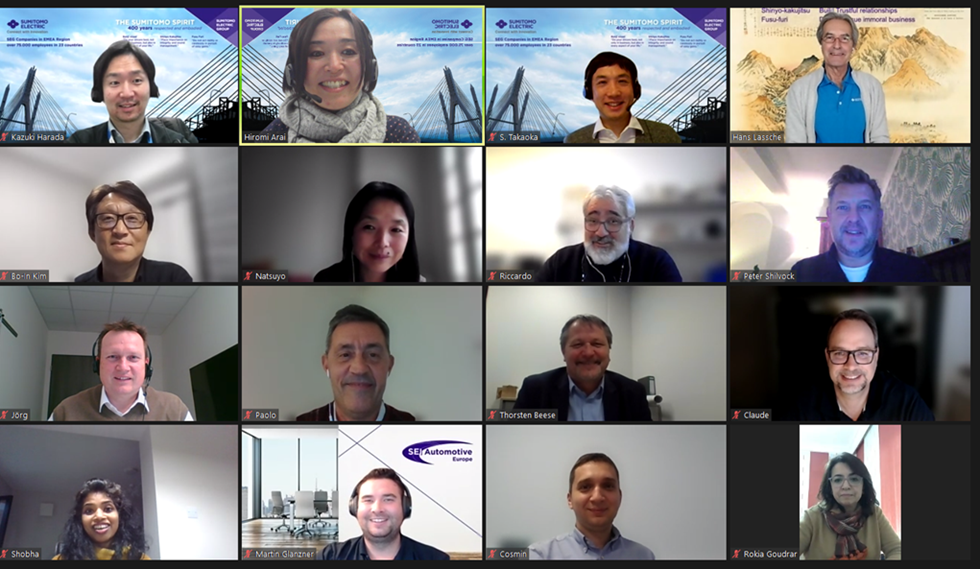 SEG Management Program based on the Sumitomo Spirit (MPSS)
Target:Manager
This training program aims to share and spread the Sumitomo Spirit among core managers from overseas affiliates and to enhance their skills for managing subordinates. It is held every year in six regions: Europe, North America, China (East and South China Districts), Southeast Asia and Mexico.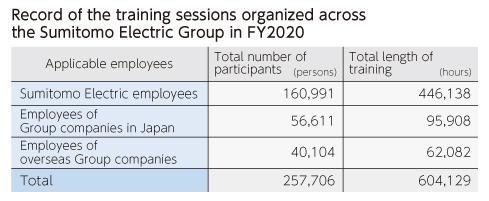 Record of the training sessions
Cultivation of Manufacturing Personnel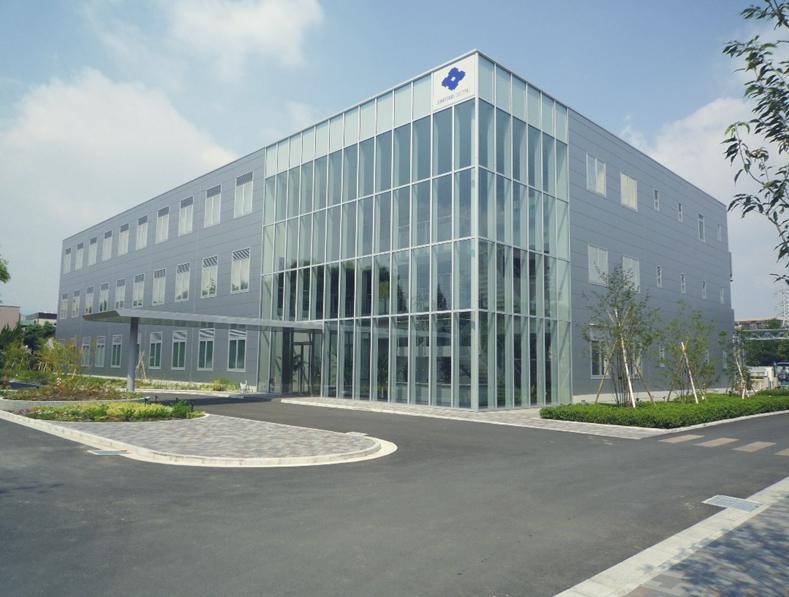 Basic Concept
Training programs aimed at developing manufacturing personnel are conducted mainly at the Technical Training Center, which was established in October 2008 in the Itami Works. Based on the basic concept that manufacturing is human resources development, we promote cultivation of manufacturing personnel who support "strong" plants through the three main initiatives of 1) basic training on manufacturing, 2) practical training, and 3) training of technical staff.
Basic training on manufacturing
The underlying concept is to learn with actual machines and products. Subjects in the curriculum are wide-ranging, from SEQCDD, which are essential for manufacturing, to our proprietary technologies and techniques as well as the latest technologies including equipment control and maintenance technologies. The number of participants is growing every year. Overseas as well, we regularly provide training on basic knowledge and the maintenance of equipment in China and Southeast Asia.
We also hold a program intended to develop "strong" plant managers (equivalent to the manager of a manufacturing section) who will play a pivotal role in manufacturing. Assistant plant managers learn the concepts and knowledge required for plant managers through a six-day training course and then have an opportunity to deepen their understanding through practical operations. Then, those who are appointed as plant managers attend a two-day training course. They also participate in plant manager networking events on a regular basis to create strong plants. We plan to develop 20 to 30 plant managers every year and also cultivate general managers of overseas manufacturing divisions in looking toward the future.
Practical training
We organize two types of practical professional training aimed at cultivating key personnel who are anticipated to drive manufacturing innovation and reinforce SEQCDD improvement, namely MKP (Monozukuri Kakushin Pro Jissen Dojo, or manufacturng innovation professionals' workshop) and GKP (Genba Kaizen Pro Jissen Dojo, or on-site improvement professionals' workshop). Important challenges of the respective divisions are selected as themes, and trainees are assigned to divisions with challenges and problems that they have studied, in order to perform practical activities for the solution of these challenges and problems.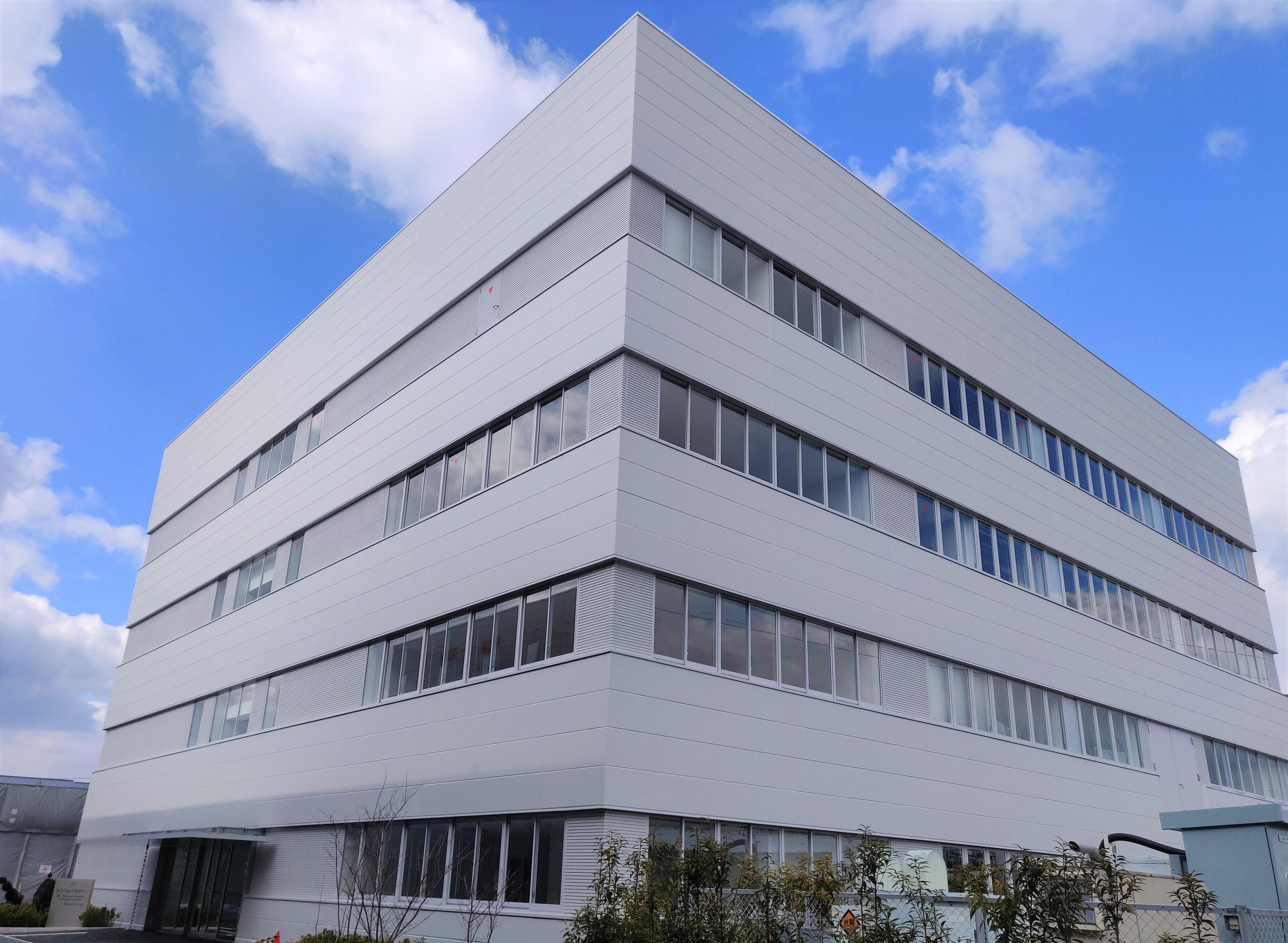 Training of Technical Staff
For technical trainees, or new technical employees to be assigned to production or development, we provide training programs to equip them with the basic etiquette and attitude necessary for working professionals and the essential knowledge required for manufacturing personnel. Such training also includes opportunities for the trainees to experience cutting-edge technology. In the spring of 2022, we relocated from the training building on the north side of the Itami Works to the new building (Technical Academy) adjacent to the Technical Training Center. Using state-of-the-art equipment, we will provide high-level training.