Resource Conservation and Recycling
Resource Conservation and Recycling
Promotion of
Resource
Conservation and
Recycling
The Sumitomo Electric Group is committed to the "3R" (Reduction, Reuse and Recycling) of the waste generated through business operations. We will expand the initiatives previously conducted mainly in Japan to the whole Group including overseas companies and control resource consumption and waste generation so as to lessen environmental impacts.
Efforts to Achieve Zero Emissions and Reduce the Amount of Waste Discharged
In Japan
The Sumitomo Electric Group is promoting Zero Emission Activities, which aim to reduce to zero the amount of waste landfilled or incinerated without heat recovery mainly through reuse and recycling of waste.

(Note) From the Action ECO-21 (Phase Ⅵ) Campaign launched in fiscal 2015, all valuable materials, part of which were not included in the denominator until fiscal 2014 (the materials that were already treated as valuables in fiscal 2000), are included in the denominator.
Overseas
While the situation on waste disposal is different between countries, the "Zero emission rate" is still high. Our overseas Group companies are striving to realize Zero emissions through steady efforts, such as the separation of waste generated during the production, sales of valuable materials, recycling of sludge for bricks and production of solid fuel from waste plastics.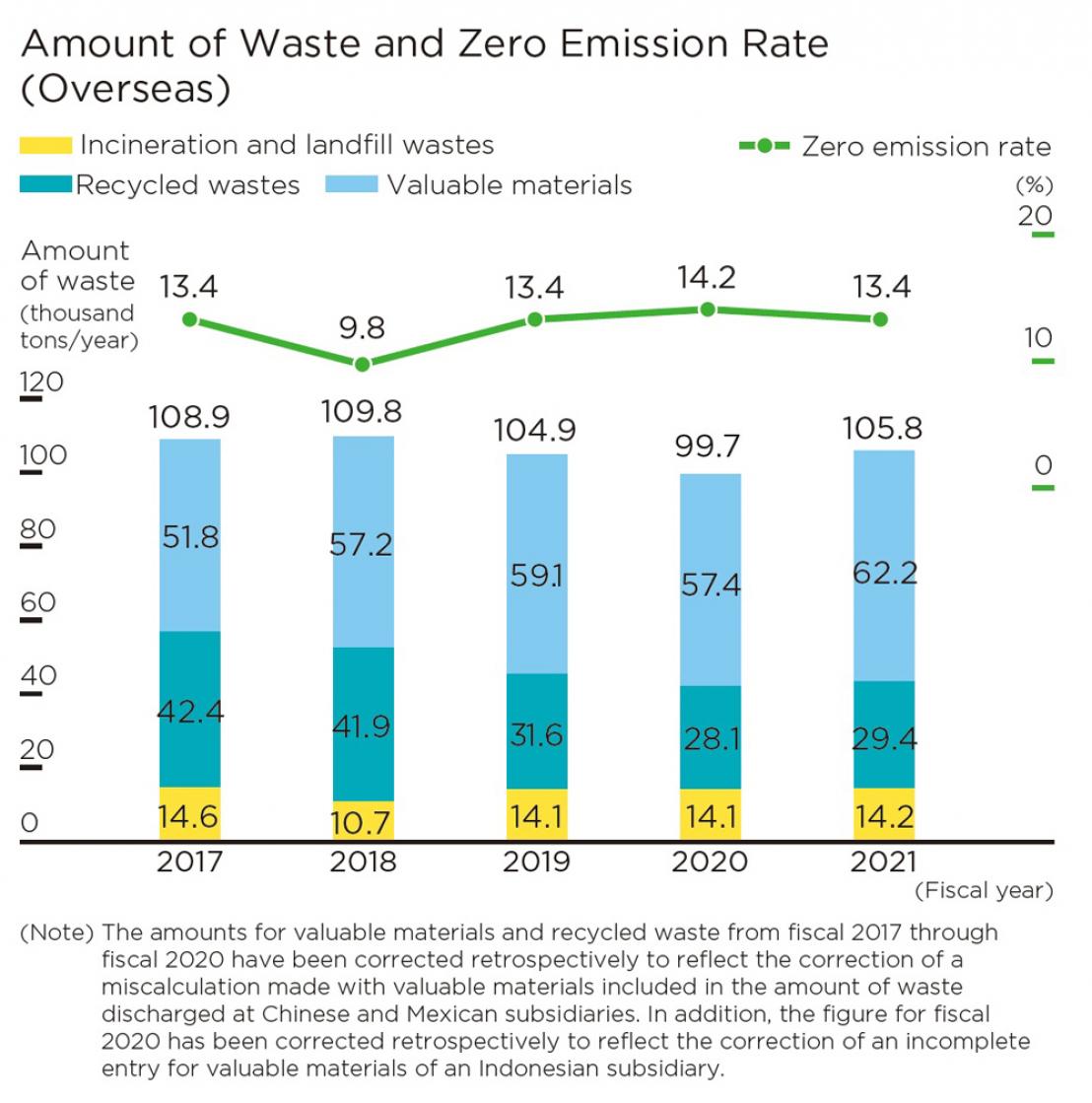 Recycling of Used Products
The Sumitomo Electric Group collects used electric wires/cables, optical fiber cables and carbide chips for cutting tools and their plastic cases from our customers to reuse and recycle them as materials for new products.
Notably, we recycle nearly 100% of copper, coating materials and metals from collected electric wires and cables.
In addition, we have established a system that is capable of recycling all the carbide chips sold in Japan and their plastic cases. The carbide chips are chiefly composed of tungsten, a rare metal.