The Sumitomo Electric Group has developed its environmental policy based on its business philosophy, which forms the basis for its business management. The environmental policy, detailed below, places the highest managerial priority on activities related to preservation of the global environment.
The Sumitomo Electric Group thinks it is primarily important to establish a society that is sustainable and has less environmental impact. While making continuous and steady efforts to promote our global environmental preservation activities, the Sumitomo Electric Group contributes to world people and society by providing products and services in "Environment & Energy," "Information & Communications," "Electronics," "Automotive," and "Industrial Materials & Others" related business.
1. In order to promote environmental-oriented management in which the Sumitomo Electric Group considers environmental preservation activity is one of the most important issues for corporative management, the Group's action plan under this Environmental Policy will be established together with Group-wide environmental indicators and long term targets for environmental preservation. Reviewing environmental objectives and targets voluntarily, the Sumitomo Electric Group promotes continuous improvement on environmental performance.
・Reduce environmental impacts in manufacturing activities
①Proceed our efforts to prevent global warming
②Promote saving and recycling of resources
③Keep progress in environmental pollution prevention
④Promote biodiversity conservation
・Increase environmentally-conscious products and services for our customer demands
①Promote the development of products contributing to prevention of global warming
②Make best efforts toward phase out of harmful substances contained in the Sumitomo Electric Group's products
③Enforce carrying out product assessment

2. The Sumitomo Electric Group will fulfill and enforce environmental management system.
・We communicate the Sumitomo Electric Group's Environmental Policy to all people who work at the Sumitomo Electric Group and for the Sumitomo Electric Group while we provide educational programs on environmental preservation to improve their awareness.
・We conduct environmental audits, and we review and strengthen our environmental management system as well as environmental preservation activities.

3. The Sumitomo Electric Group will keep and improve compliance action.
・In addition to comply with relevant environmental legislation and regulations, and with other requirements to which the Sumitomo Electric Group subscribes, we set up the Sumitomo Electric Group's self-standards better than legislative ones and make efforts to maintain and improve them.

4. The Sumitomo Electric Group's Environmental Policy will be opened to the public upon request.


(Revised:April 2020)
Organizations for Promoting
Environmental
Management
The Corporate Environment Committee is the supreme Group organization for making decisions related to environmental management. It oversees the entire Group's environmental preservation activities on a global basis. Environment Task Committees provide technical support to the Corporate Environment Committee in four themes. In addition, the Business Unit Environment Committee established in each of 5 business units supervises the concrete activities of the divisions belonging to the unit for achieving Group-wide environment objectives as well as mid- and long-term targets.
Measures and Activities for the Environmental Risk Management Items of Sumitomo Electric
We examine measures to address risks and problems and formulate a growth strategy.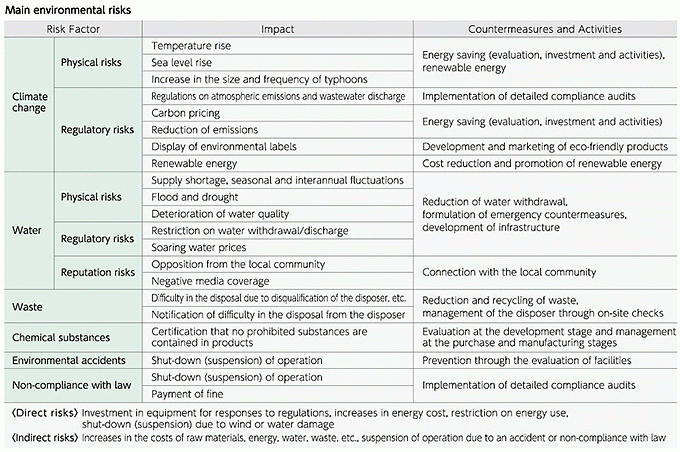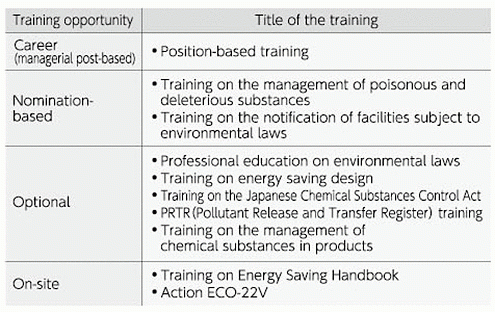 Education and Training
To realize environmental management, the Sumitomo Electric Group works to enhance every employee's environmental awareness and knowledge. We provide all employees with education on the history of measures to protect the global environment as well as the Group's environmental policy and the Action ECO-22V Campaign.
The managerial post-based career training program involves legal and general education on the environment. Since fiscal 2014, the program has been provided through on-site practical training sessions including on-site inspection of environmental facilities to enhance sensibility in environmental management.
We also organize training on environmental laws and technical education on chemical management and other issues on a regular basis. Training for assistant plant managers was added to the program in fiscal 2018.
The Sumitomo Electric Group promotes the acquisition of ISO 14001 (environmental management system) certification, and conducts internal and external audits for the continual improvement of the environmental management system. In addition, to ensure compliance with relevant laws and reduce even more environmental impact, we have implemented new environmental audits with a focus on compliance with environment-related laws and the efforts in the Action ECO Campaign (present "Action ECO-22V" Campaign) at manufacturing bases in Japan since fiscal 2008 and at overseas manufacturing bases since fiscal 2010.
Confirmation of Legal Compliance

Confirmation of Legal Compliance in Japan, we conduct audits to confirm compliance with 120 items of 23 environmental and related laws as well as the ordinances of the prefectures and municipalities where the sites are located. Overseas, we also carry out audits based on the environment-related laws in the countries and regions where the sites are located, as we do in Japan.

Action ECO-22V

Action ECO-22V We have set 60 check items for our sites both in Japan and overseas to audit their activities and progress.

Evaluation of Facilities That May Affect Water Quality

Evaluation of Facilities That May Affect Water Quality We evaluate facilities that use any of the hazardous substances subject to the regulations of the Water Pollution Control Law, designated substances, oils, etc. and may thereby affect water quality. The equipment and ancillary facilities are inspected to assess the management status on the check items set for each of the parts such as liquid storage and pipes.
Since our CSR Report 2010, we have collected and disclosed environmental accounting data based on a new disclosure approach in reference to the concept of the Connected Reporting Framework (CRF)*

*Connected Reporting Framework (CRF) A reporting scheme recently developed in the U.K. that integrates financial and non-financial information in the disclosure.
Material Balance (Environmental Impacts)
We calculate mass balance of inputs (resources, energy input, etc.) and outputs (emissions, product shipments) every fiscal year for quantitative assessment of the relationship between our business activities and environmental impact throughout the life cycle from product design to collection and recycling of used products to perform environmental conservation activities in a more effective manner.