Projects id Innovative Manufacturing World of Laser Processing Technologies and High-Performance Optical Components(5)
Solution Business Tailored to Core Niche Markets
Strategies for future optical components business
Cultivating markets through multifaceted sales efforts
The Sumitomo Electric Group optical components are the culmination of its technical excellence. Now the focus is on how to expand the Group's market, Tsugutoshi Okuno of the Direct Sales Accounts Department of the Hardmetal Division talks about future sales strategies.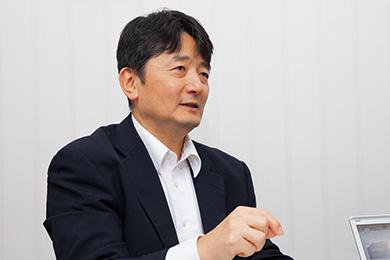 "In recent years, the use of laser processing has become extensive. Its applications are not limited to smartphones and automobiles. Almost all manufactured products and incorporated constructional elements are delivered using laser processing. Demand is rapidly growing for purposebuilt machines customized to specific processes. In past years, Sumitomo Electric's optical components have been applied to general-purpose machines built by major manufacturers of laser processing machines for sheet metal and printed circuit boards. Currently, we are directing our efforts toward winning orders for high valueadded customized products designed for various purpose-built machines.
By proposing and providing ideal optical components fulfilling specific individual needs, we help our customers improve their productivity and product quality. Our efforts include building a network in the laser processing industry and collaborating with system integrators who manufacture purpose-built machines, as well as with related device manufacturers. In addition, we are strengthening our relationships with parts manufacturers who use purposebuilt machines. Thus identifying new laser processing needs, we work on developing suitable optical component products to fulfill these needs."
Takara Sangyo Co., Ltd., a member of the Sumitomo Electric Group, also plays a part in promoting sales of the optical components. Erina Yamamoto of Sales Division of Takara Sangyo says, "The first step in our sales activities is to ascertain the exact goals that our customers want to achieve using lasers.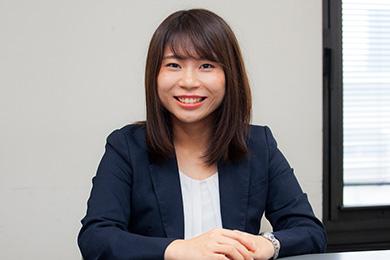 "Our customers' true challenges and needs become clear after repeated interviews. One important aspect of the intermediation between clients and the development departments of the Sumitomo Electric Group is to work out the final shapes of products by coordinating the specification requirements and product feasibility. It is sheer joy for me to see that optical components made possible through these repeated negotiations help produce state-of-the-art products all over the world, including the electronics devices and automobiles launched each year. As for the future, my goal is to acquire the capability to open new sales frontiers that will create new markets and industrial sectors, by actively introducing the Sumitomo Electric Group's optics technology to new customers," says Yamamoto.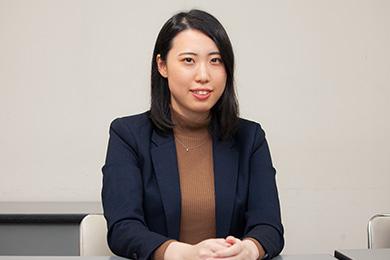 Takara Sangyo Co., Ltd. will contribute to the overseas sales expansion for optical components vigorously promoted by the Sumitomo Electric Group. Yuu Yasuda of Takara Sangyo participated in Photonics West, the world's largest optics technology exhibition held in San Francisco in the United States. She says: "I really felt the size of the global market for optics-related products. I am committed to actively building positive relationships between new overseas users and the Sumitomo Electric Group, thereby contributing to the overseas sales expansion now being promoted so vigorously by the Group."
Meanwhile, Takara Sangyo is taking new approaches to improving customer satisfaction. Their efforts include procuring items not carried by other companies in the Sumitomo Electric Group, such as laser beam power sensors, and proposing integrated systems that combine those items with the Group's products.
Moving forward with and beyond the optical solutions business
In sync with the sales staff, the development staff is also working vigorously. Keiji Fuse, Department manager of the Laser Optic Department of Sumitomo Electric Hardmetal Corporation believes that marketingfirst approaches lead to progress in laser processing technology.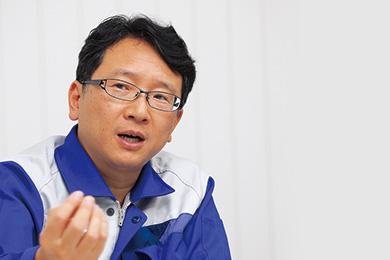 "Sumitomo Electric has developed a framework that enables it to propose and provide an extensive and comprehensive range of optical components from fundamental products such as lenses and mirrors to high-performance products such as Fθ lenses and DOEs. Specifically, since the 1990s, the Company has aimed to provide entire optical system solutions combining optical components in an ideal manner according to customer needs. Sumitomo Electric has a history of developing various optical components and optical system products in collaboration with its customers and has great achievements. While the business has focused on the domestic market, inquiries from overseas customers have been increasing.
In cooperation with its overseas affiliates and agents, Sumitomo Electric is strengthening its framework and promoting sales. For the future, we aim to make proposals to provide follow-up services for overall processing machines including laser oscillators and peripheral devices, not only related to their optical properties, but also their laser processing characteristics. The result of our work to help our customers achieve business success means that Sumitomo Electric will be valued more highly and be the company of choice. I hope that these efforts will lead to the development and widespread use of laser processing technology, contributing to the growth of society," says Fuse.
NEXT
Contribute to advances in production engineering by delivering high value-added products!
Evolving laser processing technology with a focus on the future
(6)