Projects id Innovative Manufacturing World of Laser Processing Technologies and High-Performance Optical Components(4)
Three key processes: synthesis, processing and coating
Pursuing high quality, high precision and high performance
Synthesis plant in stable operation ensures product quality
The ZnSe synthesis technology developed by Namba and others has been steadily passed on. Presently, Moeko Kataoka of the Laser Optics Department of Sumitomo Electric Hardmetal Corporation takes on the mission.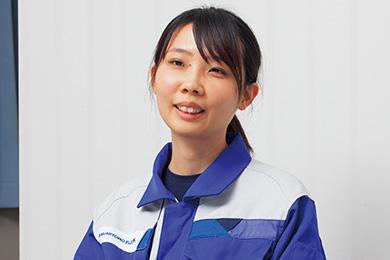 "High-quality ZnSe crystals have low laser beam absorptance. For the latest laser processing machines, the lenses must have a level of absorptance of 0.15% or less. For example, if the incident laser energy is 1,000W, absorption by the lens should be 1.5W or less. When the lens absorbs beams and becomes hot, its focal length changes and this change, although slight, defocuses the beam. Simply resistance to damage by the beams, which was the initial development goal, is no longer sufficient. High-precision laser processing can accept no change in the beam focusing properties, even a slight one," says Kataoka.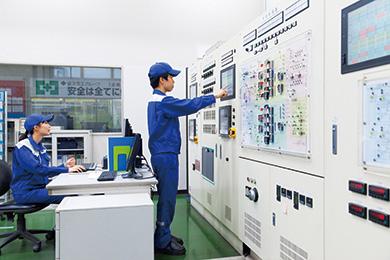 Plant operation for the production of high-quality ZnSe is not simple. ZnSe synthesized in a batch weighs hundreds of kilograms. The synthesis continues for hundreds of hours. On top of that, once the synthesis starts, no pauses are permitted, even for a fraction of a second. If the process stops and restarts in the middle, optically uniform ZnSe cannot be produced.
"The synthesis plant uses a flammable and toxic material gas, as in semiconductor production. As such, in addition to the synthesis chamber, all the equipment and systems are placed under constant monitoring, including those for gas feeding, pressure control, exhausts, detoxification and cooling. For constant monitoring of the overall systems and for safe shutdown in the event of a fault, the synthesis plant has a system that incorporates a seismic instrument and an emergency generator. However, if the reliability of the sensors and equipment, which is critical, is low, the result will be frequent shutdown, making profitable mass production impossible. I have conducted long-term field tests on devices, carefully selected error-free sensors and low-failure devices, made the systems redundant, and built a highly reliable plant. My goal is to deliver low-absorptance, high-quality ZnSe by maintaining the optimal parameters and conditions, including the temperature, pressure and gas flow rate. I am now working on introducing artificial intelligence (AI) to detect signs of plant failure," says Kataoka.
Aspherical lenses with extremely low aberration
Generally, lenses used to focus beams are spherical. However, spherical lenses are unable to focus light to the diffraction limit, which is the theoretical minimum diameter, due to their inherent aberration (optical errors). A solution to this challenge is an aspherical lens. Using its cutting technology that features diamond cutting tools and ultra-high precision turning lathes, which it acquired through the development of the Fθ lens, the Sumitomo Electric Group developed a ZnSe aspherical lens for focusing light with minimal aberration. Yasuhiro Tsuchiyama of the Laser Optics Department was in charge of the development of the aspherical lens.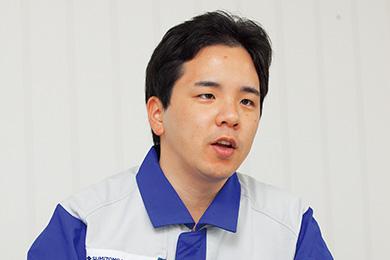 "My recent achievement is the development of an aspherical lens made of synthetic fused silica glass as a focusing lens for fiber laser sheet metal cutters that are rapidly coming into wide use. ZnSe is a relatively soft material and therefore can be cut to form an aspherical surface. Meanwhile, synthetic fused silica is too hard to cut. A new technology has been built to make it aspherical by grinding and polishing. It was also necessary to develop a measurement technique for inspection to check whether the material has been finished to the designed aspherical shape.
Aspherical lenses are required to meet a 0.5 μm level of geometrical accuracy or better, which is comparable to the area of an athletics field that has an unevenness of less than 1 mm. To make this geometrical accuracy possible, precision polishing and geometrical measurement technologies have been established at a high level, while also providing quality assurance. Many processing machine manufacturers have selected the product. The aspherical lens has become essential for laser processing machines," says Tsuchiyama.
Efforts made for thorium-free film development
Lens surfaces are provided with a coating to prevent the surface from reflecting beams, because even a slight reflection of the light of a high-power laser poses the risk of burning nearby parts. The conventional coating material for ZnSe lenses was thorium fluoride. As advantages, the material absorbs little of the beam and can be vacuum deposited with ease. However, thorium is a radioactive substance. In 2009, the Japanese government issued guidelines that require actions to be taken to ensure safety when handling an amount exceeding a specified level. In line with the recent increasing environmental awareness, the Sumitomo Electric Group undertook development of a thorium-free antireflection coat that uses no thorium fluoride. Yukihisa Kusunoki of the Laser Optics Department was in charge of the development.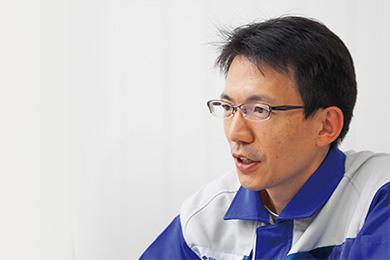 "The biggest challenge was reducing the beam absorptance of the newly developed coating to a level equivalent to or lower than that of conventional coatings using thorium. I read the existing literature extensively. However, no such material exists as a single compound. The development came to a dead end. It was around that time that the idea of blending multiple compounds to give an original composition came into my mind. It was a significant breakthrough," recalls Kusunoki.
Kusunoki and others searched for candidate substances and explored blending ratios for them. Thus, by designing an optical thin film to reduce absorptance and optimizing the manufacturing conditions, they developed a lens using a thorium-free film and put it on the market.

"In the early stages of development, although the product had no problems in terms of its initial properties, the coating sustained damage during extended use on customers' laser processing machines. This problem was experienced frequently and we had difficult times. However, we improved the coating whenever necessary and were able to eliminate the thoriumbased process completely from the Company, passing rigorous evaluation tests conducted in-house and outside. Our competitors' optical components still use thorium. The newly developed technology, in my view, demonstrates Sumitomo Electric's competitive edge," says Kusunoki.

NEXT
Solution Business Tailored to Core Niche Markets
Strategies for future optical components business
(5)