Half-Century History of FPCs Ultra-Fine Circuits and Material Technologies Creating the Future (5)
FPC Division's New Challenge toward the Future
Creating new demand with new technologies
The sales department promotes the FPC business at the front line. Currently, most of FPCs provided by the Sumitomo Electric Group are destined for overseas markets. The sales and marketing of those products are carried out by the staff of sales subsidiaries in the United States, Europe, and China. The roles of the domestic sales department include supporting global sales and coordinating production and delivery schedules, as well as dealing with domestic customers. Tetsuro Kimura leads the FPC sales team as the General Manager of the Flexible Printed Circuits & Components Sales Department.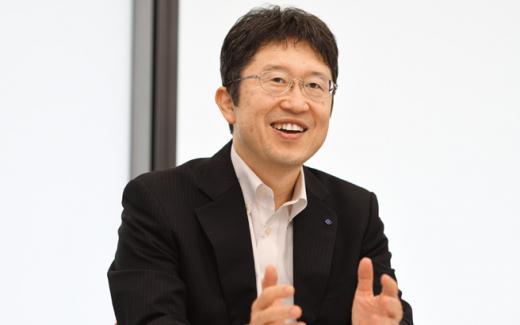 "In the more than half-century history of our FPC business, breakthroughs have always happened when a new technology was established through innovation. For example, the use of electroniccomponent- mounted modules in hard disks and mobile phones led to the development of multi-layer boards and other new technologies. We need to continue to capture market needs through dialogue with customers and create new products and new businesses that suit the new era. I believe that opportunities are hidden in changes in the world and society," says Kimura.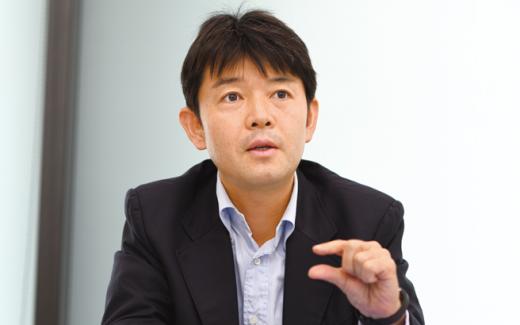 Hiroki Kawanishi, the former Manager of the Market Development Group and the current Senior Manager, used to carry out the task of cultivating new domestic demand for fine pitch FPCs and automotive FPCs.
"The use of fine pitch FPCs as actuator coils started from my talks with a customer during promoting fine pitch FPCs as a new technology, during which the customer suggested that fine pitch FPCs would be effective for their product. Since they were still in the development stage, the production was not stable, and it was not easy to establish a mass production system. So when we successfully launched the fine pitch FPCs on the market, I felt a sense of achievement. But we are still at the starting point. What is most important now is how we can go about creating new demand. I would like to open up new perspective by exploring the needs for the next-generation FPCs," says Kawanishi.
FPC distributors as business partners living in the same age
In promoting the sales of FPCs, distributors play an indispensable role. They work closely with Sumitomo Electric to quickly respond to customer needs. Elematec Corporation is an electronics trading company that has been involved in the sales of Sumitomo Electric FPCs as one of the distributors of the products for many years. The company boasts an exceptional track record in promoting the sales of FPCs for mobile displays. Mr. Ryo Takanohashi and Mr. Kentaro Shiga of the company were in charge of Sumitomo Electric FPCs in 2005, when the products were adopted as components of mobile displays.
"The trigger was liquid crystal displays. That was when it became popular to take pictures with mobile phones and the shift from mobile phones to smartphones began," says Mr. Shiga.
What were the strengths of Sumitomo Electric FPCs that contributed to the growth of the business?
"At that time, FPC manufacturers concentrated on producing FPCs, and the mounting of electronic components on FPCs was carried out by other companies. However, Sumitomo Electric was the first to build a mounting line at its own factory and provide component mounted FPCs. In addition, I think Sumitomo Electric was also the first to apply a reinforcing material (liquid polyimide) to FPCs, which is a difficult process as it requires preventing warpage in order to retain their shape. The speed at which Sumitomo Electric was able to respond to customer needs and develop innovative materials left a strong impression on me," says Mr. Takanohashi.
They also have memories of working hard to address the situation in which FPC production struggled to meet the rising demand whilst customer expectations were also increasing. While Mr. Shiga flew around the world to visit customers' factories as a mass production coordinator, Mr. Takanohashi spent many days at Sumitomo Electric's factory in the Philippines and the expanded factory in Shenzhen, China as a development coordinator. They miss the days when they worked together tirelessly with the staff of Sumitomo Electric.
"Because we are a trading company, we did not know much about manufacturing. We learned many things through close communication with Sumitomo Electric's staff at the manufacturing sites. I really think that what we are now is the result of Sumitomo Electric's cooperation," says Mr. Takanohashi.
What, then, do they expect from Sumitomo Electric in the future?
"There is a growing need for environmentally conscious products, so I expect them to meet such demand through new products. I am also looking forward to the development of new technologies that support smaller electronic products," says Mr. Shiga.
"I hope for products that have an absolute advantage in technology. It would be easier for us to make proposals if Sumitomo Electric's products have advantages beyond the reach of competitors," says Mr. Takanohashi.
Expectations for Sumitomo Electric's technologies from distributors are growing increasingly.
Fine pitch FPCs and high frequency FPCs
The Sumitomo Electric Group is conducting research to develop FPCs with finer pitch patterns as a key product for further growth of their FPC business. In 2021, the Energy and Electronics Materials Laboratory is approaching the achievement of an L/ S of 7 μm/7 μm (a circuit width of 7 μm/a circuit interval of 7 μm, 7 μm = 0.007 mm), which is expected to expand the applications of FPCs. Also, in preparation for the spread of 5G wireless communication and the development of 6G technology, new low transmission loss materials using fluororesin are required.
The Sumitomo Electric Group has a long history of working on fluororesin processing and developing a variety of products (started by the aforementioned Okazaki). Due to its accumulated knowledge, Sumitomo Electric fluororesin substrates demonstrate their superiority even in low transmission loss characteristics.
The new type of FPCs using these fluororesin substrates are expected to be used in 5G-compatible smartphones and antennas installed in base stations. Another promising application is millimeter-wave antennas, typically for automotive use. It is certain that the number of millimeter-wave radars installed in each vehicle will increase in the future because, in addition to the current purpose of collision prevention and inter-vehicle distance control, due to the development of autonomous driving technology, it will become necessary to detect vehicles and pedestrians in all directions. There are great expectations for the commercialization of FPCs using low transmission loss fluororesin substrates provided by the Sumitomo Electric Group.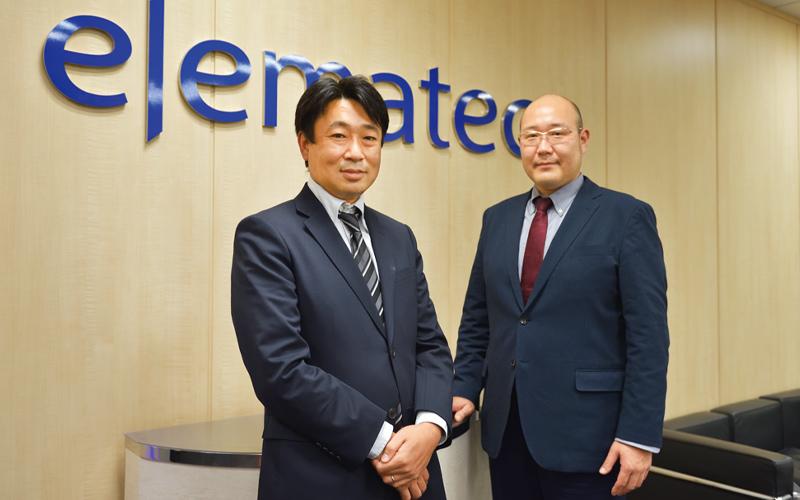 Beginning of a new history of FPCs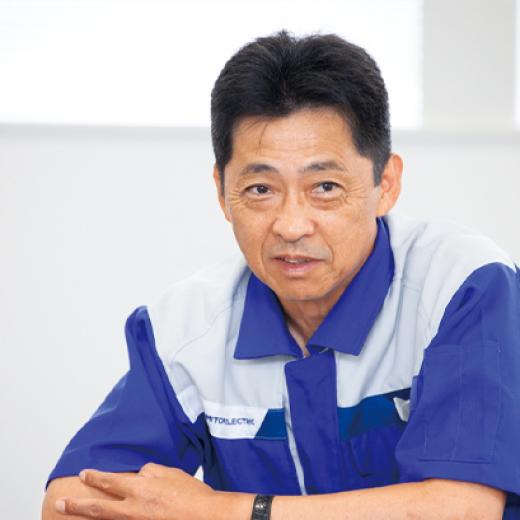 In 2019, the Sumitomo Electric Group's FPC business celebrated its 50th anniversary. Takafumi Uemiya has been involved in the management of the FPC business for many years as a former general manager of the Flexible Printed Circuits Division and the current Deputy General Manager of the Electric Conductor & Functional Products Business Unit. Uemiya emphasizes that it is the time for their FPC business to shift from half a century of conventional stage to a new stage.
"In the last 50 years, the FPC market has matured, and as wiring materials, FPCs are becoming more generalized and standardized. We want to shift from the market occupied by these general-purpose products to a market where our uniqueness can be made use of. That is the market of fine pitch FPCs and high frequency FPCs. Fine pitch FPCs have developed from mere wiring materials into functional parts that generate magnetic force, and furthermore, they are expected to develop into components that have a sensor function in response to the advent of the IoT era. High frequency FPCs are also promising components in the era of 5G communication and autonomous driving vehicles, which must handle a huge amount of information. Since we have strong relationships with telecommunications carriers and automobile manufacturers through our business, we are familiar with the market. By making the most of this advantage, we will demonstrate our comprehensive strength and competitiveness," says Uemiya.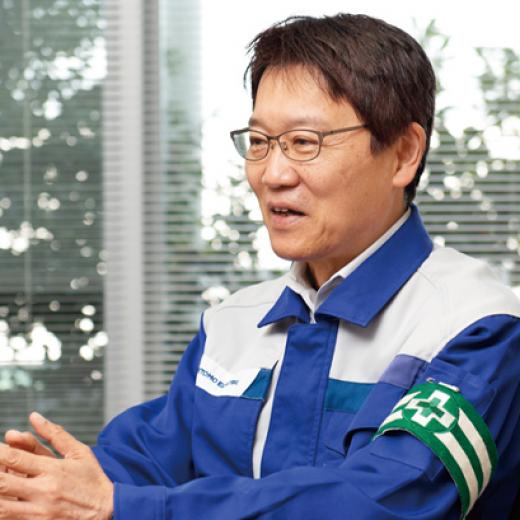 Hiroshi Hayami was appointed General Manager of the Flexible Printed Circuits Division in 2020 as the successor to Uemiya. He has been involved in the FPC business as a materials researcher at the Research and Development Unit for many years and is one of the staff who has supported the development of fine pitch FPCs. Even now, he is also the Deputy General Manager of the Research and Development Unit. With the appointment of Hayami as the general manager of the division, Sumitomo Electric's FPC business is putting more focus on research and development than ever before.
"Our basic policy is to increase the added value of FPCs themselves. During our rapid growth period, we promoted the mass production of assembly products with many electronic components mounted, but now, other FPC manufacturers can do the same. From now on, it is important to increase the added value of FPCs. This means that we must develop technologies that can be called "This is Sumitomo Electric!" which our competitors cannot catch up with," says Hayami.
Also, Hayami describes their three key business strategies as follows:
"The first strategy is to further develop existing FPC products to improve the competitiveness of quality, cost, and delivery. The second is actuator coils. It means manufacturing coils as our new products by using our fine circuit formation technology for FPCs. The third is the development of products that support high frequencies, including products related to CASE.* Fluororesin FPCs are also positioned here. We will expand our business with these three key strategies."
Hayami says that actuator coils are already becoming a major profit source.
Half a century after its launch, Sumitomo Electric's FPC business has entered a new stage in an undeveloped field with an R&D-oriented organization structure. Although it is not an easy road, there is no doubt that their bold challenge will promote the evolution of FPCs and open up a new frontier.