Half-Century History of FPCs Ultra-Fine Circuits and Material Technologies Creating the Future (4)
"Supply Sumitomo Electric FPCs to the World!"
Future Strategy of Vietnam Factory Boasting the Largest Production
Three production bases in Japan and overseas
The overseas production of FPCs started at a comparatively early time. In 1988, production started in Singapore, where a sales base had been established. In response to the growth of FPC demand, in 1994, consignment production by Songgang Electronics Wire Factory started in China, and in 1996, First Sumiden Circuits, Inc. (FSCT) was established in the Philippines as an FPC production company. In 2010, Sumitomo Electric Interconnect Products (Shenzhen) Ltd. (SEPG) was established in Shenzhen, China and took over production from Songgang Electronics Wire Factory. Furthermore, in 2012, SEI Electronic Components (Vietnam), Ltd. (SEEV) was established in Hanoi, Vietnam. Currently, the Sumitomo Electric Group has three FPC production bases: Sumitomo Electric Printed Circuits, Inc. in Koka City, Shiga Prefecture, which is positioned as the mother factory, FSCT in the Philippines, and SEEV in Hanoi, Vietnam. (Production at SEPG ended in April 2021.)
The roles of domestic and overseas production bases greatly differ from each other. Sumitomo Electric Printed Circuits, Inc. in Japan produces new products, including fine pitch FPCs, and also plays the role of a research and development center that works in cooperation with various sections within the Sumitomo Electric Group. On the other hand, overseas production bases are positioned as mass production bases that handle labor-intensive processes, such as processing and mounting. In recent years, FSCT is responsible for the final processing of fine pitch products (actuator coils for cameras) produced in Japan in addition to the production of conventional FPCs. So, how is SEEV in Vietnam, the Group's largest FPC production base, operated?
Production base of FPCs for smartphones
In Hanoi, the capital of Vietnam, SEEV is located in the Thang Long Industrial Park, which is about 20km from Hanoi Airport. More than 90% of its tenants are Japanese companies. In 2012, SEEV started to be fully involved in the FPC business, which was transferred from another company in the Sumitomo Group. Currently, it has five factories F1 to F5 on a site area of about 120,000 m2 and employs about 6,800 people, making it the largest FPC production base in the Group. SEEV produces FPCs for cameras and displays built in smartphones, which are now favored by many users around the world. Kimihiko Ohara, who had been involved in the governance and management of the factories as Vice President since the establishment of SEEV and is currently the President of Sumitomo Electric Interconnect Products (Shanghai), Ltd., explains the characteristics of production at SEEV as follows.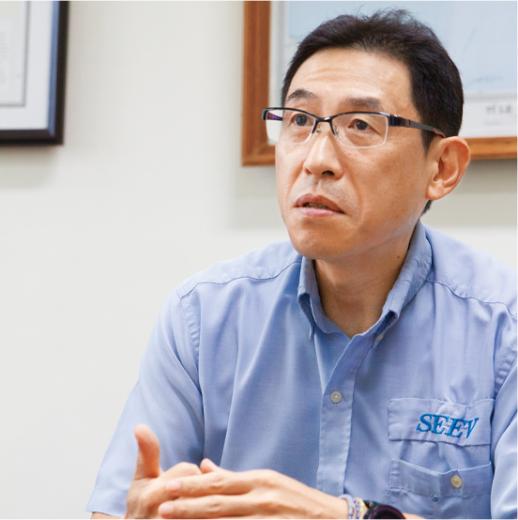 "Characteristically, the intentions and ideas of smartphone manufacturers, namely our customers, have a considerable impact on our production system. For example, from 2015 to 2016, we made a large-scale investment to build an integrated production system that can handle all the processes from the upper process to the lower process and component mounting. It was a request from customers who want to ensure the quality and traceability of components. Since our products are used in smartphones, of which the production volume per model is large, customer's eyes on their quality are extremely severe. Therefore, ensuring and improving quality is a never-ending theme that we should always pursue. Quality is our strength and lifeline," says Ohara.
Pham Ngoc Hiep supervises production at the forefront as the general manager. He has been involved in the production of FPCs as an engineer for about 20 years. His mission is to ensure quality and ontime delivery and realize cost reduction, which are common objectives in manufacturing industries, based on the main premise of "safety first."
"The most important thing in ensuring quality is that individual employees observe the rules of the manufacturing site. To ensure that, we should not only ask them to observe the rules, but also should have them understand the purpose of the rules. We focus on training and OJT for this purpose. In addition, it is also important that individual employees set their goals and we create an environment that helps them achieve the goals as a team, regardless of whether they are related to quality, ontime delivery, or cost reduction. I think it is important to have them feel a sense of accomplishment and transform it to their motivation," says Hiep.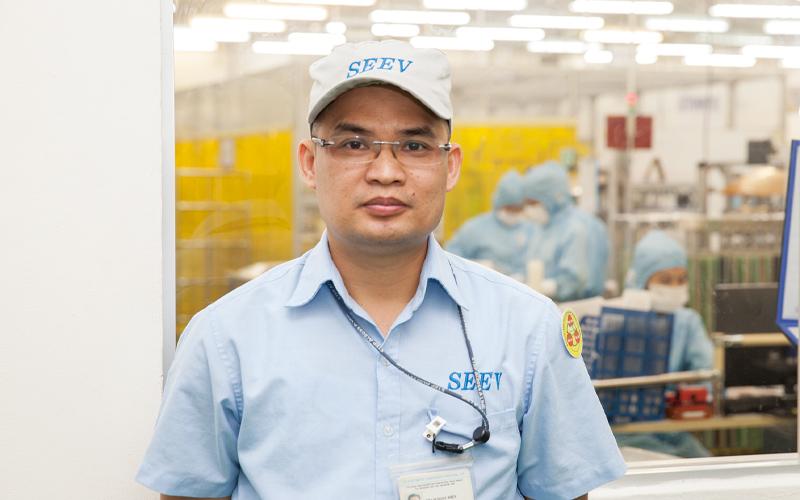 Strategies to maintain presence
Currently, production at SEEV is going well, but there are many issues. One of them is that they cannot expect significant sales growth in the future due to the maturity of the smartphone market, which has grown explosively. Also, in order to continue the production of products for smartphones, which frequently upgrade their versions, it is necessary to meet requests from customers as much as possible, such as changing designs and quality plans as well as improving production facilities, while ensuring the high quality of the products. In response to our question about his future outlook, Katsumi Nanbu, who was appointed President of SEEV in 2018, says that SEEV needs to become a "strong factory."
"We need to improve our manufacturing expertise to become a stronger factory. To that end, we need to appropriately and consistently manage SEQCDD (safety, environment, quality, cost, delivery, and development), which are used as fundamental indexes of Sumitomo Electric's management. To do this, human resources are important. We will implement human resource development programs, such as training and improvement of employees' motivation, at a high level. We are also considering automating part of our factory in order to address changes in necessary manpower due to seasonal fluctuations in the business. Although we cannot expect significant growth of production volume in the future, it is certain that smartphones themselves will continue to develop. We will demonstrate our unique technologies that support nextgeneration smartphones so that we can meet customer expectations and secure stable profits," says Nanbu.
It is often pointed out that the FPC industry itself is leveling off. SEEV has established its mass production system for FPCs with a boost from increased demand for smartphones and its technological flexibility to meet customer needs. As the largest FPC production base in the Group, how will SEEV differentiate itself and develop? The company faces a crucial phase.
NEXT
FPC Division's New Challenge toward the Future
~Shift from Wiring Materials to Functional Parts~
(5)