Half-Century History of FPCs Ultra-Fine Circuits and Material Technologies Creating the Future (3)
Challenge of Developing Fine Pitch FPCs
Advance to a New Stage of FPCs
Micron-level fine circuits "fine pitch FPCs"
Mobile phones have exploded in popularity since the 1990s, which spurred the adoption of FPCs. Meanwhile, FPCs were required to meet a new market need. This was "fine pitch," namely, fine circuits, or highdensity circuits. A circuit pitch is usually indicated in the form of L/S (line and space). For example, in the 1980s, the L/S was about 100μm/100μm, which means a circuit width (line) of 100μm and a circuit interval (space) of 100μm (100μm = 0.1 mm). Then, in the early 2000s, an L/S of 50μm/50μm was realized (50μm = 0.05mm). FPCs with such a fine pitch pattern were developed to meet the market need for more compact and functional electronic devices. Fine pitch FPCs were indispensable to realize thinner, lighter, and more functional electronic devices. However, there was no end to this need.
Shift from "copper etching method" to "copper plating method"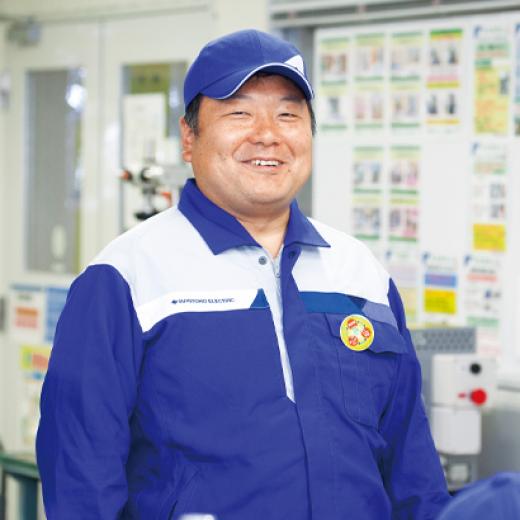 The market needed FPCs with finer pitch patterns, namely, ultrafine circuits. However, the conventional production method "copper etching," which uses photosensitivity phenomenon, had reached its limit. To overcome this challenge, the development staff started research on a new production method. As a result, the "copper plating method" has been developed. It is also known as the "semi-additive method" and is characterized by its use of electrolytic copper plating. Ko Noguchi was directly involved in this development. Noguchi had been involved in launching the mass production of fine pitch products as a member of the Engineering Department since joining the company, and he currently belongs to Sumitomo Electric U.S.A., Inc.

"The principle of this method is to build up a circuit pattern by electrolytic copper plating. Unless a substrate is plated evenly, the circuit pattern will not be built evenly either. Since consistency in the height of a circuit cross section must be ensured, it is necessary to accurately control the supply of ions, which determines the thickness of the plated layer. We gradually established a production method while finding the optimal conditions through trial and error," says Noguchi.
Use in actuators became a great turning point
Currently, some competitors in Japan also adopt the semi-additive method, but at that time it was an innovative production method that paved the way for ultra-fine circuits. This method made it possible to break through the "wall of 50 μm" and realize 25 to 20 μm. It is no exaggeration to say that this is when the "era of fine pitch" began. Actuator coils for smartphones' built-in cameras, which were initially developed for hard disk applications, are still mass-produced even now in response to great market demand. The use of FPCs in camera actuators realized by the development of fine pitch technology became a great turning point for the role of FPCs. Shingo Ueda, an engineer who has worked on FPCs for about 30 years since joining the company, points out that it means FPCs' development from wiring materials into functional parts.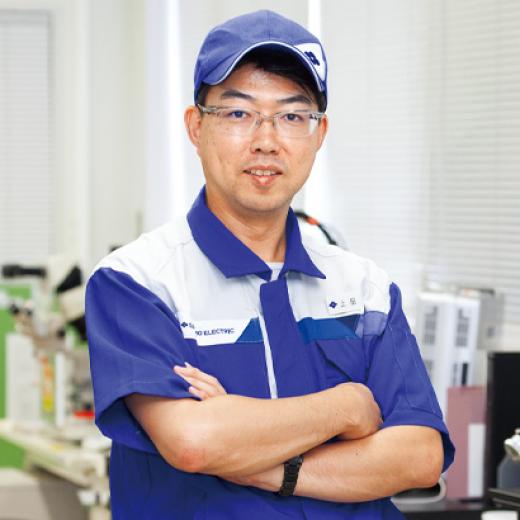 "We have conventionally provided FPCs as wiring materials, but their use in actuators has paved the way for them to develop into functional parts. The reason why FPCs became to be used in camera actuators is because fine pitch FPCs make it possible to form coils to generate magnetic force that act as the source of the camera shake prevention function. The purpose and role of FPCs have changed significantly from mere wiring materials," says Ueda.

In addition to the copper plating method, another new technology has been adopted to produce fine pitch FPCs. While the key technology is connection between doublesided conductor layers, which have been introduced to meet the need for more functional FPCs, they have developed an innovative interlayer connection method using nano-conductive paste, which also led to the development of an ultracompact, thin wireless power supply module that can supply power to electronic devices without connecting a power cable.
"My current mission is to research new electronic devices that can make use of the functions of these fine pitch FPCs and expand their applications. For example, taking advantage of their lightness, thinness, and compactness, we try to identify new uses ourselves, such as applications for wearable devices and medical devices," says Ueda.
Evolution of FPCs driven by Sumitomo Electric's comprehensive technologies
There are three FPC production bases in Japan and overseas, including Sumitomo Electric Printed Circuits, Inc., which is headquartered in Shiga Prefecture, but fine pitch products are produced only in Japan. Hiroshi Tatsuta, the president of the company, says that the reason is to secure their uniqueness.
"The production method of fine pitch FPCs is the product of various unique technologies and know-how. New 5G-compatible FPCs also use unique material technologies. If these products are produced globally, it is undeniable that other companies will follow or imitate. In order to secure and foster our unique and outstanding technologies, we produce new products only in Japan. These technologies have not been developed by our company alone but are the result of the combination of the comprehensive technologies of the Sumitomo Electric Group, and I believe that is one of the strengths of our FPCs," says Tatsuta.
The next chapter describes how Sumitomo Electric operates its global FPC production system.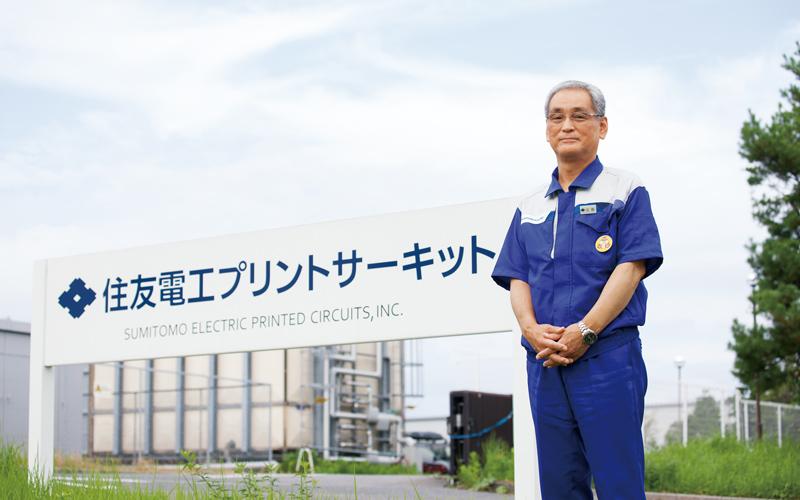 NEXT
"Supply Sumitomo Electric FPCs to the World!"
~Future Strategy of Vietnam Factory Boasting the Largest Production~
(4)