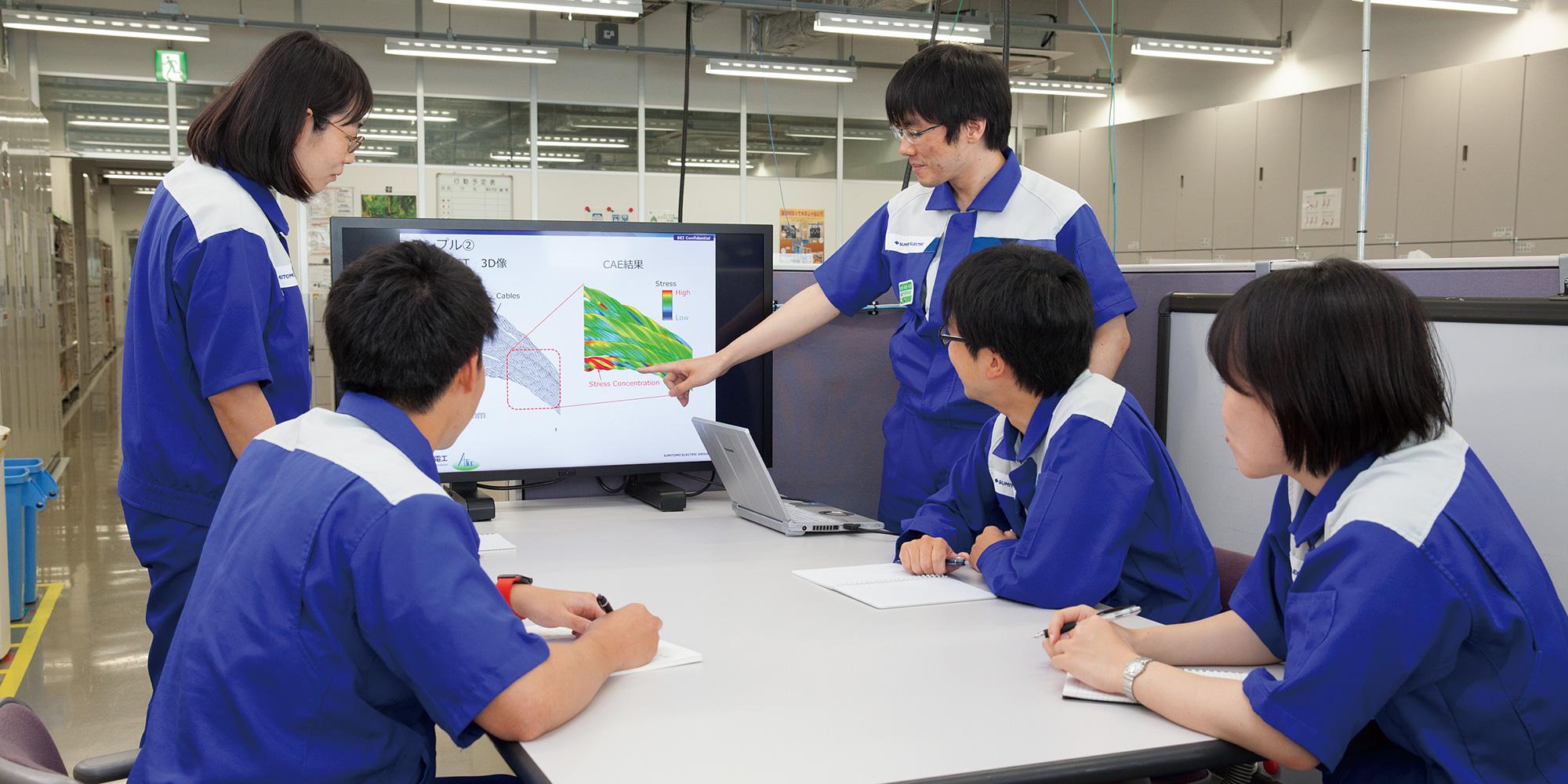 Expertise that underpins the manufacturing operations Analysis technologies to probe into root cause(3)
Solutions Derived from Analysis Technologies
Exploring the microscopic world through microstructural analysis and electromagnetic field analysis
Microscopic characterization required on the atomic level
What analysis technologies does the ATRC have? Microscopic observation is a good example to start with. When a quality issue arises in the product manufacturing process, the ATRC probes into the root cause. Microscopic observation on the atomic (nanometer) level is one of the tasks to "observe the invisible." The crystal structures are observed on the atomic level to characterize the interface (interatomic) bonding. When the cause of the interfacial distortion is identified, the results are shared with the development and manufacturing sites to promote study on optimal interfacial bonding or new materials. Atomic observation and crystal orientation analysis technologies are essential to verify the working principles and to optimize the process in developing and designing materials and devices based on collaboration with computational science. Atomic-level evaluation is an important factor in establishing a difference from competitors.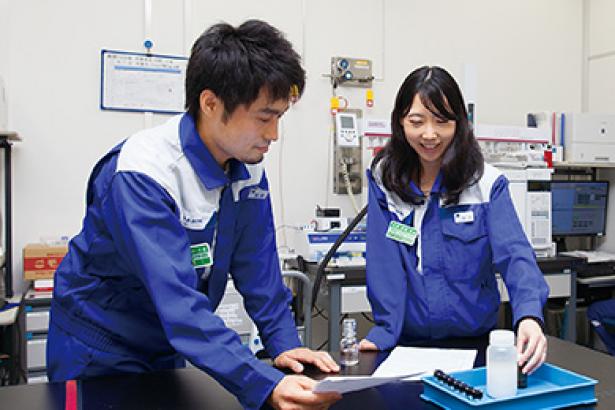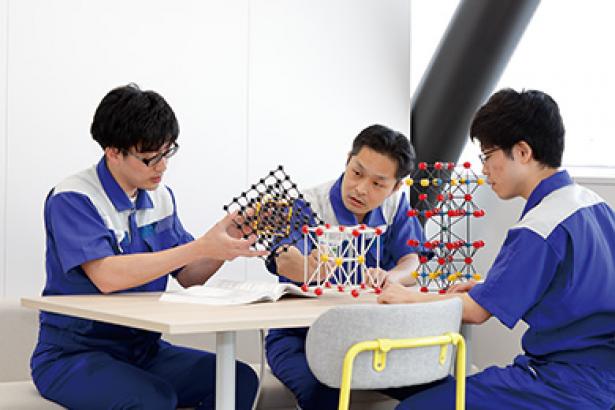 High-frequency electromagnetic field analysis in the era of 5G communication
Electromagnetic field analysis is another way of observing the invisible. In telecommunications, a major trend now is 5G (fifth generation), which uses high-frequency bands to enable high-speed and large-capacity communication. To visualize the electric field distribution of a device's transmitted signals (high-frequency propagation), CAE analysis is performed on the radiated electromagnetic field, surface current induced by electromagnetic waves, etc. As multiple frequency bands are used in 5G communications, the ATRC has optimized product design for each frequency, and has shed light on issues pertaining to signal loss and noise that result from sending and receiving high-frequency signals.

High-frequency transmission, including the 28 GHz band, will evidently require full-scale noise performance evaluation. Accordingly, the large-scale calculation will be inevitably required. The ATRC will introduce equipment with high calculation capabilities and develop large-scale CAE techniques.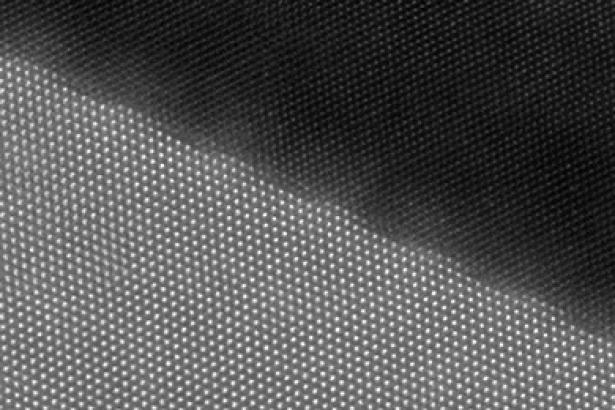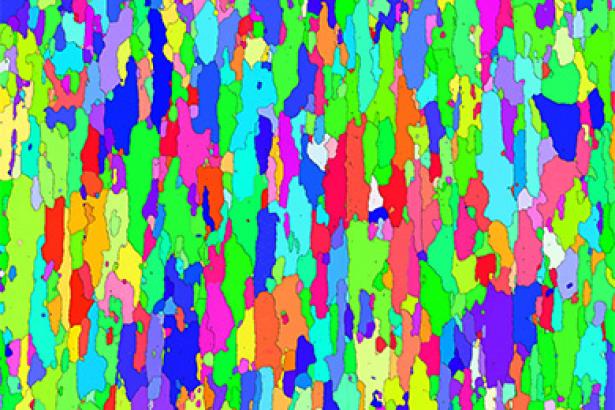 Analysis-based exploration: "probing into a mystery" like a good detective
There are various types of analysis technologies, including analysis of the crosslinking degree and additives of insulation coating materials, thermal fluid analysis (e.g., heat radiation design of electronic devices), crystal structure and material analysis (to enhance the functionality of cutting tools), and optical analysis (of optical instruments and parts). Notably, the Sumitomo Electric Group has refined service life prediction technology for electric wires through many years of operations as a manufacturer of electric wires and cables. It has also developed CAE-based technologies to predict the fatigue life of electric wires and cables, which are used for moving parts, including hinges of car doors and mobile phones as well as robot arms, due to bending.

"Masayoshi Matsumoto, Chairman & CEO of Sumitomo Electric, once lived in an area near Baker Street in the U.K., the stage of the detective stories written by Conan Doyle, as an overseas representative. Upon hearing the report about various efforts made by the ATRC, Matsumoto commented, 'Their work is similar to that of Sherlock Holmes.' Our work is to draw inferences based on assumptions and demonstrate them one by one. It is very much similar to that of a good detective, who must cope with difficult cases, conduct thorough investigations, and reveal the facts. This is underpinned by the ATRC members' academic curiosity and pride as scientists to uncover the causes and probe into mysteries. Sumitomo Electric's strength is derived partly from many employees who have such commitment and mindset," said Kimura.

The following pages introduce specific cases of solving issues by using analysis technologies.

NEXT
To Improve the Quality of In-vehicle Products for EVs in China
-Efforts made by the China Analysis Technology Center-
(4)