Contents of Integrated Report
P1
Contents, Framework for Disclosure of Information
P38-47
Our Bases to Support Our Growth
Takashi Uchino, PhD, Professor Emeritus of Gakushuin University, advised the company for the preparation of the Integrated Report, has presented a message on the issuance of the report.
Message from Dr. Uchino on the Issuance of the Integrated Report 2020

In this era of progress in the global economy, new development of digital transformation , and an emphasis on ESG and the SDGs (sustainable society), how companies should operate in society and associate with society is now fundamentally being questioned. The time has come for companies to be thoroughly tested in terms of their skills in communicating messages actively and engaging in dialogue in good faith with investors and various other stakeholders. Taking this opportunity, the Sumitomo Electric Group has marshalled all its forces to compile the Integrated Report 2020 and has communicated a core message toward the world and toward the future. I believe this is truly significant. This is a profound report. Based on the Company's long history starting from the Edo period in days of old, the report follows the path of the Company as a wellspring of widely diverse "technology and human resources" that have enabled quick responses to changes in the times. The report also provides a comprehensive review of present developments and prospects for the future. In the report, the Company declares that "We are working toward our ideal of being a Glorious Excellent Company, working together with a wide range of stakeholders to improve our value as a company in the medium to long term and make society better in future." This declaration is truly commendable! I look forward to seeing the Sumitomo Electric Group take on new challenges and accomplish considerable growth.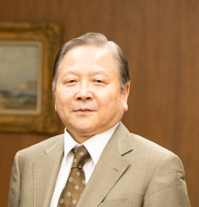 Takashi Uchino, Professor Emeritus, Gakushuin University
Actively engaged in consulting, education, and training for many companies in Japan. Dr. Uchino has long served as an advisor for the Company's executive training programs.