Sumitomo Electric completes the replacement of 69kV AC XLPE submarine cable system for Southeast Alaska Power Agency in Alaska, USA.
04 October 2021
Sumitomo Electric completes the replacement of 69kV AC XLPE submarine cable system for Southeast Alaska Power Agency in Alaska, USA.
Sumitomo Electric Industries, Ltd. is pleased to announce that it has safely installed a submarine cable into the Stikine Crossing via Southeast Alaska Power Agency (SEAPA) in collaboration with its subsidiary, Sumitomo Electric U.S.A., Inc., and subcontractors, ITB Subsea Ltd., Westpark Electric Ltd., Tongass Engineering LLC., Canpac Marine Services, Inc., Terra Remote Sensing, Inc., Prime Engineering Ltd. and BAM, LLC.

The project required the removal and discarding of one spare phase of an existing 138 kV oil filled submarine power cable and the installation of a new circuit of three-core, double armoured, 69kV XLPE submarine cable in its place with ancillary equipment, accessories, and integrated communication fiber for a fully functional cable system in the Stikine crossing. This crossing is approximately 17,400 feet (5,300 m) long and a maximum water depth of about 700 feet (215 m) between Vank Island and Woronkofski Island, southeast Alaska, U.S.A. This transmission line feeds the borough of Petersburg, AK.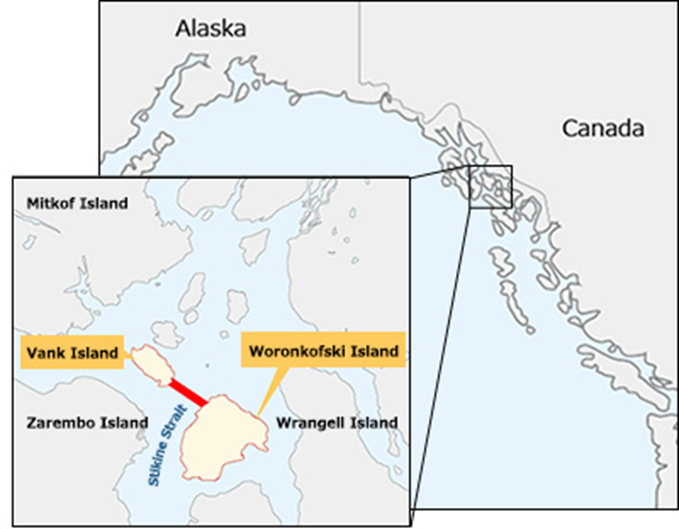 This project was awarded to Sumitomo Electric through a competitive evaluation bidding process for its outstanding quality, reliable track record with over 120 years of experience, and sound proposal based on its extensive knowledge in the U.S. and its renowned worldwide reputation as a submarine cable manufacturer and contractor. Sumitomo Electric is a leading high-voltage power cable manufacturer and EPC contractor for HVAC/HVDC submarine cables. In 2018 Sumitomo Electric completed a similar project in relatively close waters for Orcas Power & Light Cooperative, Washington, U.S.A.

Upon commencement of the contract, Sumitomo Electric with its sound technical expertise, support by all its subcontractors and administrative backing of SEAPA, swiftly managed its project team to supply, install, test and commission this new AC 69kV XLPE three core submarine cable in under 9 months, safely and successfully without incident.

The removal work and installation work were performed back-to-back in one single campaign during the summer of 2021, while the existing oil-filled cable transmission line were energized and in operation.

This project epitomizes the virtues of Sumitomo's corporate philosophy by introducing new technology with emphasis on more environmental friendly products and processes. An oil-free and maintenance-free new 69 kV submarine XLPE cable three-core cable was installed, whilst virtually using the same footprint of the replaced cable. This was achieved by totally reclaiming instead of abandoning one spare phase of old oil filled cable from the existing circuit. The installation of a new high voltage circuit allows the erstwhile circuit to be kept as a backup in case of emergencies, provides superior double armour protection against extreme Alaskan environments and provides a pathway for future expansion of broadband fiber networks.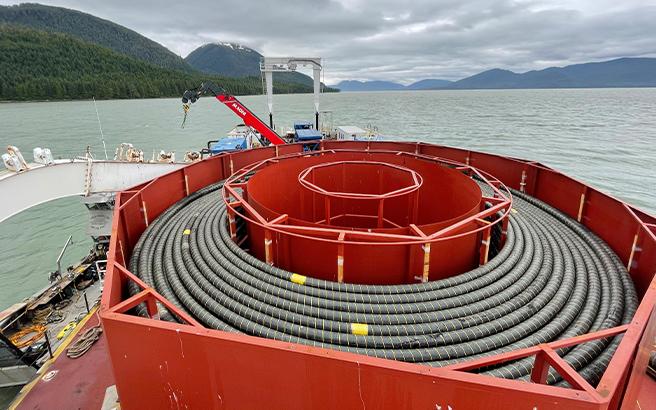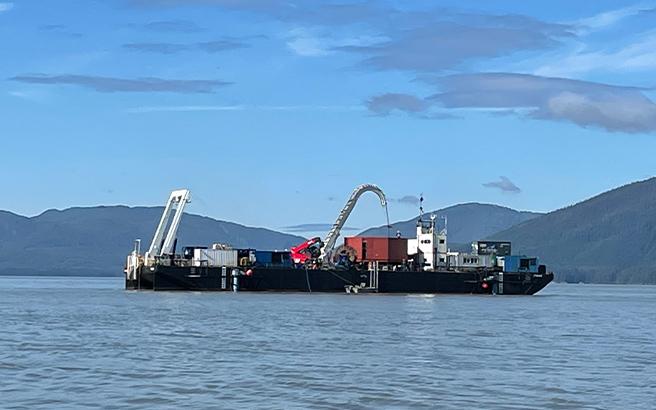 The success of this project holds great promise for the acceleration in the renewal of similar aging submarine transmission lines which are common on the West Coast of U.S., and Sumitomo Electric will continue to place strategic priority on capturing the demand of the U.S. submarine market which is expected to grow dramatically with the surge in offshore renewable power generation and HVDC bulk power transmission.
Contract Outline
Owner
Southeast Alaska Power Agency
Contract Date
November, 2020
Commissioning Date
August, 2021
Contract Main Element
・Removal of existing AC 138kV oil filled power cable
・Supply and installation of AC 69kV XLPE submarine cable