Sumitomo Electric's Pedestrian-Detection Millimeter-wave Radar Introduced at ITS World Congress 2023 Suzhou
Sumitomo Electric's Pedestrian-Detection Millimeter-wave Radar Introduced at ITS World Congress 2023 Suzhou
11 October 2023
Sumitomo Electric's Pedestrian-Detection Millimeter-wave Radar Introduced at ITS World Congress 2023 Suzhou
Sumitomo Electric Industries, Ltd. will showcase its pedestrian-detection millimeter-wave radar at ITS World Congress to be held in Suzhou, China from October 16 to 20, 2023.

Sumitomo Electric's pedestrian detection millimeter-wave radar is an innovative product with many excellent features such as environmental resistance, detection accuracy, wide detection area, easy installation, and easy maintenance. It can detect pedestrians at a distance of over 60 m with almost 100% accuracy, even on a rainy night. In addition, the sensor has no performance degradation caused by dust on the sensor surface. This high-performance sensor is effective in reducing the number of pedestrian accidents on roads, which have been increasing in recent years, and assisting vulnerable road users in crossing roads.
At the congress, the Company will introduce the actual product of the radar and present a technical paper on its details, "A radar detecting pedestrians with wide vertical coverage," from 11:00 to 12:30 CST on October 18, at Session No. TS16.

Sumitomo Electric has been working to realize a safe, comfortable, and environmentally friendly transportation society through solutions that integrate information, communications, energy, and mobility.
At ITS World Congress 2023 Suzhou, we will introduce not only our pedestrian detection millimeter-wave radar, but also the realization of a warm society for people and nature, where people, objects, and social infrastructures are organically linked by a mobility solution.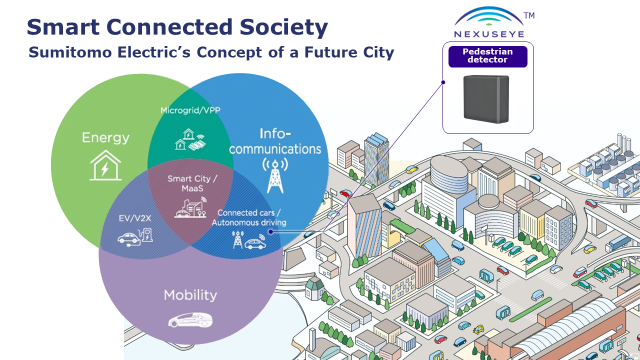 Exhibition Information
| | |
| --- | --- |
| Dates | October 16-20, 2023 |
| Venue | Suzhou International Expo Center, Expo Plaza, Xiandai Avenue, Suzhou Industry Park, Suzhou, Jiang Su Province, P. R. China |
| Booth no | CA05 (Japan Pavilion) |
| Official website | https://www.itsworldcongress2023.com/ |