Sumitomo Electric Accelerates the Development of Automotive Optical Harnesses for Practical Use in 2026
Sumitomo Electric Accelerates the Development of Automotive Optical Harnesses for Practical Use in 2026
11 May 2023
Sumitomo Electric Accelerates the Development of Automotive Optical Harnesses for Practical Use in 2026
Sumitomo Electric Industries, Ltd. has accelerated the development of an automotive optical harness. Commercial samples will be available in 2026. The Sumitomo Electric Group will contribute to the advancement of CASE*1 through high-speed, large-capacity communication by combining optical communication technology and wire harness technology that the Group has cultivated over many years.

The automotive industry is facing a once-in-a-century period of change due to the accelerated progress of CASE and the entry of companies from other industries. The optical harness under development is a product capable of ultra-high-speed communication with a transmission speed of over 10 Gbps, supporting large-capacity data communication inside and outside the vehicle, and responsible for data communication of high resolution sensors required for autonomous driving. In addition, it contributes to the progress of CASE by realizing simultaneous data transmission to multiple terminals using an optical signal splitting function.

High-speed, large-capacity communications with conventional wire harnesses are accompanied by weight increases due to the increase in wire diameter, while communications with optical fibers using thin and lightweight materials, such as glass and plastic, enable both high-speed, large-capacity communication and weight reduction. In addition, optical signals have higher noise resistance performance than electrical signals.

The Sumitomo Electric Group is aiming to add further value to the entire in-vehicle communication network with its optical harnesses.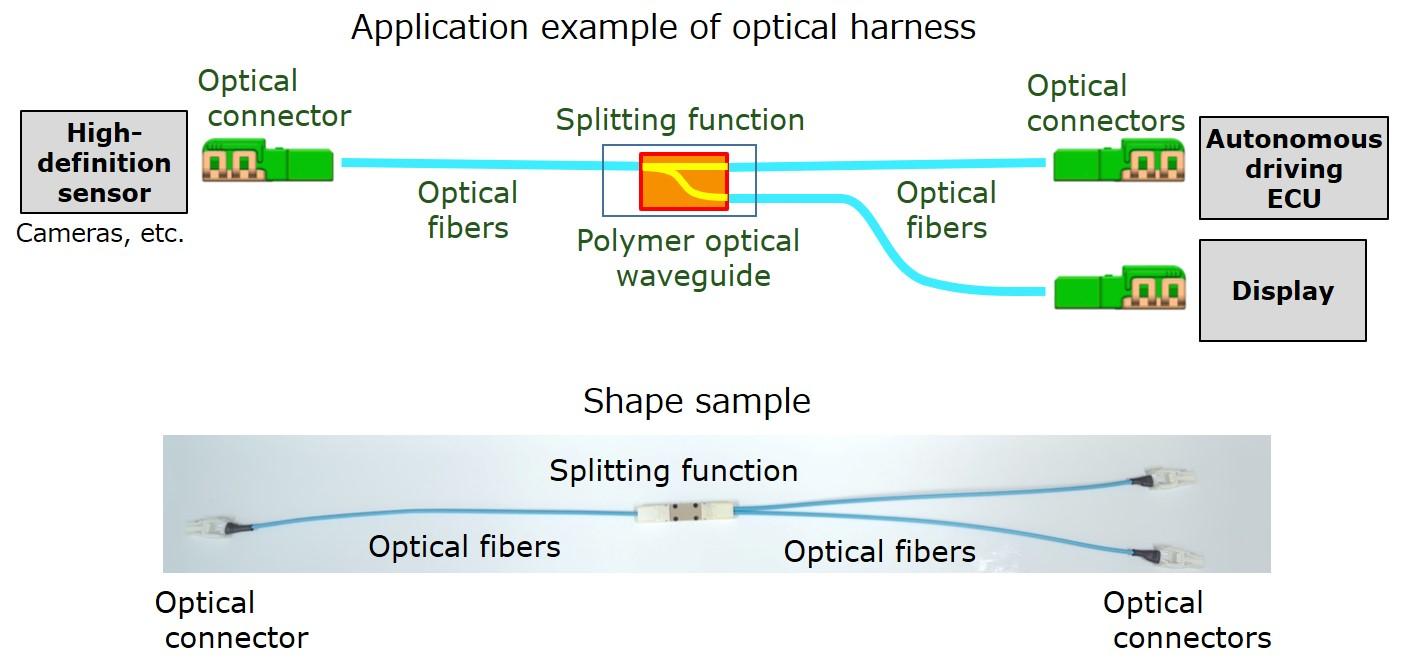 ■ Main features of Sumitomo Electric's automotive optical harness

1. Ultra-high-speed communication with a transmission speed of over 10 Gbps is possible.
An optical harness exceeding 10 Gbps has not yet been put to practical use. Sumitomo Electric has participated in standardization organizations such as ISO*2 and is leading the standardization of optical harnesses.

2. Lighter weight and smaller diameter than conventional wire harnesses

3. High noise resistance performance compared to electrical signals
Noise resistance performance of electrical signals deteriorates with increases in communication speed, but optical signals are less susceptible to electromagnetic noise so that optical harnesses can maintain high noise resistance performance even in ultra-high-speed communications.

4. Ensuring high performance in an in-vehicle environment by using cables with in-vehicle covering material

5. Connector structure designed for dust protection

6. Provides an optical signal splitting function
A polymer optical waveguide of Sumitomo Bakelite Co., Ltd. incorporated into the optical harness provides an optical signal splitting function. For example, it enables simultaneous transmission to the autonomous driving ECU*3 and display by splitting data from high resolution sensors.

For more information, see the Sumitomo Bakelite Co., Ltd. press release below.
https://www.sumibe.co.jp/english/topics/2023/coin/0410_01/index.html


Aiming at the commercialization of automotive optical harnesses in 2026, the Sumitomo Electric Group will proceed with prototyping, performance evaluation, and sample development. At the same time, the Group will build alliances not only with car manufacturers but also with suppliers of chips, transceivers, and sensors.
In addition to the evolution of existing products such as wire harnesses, the Sumitomo Electric Group will endeavor to advance electrification and high-speed communication of automobiles, including architectural innovation, by leveraging the Group's comprehensive technologies in energy, infocommunications, and other areas.


*1 CASE
A term for the trends in the automotive industry; an acronym for Connected, Autonomous, Shared & Services, and Electric.

*2 ISO
ISO is the acronym for the International Organization for Standardization, a non-governmental organization headquartered in Geneva, Switzerland. Internationally accepted standards established by ISO are called ISO standards.

*3 ECU
ECU is the acronym for Electronic Control Unit. Many ECUs are installed in automobiles and electronically control various functions.