Sumitomo Electric Launches Energy Management Solution (sEMSA™) That Supports Multiple Uses for Grid Storage Batteries
Sumitomo Electric Launches Energy Management Solution (sEMSA™) That Supports Multiple Uses for Grid Storage Batteries
13 March 2023
Sumitomo Electric Launches Energy Management Solution (sEMSA™) That Supports Multiple Uses for Grid Storage Batteries
Sumitomo Electric Industries, Ltd. has launched an energy management solution that enables multiple uses for grid storage batteries using SEMSA™*¹ technology.
Amid an increasing number of projects being planned to expand the introduction of renewable energy, such as solar power and wind power, to achieve carbon neutrality by 2050, it is an urgent issue to secure balancing supply and demand. Storage batteries connected to the power grid, namely grid storage batteries, absorb (store) electricity when there is a surplus of renewable electricity, and discharge electricity when the supply-demand balance is tight, thereby contributing to the stabilization of the supply-demand balance in the power grid. In addition, they can be applied to multiple uses, such as the provision of balancing capacity and supply capacity in various kinds of power trading markets,*² which is attracting attention as a new business model that generates multiple revenues.

The energy management systems with Sumitomo Electric's unique architecture (sEMSA™) have realized various solutions for the optimal control of distributed power sources, such as virtual power plants (VPPs),*³ which require linkage with power trading markets (such as balancing markets and capacity markets), and regional decarbonization solutions using renewable energy and storage batteries.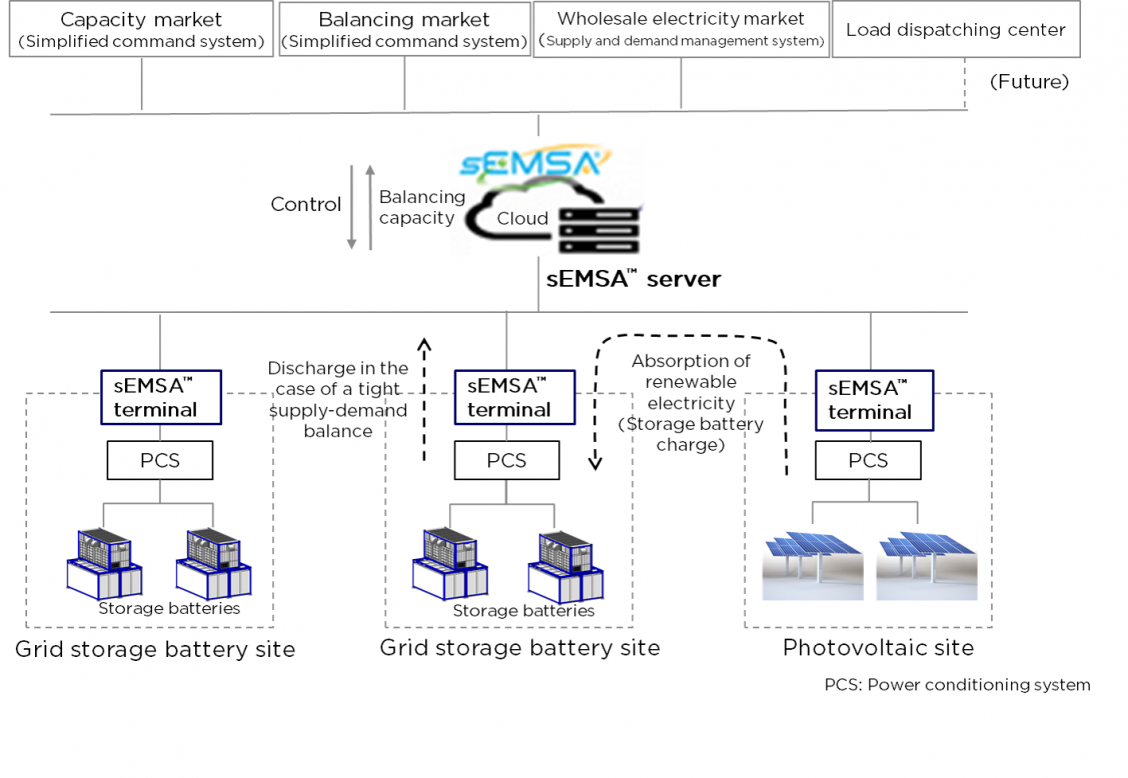 The new system consists of a sEMSA™ server created on the cloud and sEMSA™ terminals installed at grid storage battery sites, with a single sEMSA™ server being able to perform the group control of multiple grid storage batteries. The sEMSA™ server acquires information on each power trading market and creates battery charging/discharging plans that maximize the operator's profit, thereby enabling multiple uses for grid storage batteries. On the other hand, the sEMSA™ terminals installed at grid storage battery sites optimally control the storage batteries based on charging/discharging plan commands from the sEMSA™ server.*⁴

Sumitomo Electric will continue to develop its technologies for power transmission and distribution, power storage, and information and communication, and work on the development of products that meet the needs of both electric power companies and consumers in order to realize "Living in Safety and Comfort on Our Green Planet" through the further spread and efficient use of renewable energy.

*1 sEMSA™: Sumitomo Electric Energy Management System Architecture

*2 Power trading markets include capacity markets, balancing markets, and wholesale electricity markets.

*3 A VPP is a system that provides the same functionality as an actual power plant through the control of energy resources on the consumer side or power generation/storage systems directly connected to the power grid by their owner or a third party (including the control of reverse power flow from the energy resources on the consumer side). (Excerpted from the website of the Agency for Natural Resources and Energy, the Ministry of Economy, Trade and Industry)

*4 The system can even work with grid storage batteries (PCSs) manufactured by companies other than Sumitomo Electric, as well as Sumitomo Electric redox flow batteries.