Sumitomo Electric Launches the New Z2C, a New Core Alignment Fusion Splicer
Sumitomo Electric Launches the New Z2C, a New Core Alignment Fusion Splicer
29 March 2022
Sumitomo Electric Launches the New Z2C, a New Core Alignment Fusion Splicer
Sumitomo Electric Industries, Ltd. announces the release of its new Z2C fusion splicer, featuring its proprietary "NanoTuneTM" AI (artificial intelligence) programmed fusion technology and a new design with improved environmental resistance this spring.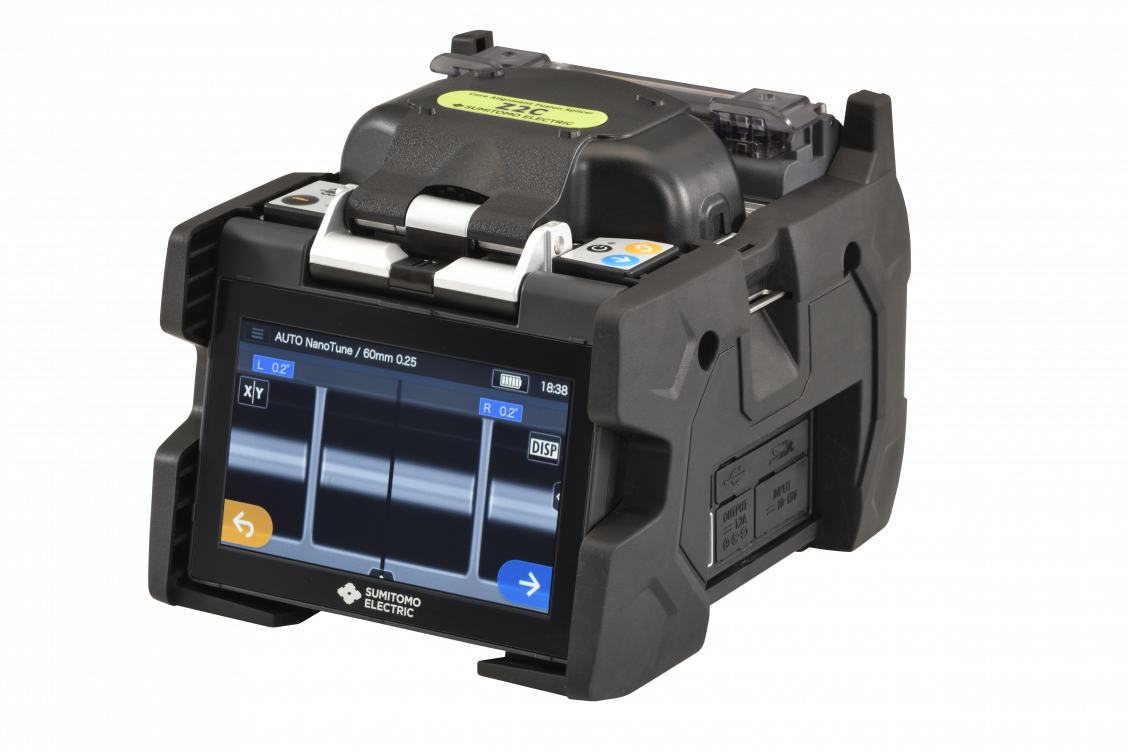 The product concept of the Z2C is to enable any user to "power through with ease". The Company's proprietary AI programmed fusion technology NanoTuneTM which has been newly incorporated to realize operability independent of user skills, will significantly improve work efficiency at optical network construction sites. Sumitomo Electric is committed to supporting customers with its advanced technology and quality products, obtained through an integrated system from development to manufacturing in Japan.

The main features of the new Z2C are as follows:
(1) Industry-leading environmental resistance The environment resistant design was made from scratch, and impact resistant rubber was designed and developed based on thorough impact analysis. As a result, it was confirmed that the device operates properly even if dropped from a height of 76 cm on its sides, corners, or edges. In addition, it has a high level of dust and water ingress protection of IP52*1, showing that it is a device that is robust even in high-temperature, high-humidity, high-altitude, or low-temperature environments. It will contribute to extending optical networks to every corner of the world.

(2) AI-programmed fusion splicing The Company's proprietary AI programmed fusion technology NanoTuneTM has been incorporated to support the splicing work so that high-quality fusion splices can always be achieved regardless of user skill level and the usage environment. In addition, the completely redesigned optical fiber clamps are compatible with loose tubes, eliminating the need for troublesome setting changes. Furthermore, the built-in video tutorial can be used not only for confirming work methods but also for in-house training, contributing to the development of experts.

(3) An integrated development and manufacturing system in Japan and worldwide service & support A fusion splicer is a precision device that requires submicron adjustment. To ensure that all products perform at a high level of quality, they are hand made by Sumitomo Electric's skilled workers in Japan. The splicers go through rigorous inspections before delivery. After delivery to customers, Sumitomo Electric authorized service centers support the machines to have optimal performance in each location.
With the spread of work from home, telemedicine, and online lessons, there will be an increasing demand for the construction of high-speed, large-capacity, low-latency communication networks. The Sumitomo Electric Group will contribute to the construction of communication networks by improving workability, ensuring reliability, and improving functionality and expandability through the development and provision of fusion splicers that meet the needs of society.
*1
IP Rating shows a product's ability to withstand liquid and dust intrusion. IP52 stands for Level 5 dust ingress protection and Level 2 water ingress protection. Level 5 dust ingress protection is a level of protection against the amount of dust sufficient enough to cause harmful effects. Level 2 water ingress protection is a level where water dripping at an angle that ranges from vertical to 15 degrees causes no harmful effects.

*2
It indicates electrical equipment protection level against external mechanical impacts. IK07 is equivalent to impact of 0.5 kg mass dropped from 40 cm above impacted surface.

Reference
・Sumitomo Electric Fusion Splicer Website: https://global-sei.com/sumitomo-electric-splicers/asia/

・LinkedIn (Sumitomo Electric Fusion Splicer): https://www.linkedin.com/showcase/sumitomoelectricfusionsplicer/

・Facebook (Sumitomo Electric Fusion Splicer): https://www.facebook.com/sumitomoelectricsplicer/