Sumitomo Electric Delivers Power/Communication Cables for the Thai Commuter Railway Red Line Construction Project
Sumitomo Electric Delivers Power/Communication Cables for the Thai Commuter Railway Red Line Construction Project
Sumitomo Electric Delivers Power/Communication Cables for the Thai Commuter Railway Red Line Construction Project
Sumitomo Electric Industries, Ltd. received an order from Mitsubishi Heavy Industries, Ltd. and shipped an assortment of cables (an approximate total of 2,800 km) for the Red Line Construction Project, a plan involving the building of a new commuter railway route in the Kingdom of Thailand.
In the Kingdom of Thailand, the government is promoting the Bangkok Mass Transit System Project to alleviate traffic congestion, improve air pollution, and respond to increasing transportation demand in the Bangkok metropolitan area.
The Red Line Construction Project is part of this project and features the building of an all-elevated railway line starting from Bang Sue Station in the center of Bangkok, extending 26.4 km north (North Line) and 14.6 km west (West Line). The North Line was constructed using Japanese government funding while the West Line was constructed by using the Thai government's own funding. The entire line started operation in August 2021.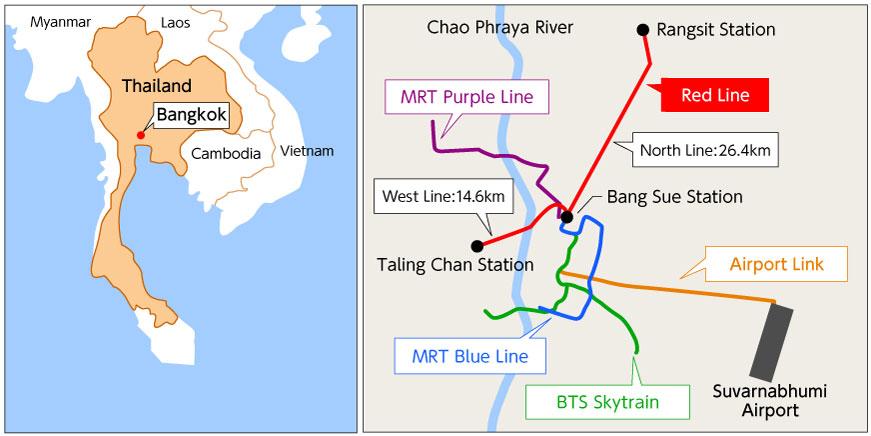 The Sumitomo Electric Group's strength is that it can collectively provide a variety of products indispensable for railway construction, ranging from contact wires that supply power to railway vehicles through pantographs to power cables and signal cables.
Taking advantage of this strength, the group delivered the widest variety of products among the railway construction projects it has ever participated in, including contact wires, stranded hard-drawn copper wires, and various cables for medium- and low-voltage power, signals, and communications, to Mitsubishi Heavy Industries, which is a member of the consortium that was awarded the contract for this project.
Since it began manufacturing and selling contact wires in 1914, the Sumitomo Electric Group has been providing products and services that are indispensable for the railway network construction business around the world for more than 100 years. In particular, Asian countries are proactively promoting railway infrastructure development projects to deal with growing traffic demand, increasing economic activities in rural areas, growing environmental impact, global warming, and so on, and such projects are expected to further increase in the future. The group has been providing products and services to various projects, including the Dedicated Freight Corridor Construction Project in India, for which the group has received the largest-ever order for contact wires and delivery is underway. The Sumitomo Electric Group will continue to contribute to the construction of high-quality infrastructure with a wide range of products and services, making use of the experience it has accumulated so far.
Products
Quantity
Production site
Contact wires
About 180 km
Osaka Works
Stranded hard-drawn copper wires
About 170 km
Sumi Indo Kable,
a Sumitomo Electric Group Company in Indonesia
Aluminum conductor steel reinforced (ACSR)
About 230 km
Stranded hard-drawn aluminum wires
About 200 km
Medium- and low-voltage power cables (600 V to 25 kV)
About 1,670 km
Signal/communication cables
About 360 km