Delivery of Contact Wires for the Dedicated Freight Corridor Construction Project in India
Delivery of Contact Wires for the Dedicated Freight Corridor Construction Project in India
Delivery of Contact Wires for the Dedicated Freight Corridor Construction Project in India
— Contributing to building the logistics infrastructure to achieve further economic growth—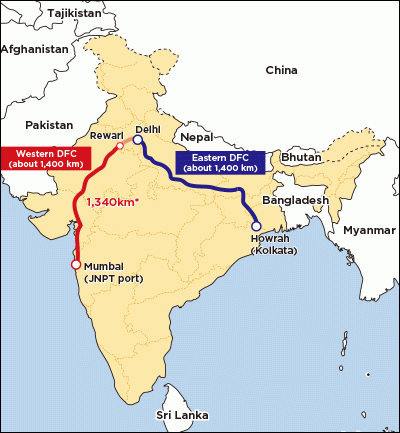 With the second largest population in the world, India achieved a real GDP growth rate of 8.2% in the first quarter of FY2018. Its economic growth is very high compared to other countries. Due to the rapid economic development, the freight transport volume has been increasing by 10 to 12% per annum. To achieve further economic growth in India, it is imperative to improve and strengthen the freight railroad network. Against this backdrop, the Indian government has been promoting the Dedicated Freight Corridor (DFC) Construction Project between Delhi and Mumbai (Western DFC) and Delhi and Kolkata (Eastern DFC). The Japanese government decided to support the project, and the Western DFC Construction Project is financed by yen loan.

Construction of the Western DFC is being undertaken by Dedicated Freight Corridor Corporation of India Limited, a subsidiary of the Indian Ministry of Railways. The Sojitz-Larsen & Toubro Limited (India) consortium received an order for the electrification of the Western DFC. Sumitomo Electric received an order from the consortium for contact wires for a section of about 1,340 km of the corridor (total length: about 3,400 km), and has started to deliver the products. This was the largest order received by Sumitomo Electric in terms of railroad projects outside Japan. The consortium decided to use Sumitomo Electric's contact wires because of the superior durability and heat resistance as well as the track record of delivery to railroad markets in and outside Japan. Sumitomo Electric's contact wires will be used to electrify the corridor between Rewari and Jawaharlal Nehru Port (JNPT port).

This is the first time for Sumitomo Electric to deliver contact wires to the Indian market. Sumitomo Electric will help build the logistics infrastructure for the further economic development of India by offering high-quality contact wires stably.

In addition to DFC, India will continue to actively promote railroad development and improvement projects, including a high-speed railroad development project based on Japan's Shinkansen bullet trains technology (the entire section will come into service in 2023), a metro construction project in Mumbai, and a project to electrify the existing national railroad network. With this delivery as a start, Sumitomo Electric will offer its products and services to India's railroad development and improvement market that is expected to expand further in the future.
What are contact wires?
Contact wires are used to feed power to moving vehicles such as rolling stock, trucks, transport equipment and cranes via pantographs.*
Sumitomo Electric has been manufacturing and selling contact wires since 1914 by taking full advantage of the copper processing technology that has been developed over many years of operation. The contact wires manufactured at the Osaka Works of Sumitomo Electric have been used for railroad including Shinkansen bullet trains, subways, monorails and automated people movers around the world.

* Pantograph: an instrument attached on the roof of trains and electric locomotives to receive electric current from overhead lines