Projects id Freight Railway Construction Project for India's Accelerated Economic Growth(2)
Concerted Enthusiasm to Win the Order for Contact Wires
A bold attempt to conduct business in India
A Fruitful Consortium between a Japanese Trading Company and an Indian Company
The project is implemented by Dedicated Freight Corridor Corporation of India Limited (DFCCIL), a freight railway corporation under India's Ministry of Railways. Installation of tracks and establishment of electrification, signaling and communications systems totaled ¥350billion in contract sum. Part of it was won by a consortium formed between Sojitz Corporation (Sojitz), a Japanese trading company, and Larsen & Toubro Limited (L&T), the largest construction & engineering company in India. About the contract process, Mr. Ko Kiyama, Deputy General Manager, Sojitz Corporation WDFC Project Office,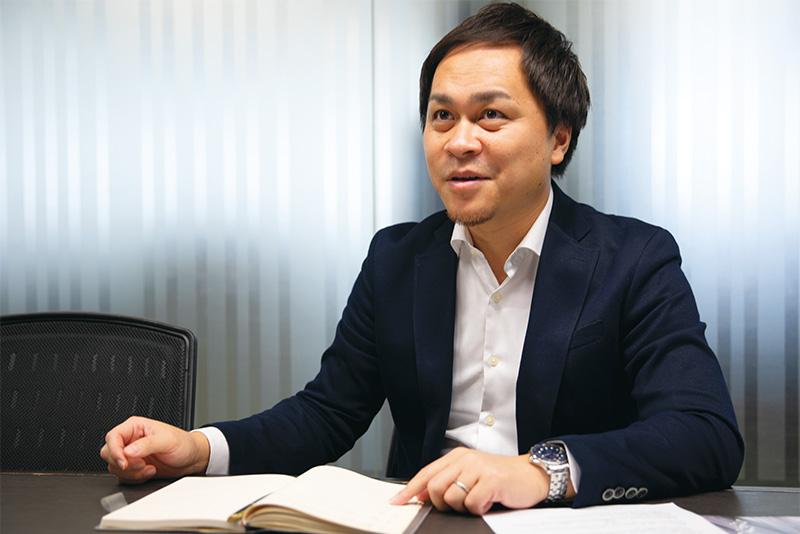 said "We began studying the project immediately after 2008, when the Japanese government decided to provide yen loans to the project. It was just after the global financial crisis, so some in the company felt that the project was risky. However, we viewed it as a new business opportunity and met the challenge. Close communications were established with L&T, our business partner, and we made utmost efforts to carry out the roles assigned to both parties. We worked proactively on analyzing strategies for winning the order and carefully prepared for bidding, which yielded results. In a positive sense, we worked unlike a regular trading company by establishing deeper relationships in India, which appears to have helped us gain the upper hand in the competitive bidding."
After winning a contract bid in 2013, the consortium between Sojitz and L&T began selecting suppliers. As it was a STEP project, they approached Japanese companies in sectors such as railway tracks, wires and transformers, as well as signal and communications systems. Needless to say, they made an inquiry to the Sumitomo Electric Group about contact wires, the key part of electrification.
Formidable Strength of Knowledge Fostered through Domestic Railway Business
In May 2014, Kei Kato joined the Environment & Energy Sales Team (present Energy Solution Sales Division) of the Global Business Department. He had worked in the railway sales business in Japan for six years since joining Sumitomo Electric and was promoted to the project for the knowledge he fostered through his experience. His mission was to win the order for contact wires for the Indian project. Kato proposed and quoted products to Sojitz and presented the Company's track record in the railway business and offered price proposals to L&T. In February 2015, he visited India to attend a meeting with L&T, his first visit to the country.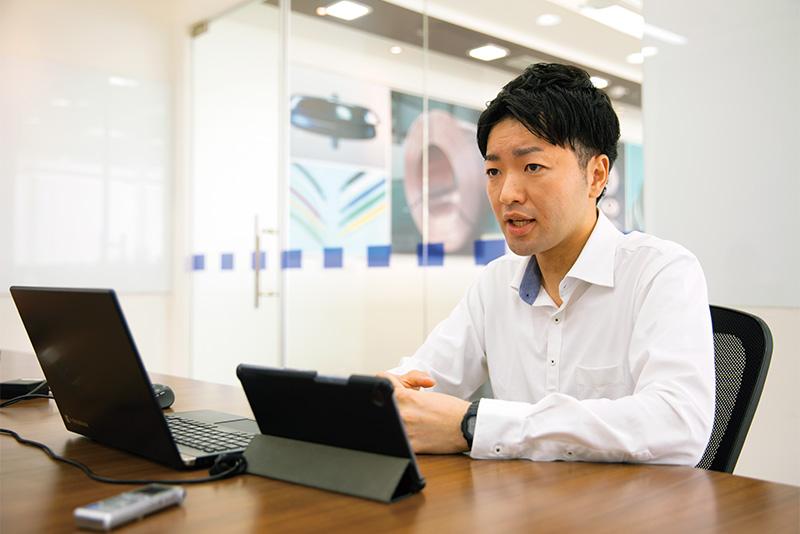 "It was my first visit to India. I was overwhelmed by the powerful and exciting city of Delhi. The scale of the business was far larger than any in Japan. I felt a rush of excitement from the settings in India and the significance of my task. At the same time, I was a little worried about negotiating with a foreign company and of my lack of knowledge on business practices in India," said Kato. He was right, as was proved by how things turned out in the actual negotiations.
A Solid Group of Professionals from India and Japan
SEI Trading India Pvt. Ltd. (SETI), the local Indian affiliate of the Sumitomo Electric Group, worked in close collaboration with Kato and other head office staff members. SETI is a sales company in India that supplies copper wires and other products of the Sumitomo Electric Group. In July 2015, Hardesh Gupta joined SETI as a specialist in copper with experience in selling copper and aluminum products at a local company for more than 20 years. Like Kato, his assigned mission was to win the order for contact wires, in addition to working on sales promotion in the Indian market. He was at the negotiating table as an Indian staff member.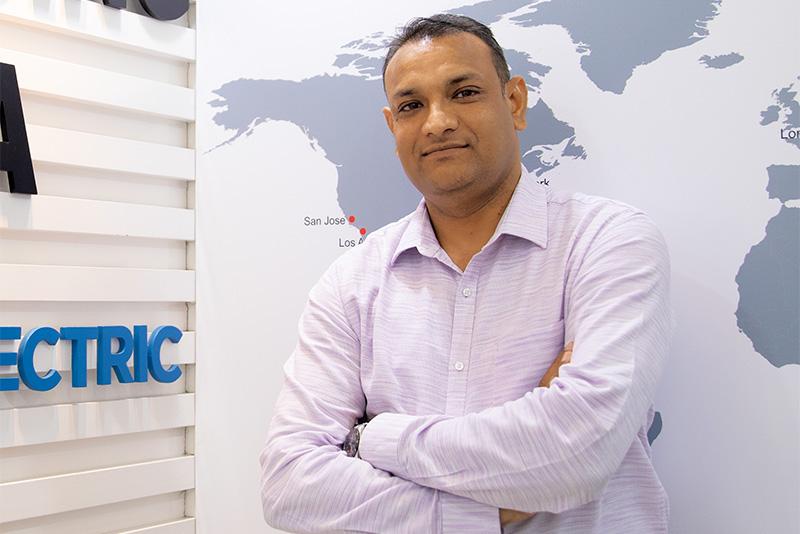 "My role was to bridge between Indian L&T and the Japanese Sumitomo Electric Group. I collected information at the negotiating table and worked to solve any misunderstandings and problems. Holding conversations between local Indian people is essential for smooth negotiations. It was an important task for me to understand the real intentions behind the other party's words and at the same time ensure their continued interest in the Sumitomo Electric Group. With the understanding that my task was to establish a relationship built on trust, I was determined to act fairly and openly," said Hardesh.
One month after Hardesh joined, Kan Kinoshita took the position of SETI's president. He had worked continuously for overseas sales sections, and is one of those who has worked all over the world, and been at the forefront of the Sumitomo Electric Group's global business.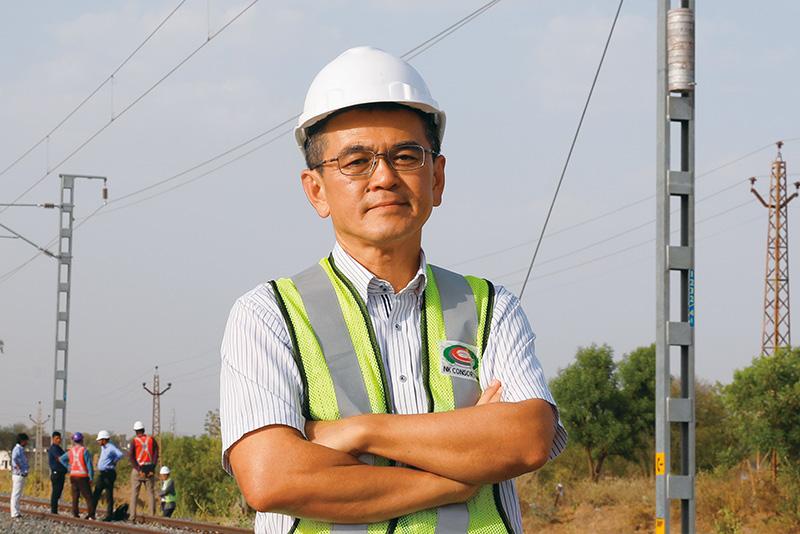 "I fundamentally and absolutely trust and take pride in Sumitomo Electric's products. This belief supported me and helped me proceed with this project. Our task was to supply a huge amount of contact wires and the outcome of our work would be noticeable on maps. With a strong sense of responsibility and exaltation, I led our activities to win the order," said Kinoshita.
Dealing with Business Practices Specific to India
Kato, Hardesh and Kinoshita sat at the negotiating table with L&T to win the contract. While price is an important factor in any business transaction, the business practices in India are somewhat different from those in other cultures. In Europe, the United States and Japan, price negotiations are made through reasonable evaluation commensurate with the level of quality or technology. However, they found that in India, the price did not link with such an evaluation due to the huge volume of business. "L&T requested a radical price reduction, not just once or twice," recalls Hardesh. Kato and Hardesh were challenged quite a few times, and the negotiations reached a critical point in the Autumn of 2016. It was very difficult to foresee which electric wire manufacturer would win the bid and Kato and Kinoshita were burnt out from negotiation after negotiation. At the time, it became a habit for Kinoshita to say "No" to the other party. It was a series of days full of tension and frustration. Even in those days, Kato carried forward with negotiations in a polite and sincere manner, following the Japanese style of opening the way for an agreeable point for both parties. However, at the last second, he faced a new challenge.

NEXT
Manufacturing Site Fulfills a Set of Exacting Requirements.
– Contact wires delivered through strong collaboration between sales and engineering staff–
(3)