Projects id Freight Railway Construction Project for India's Accelerated Economic Growth
Projects id Freight Railway Construction Project for India's Accelerated Economic Growth

The Rapidly Growing Economy of Superpower India
Build a vital 1,500km artery between Delhi and Mumbai
With the largest territory in South Asia and the world's second largest population, India is a big country comprising diverse ethnic groups and cultures. Since its independence from the United Kingdom in 1947, the economy has grown, overcoming conflicts with its surrounding nations. Specifically, since the turn of the century, it has achieved rapid economic growth due to economic deregulation policies adopted in the 1990s. India achieved a GDP growth rate higher than 9% in real terms for three consecutive years beginning in 2005 (according to an IMF survey). Furthermore, according to a forecast by the Asian Development Bank, the nation is predicted to achieve 7% economic growth in 2019, which is at the highest level among the countries known as emerging economies.

As a result, India is facing the problem of a rapidly increasing volume of freight transportation due to economic growth. The country's freight transportation is growing at an annual rate of approximately 15%, so the current transportation capacity is approaching its limit. For this reason, it is an urgent challenge for the nation to develop or strengthen its freight rail network for mass rapid transit. Having considered the situation, the Indian government announced a course of action to improve the national railway infrastructure. As a long-time friendly nation, Japan decided to provide India with yen loans through intergovernmental negotiations. It is a major national project building a 1,500km railway exclusively for freight transportation between the two big cities of Delhi and Mumbai to form, literally, a vital artery in India. For this project the Sumitomo Electric Group has shipped contact wires which transfer energy to railway vehicles.

This is a story about the challenges faces by the sales team in Japan and India, as well as the production team in Osaka plant, which produced and shipped contact wires on such an unprecedentedly large scale.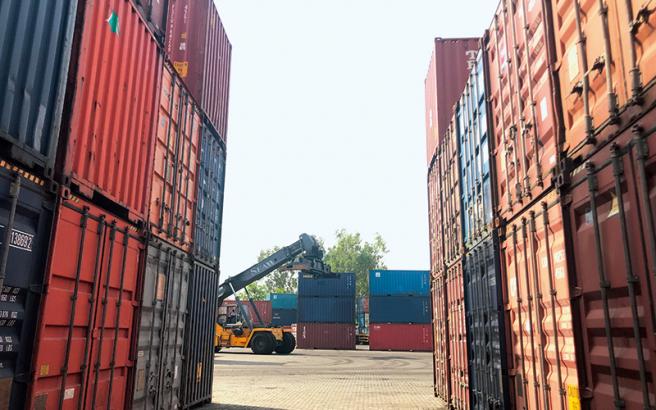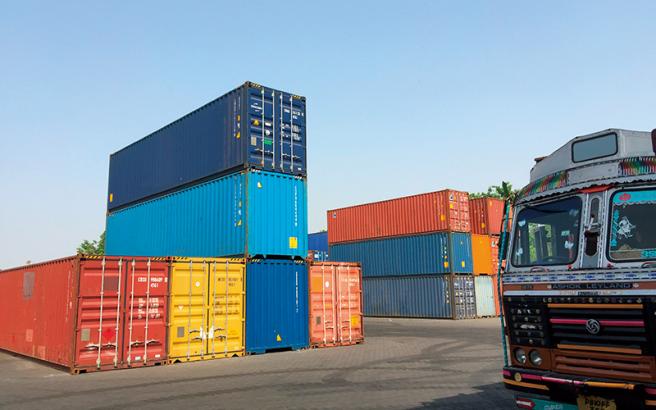 Proof of Friendship between Japan and India: Unprecedentedly Large Yen Loans
The background to the project is the friendship fostered between Japan and India. In old times, in the Meiji period (1868–1912), raw cotton from India helped Japan grow its textile business. After World War II, iron ore from India contributed to the growth of the steel industry in Japan. In 1958, Japan provided India with the first yen loans. Currently, Japan provides its largest yen loans to India, amounting roughly to ¥400 billion in fiscal 2017 and a cumulative total of approximately ¥2.64 trillion between fiscal 2008 and 2017. The two countries with their historical background began accelerating their relationship into higher gear when Japanese Prime Minister Junichiro Koizumi visited India in 2005. At the time, Prime Minister Koizumi offered an aid for the construction of part of the planned freight corridor, approximately 2,800km in total length. Later, the Japan International Cooperation Agency (JICA), in charge of yen loan projects, conducted a feasibility study. In 2008 when Indian prime minister Manmohan Singh visited Japan, Taro Aso, Japan's Prime Minister at the time, told him that Japan would provide India with yen loans for the construction of the approximately 1,500km railway between Delhi and Mumbai. As aid given for a single project, the total amount was the largest in Japan's history.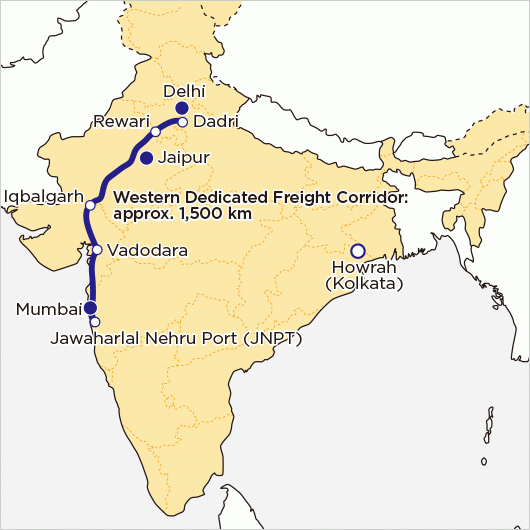 Getting Business Opportunities from Freight Demand
For the approximately 1,500km project between Delhi and Mumbai, Phase 1 focuses on special high-priority sections between Rewari and Vadodara (approx. 920km) and Phase 2 works on sections between Dadri and Rewari and between Vadodara and Mumbai (approx. 550km). In addition to construction of the freight railway, the project will provide fully automated signal and communication systems and introduce a railway electrification system.* Currently, freight and passenger diesel cars run in a mixed manner (at an average speed of between approximately 20 and 30km/h) between Delhi and Mumbai, taking some three days. In comparison, the newly built rapid freight railway (at a maximum speed of approx. 100km/h) will connect Delhi and Mumbai in about one day, boosting the transportation capacity three- to fourfold. About the significance of this project to Japan, Mr. Kenichi Kono, Representative at JICA India offices, said:

"The project is known as a special terms for economic partnership (STEP) project. It is a yen loan program provided on condition of procuring materials and equipment of Japanese origin to predetermined proportions. STEP projects employ Japan's superb technologies and expertise and facilitate face-to-face aid with developing countries. Accordingly, the project will help Japanese firms take part in the project and naturally become active in India. Japanese businesses entering the Indian market are increasing exponentially. There are more than 250 business sites operated by Japanese firms in areas between and in the vicinity of Delhi and Mumbai. Currently, a bottleneck in their business is poor transport infrastructure. When improved, the transport infrastructure is anticipated to provide substantial benefits. The project is part of the Delhi-Mumbai Industrial Corridor (DMIC) Project. DMIC is a general industrial infrastructure development project implemented jointly by Japan and India to develop the largest industrial belt in India. It is expected to provide huge business opportunities in the future for Japanese companies."

The project is also designed to reduce impacts on the environment. Replacement of diesel cars with electrified cars and increasing shifts from truck transport to rail transport are expected to reduce CO2 emissions.
* The project planned by the Indian government reaches a total length of approx. 2,800km, including approx. 1,500km between Delhi and Mumbai (Western Corridor) implemented by yen loans and the construction of another freight railway between Delhi and Kolkata (Eastern Corridor) funded by the World Bank.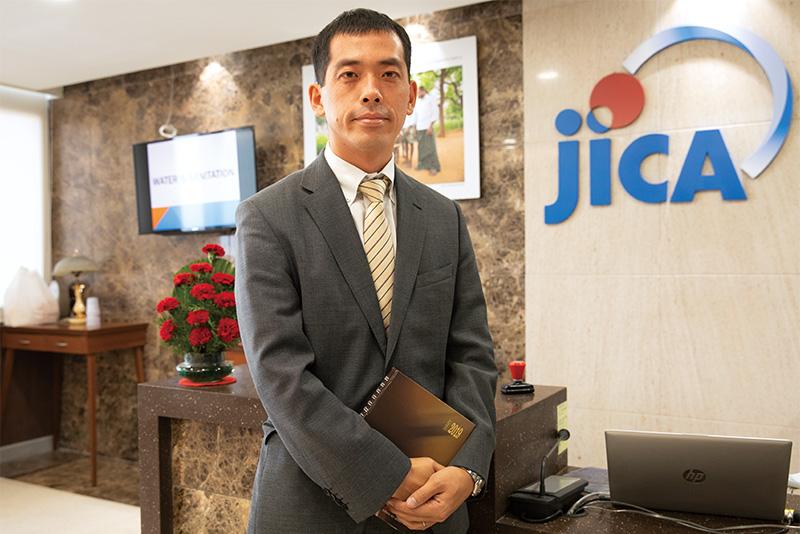 Sumitomo Electric's Track Record and its Pride Providing Contact Wires in Japan
As it is a STEP project, it was a predetermined course of action that contact wires would be delivered by a Japanese firm. A contact wire is an electric wire designed to feed power to electric cars via pantographs, a key part of electrification. The Sumitomo Electric Group began manufacturing and selling contact wires in 1914. For more than 100 years since then, Sumitomo Electric has contributed to the development of railway networks in Japan. Starting by supplying contact wires to Taiwan High Speed Rail in 2004, Sumitomo Electric is gaining speed in entering Southeast Asian markets. The Energy Solution Sales Division pursues electrical power cable related business, targeting the construction of overseas railway and factories as well as renewable new energy generation plants, in Japan and abroad. Regarding the present state of the business, the division's general manager Hirokazu Kobayashi points out, "The railway market in Japan has matured. Demand is now mostly for replacements. While a number of companies have withdrawn from the railway business, the Sumitomo Electric Group continues to supply contact wires in Japan as it has an obligation to sustain the infrastructure. In contrast, demand for railway wiring is expected to be strong in emerging economies in Asia. In 2013, the Japanese government set the goal of "exporting high quality infrastructure," which spurred Sumitomo Electric to fully study overseas markets. The largest result of its efforts is this project. The amount of contact wires supplied to the approximately 1,500km track length is the largest in the history of the Sumitomo Electric Group. The Indian market has huge potential. The order for contact wires serves as a platform for Sumitomo Electric to explore the market in India, and is certain to accelerate the Company's railway business in India in the future."

In a STEP project, Japanese companies in the same trade will be competing with us. The Energy Solution Sales Division in close cooperation with the local Indian affiliate strived to win the order.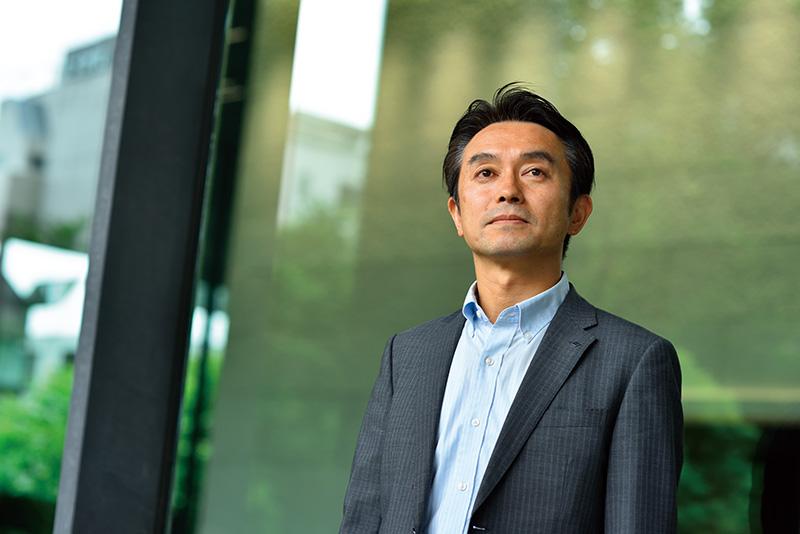 NEXT
Concerted Enthusiasm to Win the Order for Contact Wires
–A bold attempt to conduct business in India–
(2)