Sumitomo Electric Group's Enthusiasm To Support The Project
Sumitomo Electric Group's Enthusiasm To Support The Project
Close cooperation with the project partner Mitsubishi Corporation
Steadily clearing many hurdles in selecting devices and aerially wiring
In parallel to the installation of traffic lights, other devices, including the central unit in the control center, traffic controllers, lighting fixtures, vehicle detecting devices, CCTV (closed-circuit television) surveillance cameras and a device-to-device transmitting system, were also selected and examined. The person in charge was Kosuke Setoyama from Sumitomo Electric System Solutions Co., Ltd. Soon after winning the bid, he visited the city more than 10 times. Setoyama as an engineer engaged in a wide range of tasks, especially focusing on smooth operation after the launch.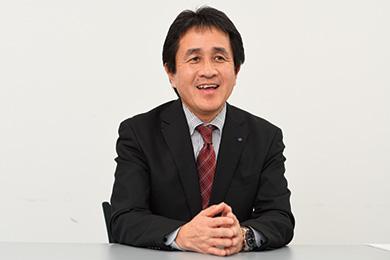 "We deliver the system, so it is essential to maintain it after the launch. After selecting and installing the devices onsite, individual adjustment and check are necessary, but if we Japanese do everything, system maintenance techniques can't be established onsite. To that end, we invited onsite key persons of the contractor and subcontractors to Japan to learn about the outline of operations through lectures on the system and study tours. We also prepared manuals and provided training onsite repeatedly," says Setoyama.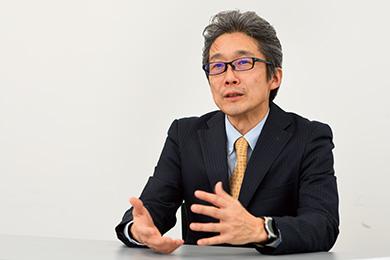 The traffic lights are controlled through connection to the control center with optical cables. Kazuo Shimomura, who was in the Systems & Electronics Division of Sumitomo Electric Industries, Ltd., engaged in building the optical cable network. Shimomura had experience in communication cable and system works in Japan, the Philippines, Thailand and other countries. However, the situation in Phnom Penh was different.

"The optical cables were planned to be wired aerially, but the design was changed along the path, requiring some sections to be buried in the ground. We had to address this. Furthermore, the climate and natural features unique to Cambodia frequently had no small impact on the communication devices. Challenges that were not expected in Japan occurred and had to be overcome one by one," Shimomura explains.
Frequent design changes were addressed with collaborative and trustful relationships
What made this project significant was the many requests received after the start of the works, including for the burial of optical cables in the ground. They obviously incur design changes and additional costs. The project leader Horie negotiated while clarifying what could be done and what could not be done. He was strongly supported by Yim Siphon, who is a Cambodian and the manager of the Phnom Penh Representative Office from Mitsubishi Corporation. He carried out all the cumbersome tax-exemption procedures for importing devices (ODA projects are exempt from customs) and also tenaciously conducted negotiations with Phnom Penh Capital City to gain their understanding and consent.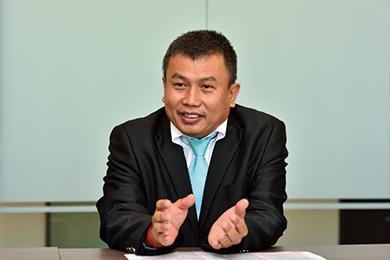 "This project benefits the economic growth of Cambodia and improvement of the lives of the citizens of Phnom Penh Capital City. The Sumitomo Electric Group had high technological skills and sincerely addressed various challenges. I was impressed by their professional attitude. The population and traffic volume in Phnom Penh Capital City are expected to continue increasing. I hope that this project will help the Sumitomo Electric Group to engage in Cambodia more widely and deeply," Says Siphon.
On Mitsubishi Corporation side, the International Economic Cooperation Department was in charge of this project. The department also took on an ODA project for city bus supply in Phnom Penh Capital City during the same period, which was led by Miyuki Nomura, Assistant General Manager of Asia and Latin America Team, and her team. Ms. Nomura had also experienced an ODA project of supplying medical equipment to hospitals in Phnom Penh.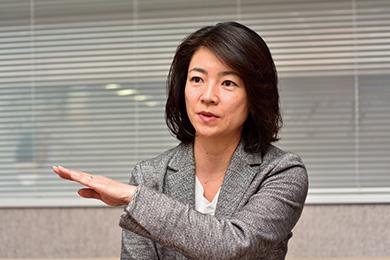 "I visited Phnom Penh on business several times. Each time I visited the city, the number of traffic lights increased. This significantly contributed not only to easing traffic congestion but also to improving traffic safety, thereby bringing a sense of security to the citizens. This achievement is considerable. We were able to proceed with this project based on a strong relationship of mutual trust with the Sumitomo Electric Group, with both of us being in the same boat. I hope that this project will mark the beginning of our cooperation for future projects," says Nomura.
NEXT
Traffic Control System That Has Changed The City and Lifestyle
–The advancement of ITS can solve urban traffic problems–
(5)