Articles: How a wire insulation material revolutionized water treatment
How a wire insulation material revolutionized water treatment
Just as water is fundamental to life, it is indispensable for manufacturing. Water is essential to a wide variety of manufacturing sectors, including food processing, machine processing, and production line cleaning. And just as we want to drink the cleanest water possible, clean water makes a huge difference in manufacturing processes.

This makes high-quality water treatment essential to many manufacturers. It ensures they are using clean water for production and that impurities are removed from wastewater to meet environmental standards. And, for some companies, it enables them to reuse water in their own processes, thus reducing overall consumption and keeping waste out of our water systems. Responsible management and conservation of water is crucial to both industry and society.

As water treatment has grown more sophisticated, membrane filters that remove impurities from wastewater have become an important part of many systems. These membranes need to be stable to remain effective, and provide value for customers. But one challenge for water treatment membranes is the tendency to clog over time, reducing treatment speed. In the early 2000s, Sumitomo Electric developed a water treatment membrane that addresses this challenge of retaining high quality and effectiveness. That membrane is part of a unique device we call the Poreflon Membrane Module for water treatment.

An innovative use for a traditional material
Sumitomo Electric is well known for more than a century of leadership in power transmission and wire and cable manufacturing. In the 1960s, we succeeded in developing porous products using a material called polytetrafluoroethylene, or PTFE, which had been adopted as an insulating material for electric wires. These porous products had high strength and chemical resistance, and in the 1980s we began using them for liquid filtration.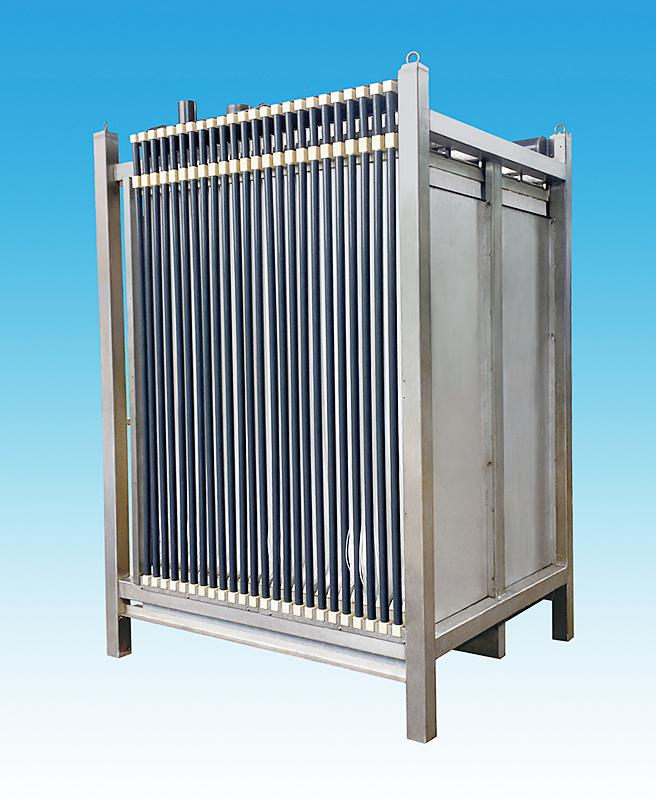 We initially developed the Poreflon membrane, a proprietary filtration tool composed of 100 percent PTFE that was able to make clean chemicals even cleaner. This capability made it an important new product in industries like semiconductor fabrication, which require large amounts of highly purified chemicals to avoid contaminating the microchips.

By the late 1990s, we expanded our research on Poreflon to address the task of cleaning dirty water that results from manufacturing. This posed an even greater challenge, because the level of dirt and other contaminants is so high that they inevitably clog filters. That clogging can then cause a slowdown in water intake. In a manufacturing plant, that can decrease production and harm the business. Situations like these meant that we had two chief obstacles to overcome: how to make the filter structure less prone to clogging and how to maintain its quality over time.
For the structure challenge, we brought together the technologies and knowledge gained from decades of electric wire manufacturing. We carefully reviewed how we processed and manufactured water treatment membranes and developed modification to our production system. Ultimately, we were able to create a three-dimensional PTFE mesh that allows more water to flow through.

To address the quality challenge, we developed a comprehensive regular maintenance program. This included providing customers with a method to check water quality data on a daily basis (e.g., to make sure that any impurities in the water are below specific values) and the ability to periodically remove dirt from the filter using cleaning chemicals. Through this system of data gathering, along with trial-and-error experimentation, we succeeded in developing a robust water treatment membrane module in the early 2000s.

Sumitomo Electric was the first company in the industry to use PTFE materials for water treatment and can offer water treatment membranes with higher performance than conventional materials. While that performance comes at a premium, we have successfully reduced costs by using our global network of locations and partners to manufacture the module outside of Japan. The result is a durable and effective product that has come to be known internationally as the Poreflon Solution.
Clean water is fundamental to a more sustainable society
Poreflon has been adopted for water treatment in a variety of industries, including pharmaceuticals, food, machining, and metal processing. It has also proven useful in treating sewage and landfill leachate. No matter the industry, Poreflon is crucial to keeping our water clean.

In cases when industrial detergents have been used to clean oil, Poreflon is effective in separating the detergents and oil components in the wastewater. The resulting detergent can then be reused, creating a cost-saving opportunity.

Poreflon is also uniquely strong for a water treatment membrane. It withstands exposure to strong acids and alkalis, so our customers can use chemical cleaners to remove substances from the membranes. This maintenance is so effective at prolonging the life of the product that Poreflon membranes last as much as twice as long as other water treatment membranes.

Sumitomo Electric's Poreflon can have benefits that reverberate beyond the financial and logistical benefits to customers. As sustainability becomes more important in the face of limited water resources, Poreflon contributes to conservation by enabling companies and communities around the world to perform high-capacity water treatment, helping to both save water and secure supply in case of shortages. Meanwhile, zero liquid discharge systems, which circulate and recover industrial wastewater without releasing it into community water treatment facilities, is an area of expected growth where Poreflon can have an important impact. Sumitomo Electric is also researching methods of using Poreflon to produce clean water while reducing electricity use.

In addition to the ongoing, long-term sustainability innovations in water treatment, Poreflon has great potential in humanitarian services. Because access to clean water is often a challenge following disasters, we are studying ways to deploy Poreflon products to ensure communities have clean water for daily use.

Sumitomo Electric is committed to creativity and product innovation—a principle called monozukuri in Japan. It's how we have become a global leader in a wide range of industries and how we leverage our unique position and expertise to bring sustainability goals to the technologies that underpin manufacturing, water treatment, and other areas that are hidden to most people. And it's how we transformed a wire processing technology into an important tool that brings clean water to those who need it.